Lesson Plan December 27, 2018
Evaluating Climate Change's Impact on Individuals and Ecosystems
Introducing the Reporting: Short text and a quick review of key terms/ideas
Warm-up: Relating the unique biome of the Loktak wetland to your own ecosystem
Activity: Evaluating portraits of individuals affected by their changing ecosystem
Extension Activities:
Researching climate change's effects on Indigenous groups
Igniting school-wide conversations about how you can help the environment
Objective:
Students will evaluate how communities rely on their ecosystems for survival and climate change's impact on their ability to do so. They will examine text and photo stories about how the Meitei people of Manipur, India are affected by changes in the unique biome of Loktak Lake.
Introducing the Reporting:
Read the following introduction from "Loktak Wetland: Caught Between Development, Conflict, and Climate Change":
Loktak Lake is a unique wetland and is listed as a Wetland of International Importance through the Ramsar Convention. The lake is distinctive due to the numerous green floating biomass (phumdis) that covers nearly two-thirds of the lake's 236 square kilometers.
Phumdis or floating islands are comprised of vegetation, soil, and other organic matter. They change shape and size, moving around the lake surface depending on the season. The phumdis play a critical role in water cleansing, nutrient absorption, flood control, and carbon sequestration. Phumdis are home to some 425 species of animals, including the endangered "dancing deer," over 100 species of birds, and over 200 species of aquatic plants.
Loktak Lake is home and means of livelihood to indigenous (Meiteis) families that live on Phumshangs. Some 30,000 fisher folks fish the lake. Over 100,000 people depend on the lake directly and indirectly for food and livelihood. The lake is of immense cultural, social and economic importance to some 55 communities that surround the lake. This photo essay documents how the Ithai hydroelectric dam, infrastructure projects, regional armed conflict and climate change threaten this unique ecosystem.
Quick check-in:
What is an ecosystem? What is a biome?
What are phumdis?
Why are they important?
What does it mean to be Indigenous?
What does it mean to depend directly and indirectly on the lake for survival?
Warm-Up:
Consider your own ecosystem:
What are your ecosystem's major features?
Has your ecosystem changed over the last several years? How so?
In what ways do people in your community depend directly and indirectly on your ecosystem for survival?
Activity:
1. Read the following introduction to "Manipur: Portraits of Resilience":
The lives of over 100,000 people living in and around the Loktak Lake are economically, socially, and culturally linked to the lake. The lake supports a rich biodiversity of flora and fauna and is home to the Meitei tribes. This unique wetland is considered one of the most productive ecosystems in the world, making it a Wetland of International Importance. Development and regional conflict have endangered Loktak, threatening the livelihoods and identity of the Meiteis. Portraits of Resilience takes viewers up close to nine individuals to explore the relationship between the people and the lake as well as their fight for survival and self-identity. It gives a glimpse of how the lake intrinsically influences the existence of these individuals.
2. Divide into small groups and select one or more photo from "Manipur: Portraits of Resilience" (included below). At least one group should be studying each photo.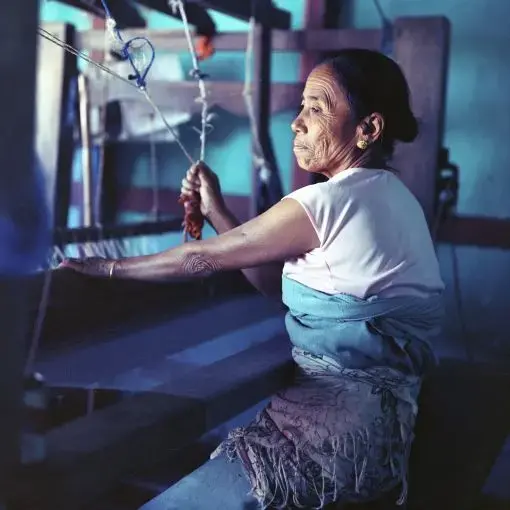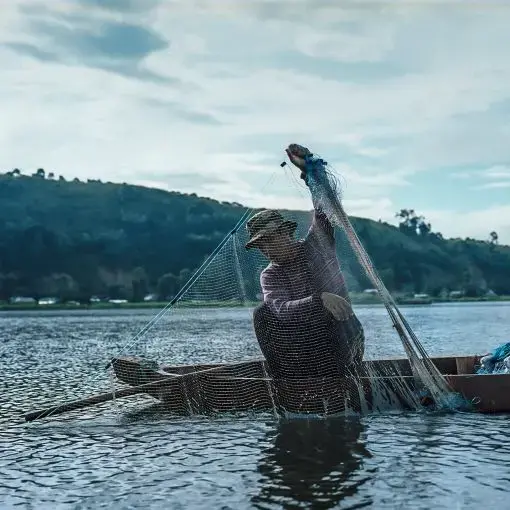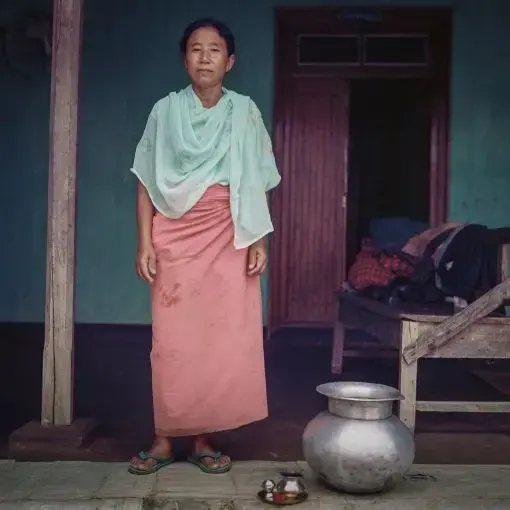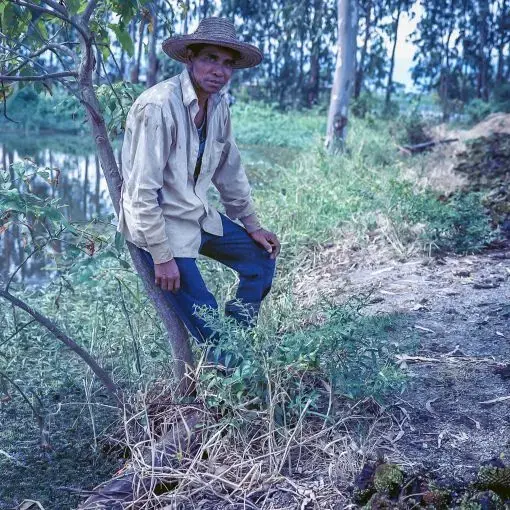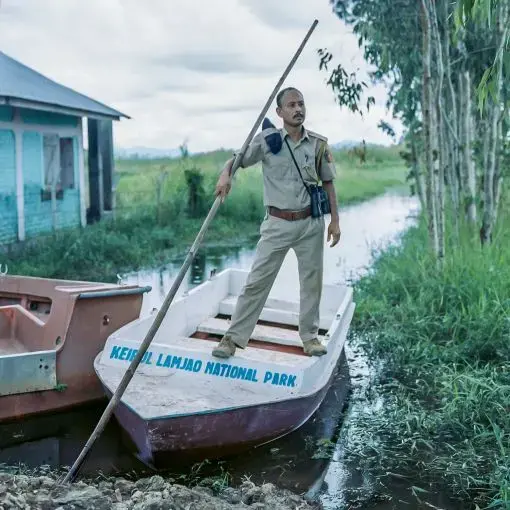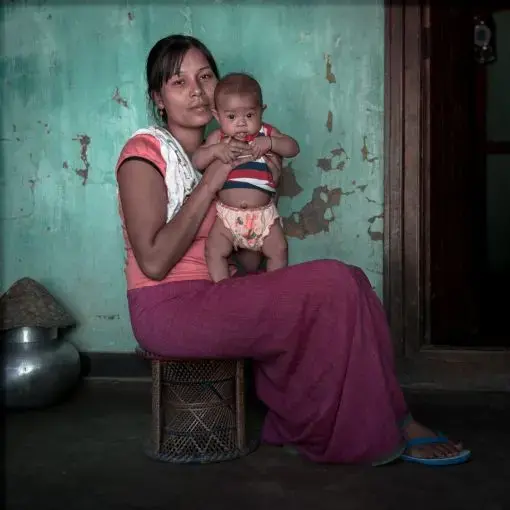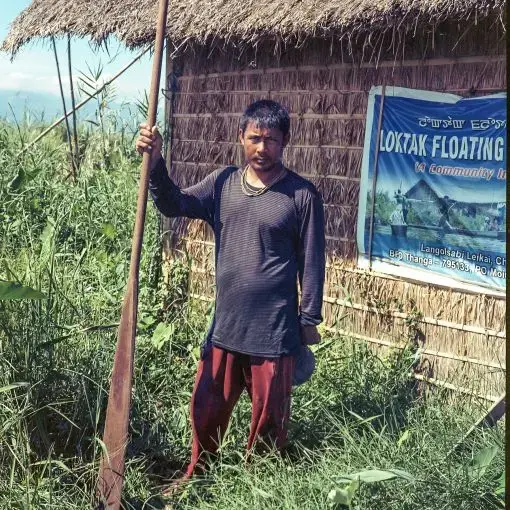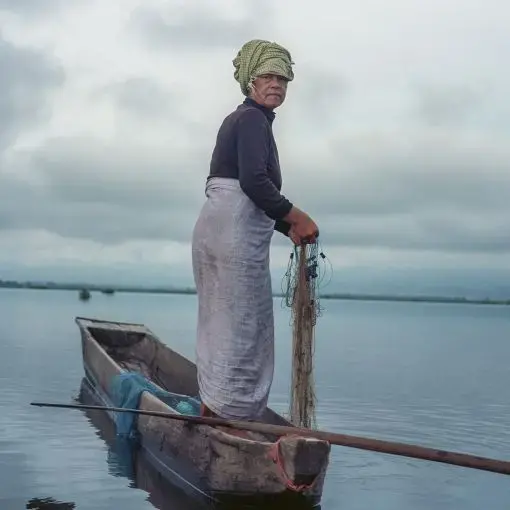 3. After analyzing your photo(s) and caption(s), answer the following questions:
What is this person's role in their community?
How does this person rely on Loktak Lake?
How is this person's life impacted by the changing ecosystem?
4. Share your group's responses with the class. What common themes can you see emerging from the discussion?
Extension Activities:
Option 1. The Meitei aren't the only Indigenous people impacted by climate change. Identify another Indigenous group you would like to learn more about; consider turning toward your local community (your town/city, state, or country). Research and prepare a presentation that answers the following questions:
What are the features of their ecosystem?
How do they rely directly and indirectly on their environment for survival?
How have they been impacted by climate change?
What are people in this Indigenous community doing to combat climate change and/or its effects?
Based on your research and that presented by your classmates, do you think that Indigenous groups are disproportionately affected by climate change? Why or why not?
These stories could serve as a starting place if you are looking to learn more about Indigenous groups dealing with climate change and environmental degradation:
Option 2. In small groups or as a class, brainstorm ways that an individual, school, and community can help the environment. Divide a sheet of paper into thirds, label the sections "you," "your school," and "your community," and work together to fill in each section. Create a large poster in the hallway at your school to encourage other students to add their own ideas.
Neeta Satam, the photojournalist whose reporting is featured in this lesson, is available to Skype with your class! Email hberk@pulitzercenter.org to schedule a conversation with her for your students.
REPORTING FEATURED IN THIS LESSON PLAN
×

PART OF: Manipur: Where the Islands Float

December 18, 2017

×

PART OF: Manipur: Where the Islands Float

December 6, 2017
RELATED ISSUES