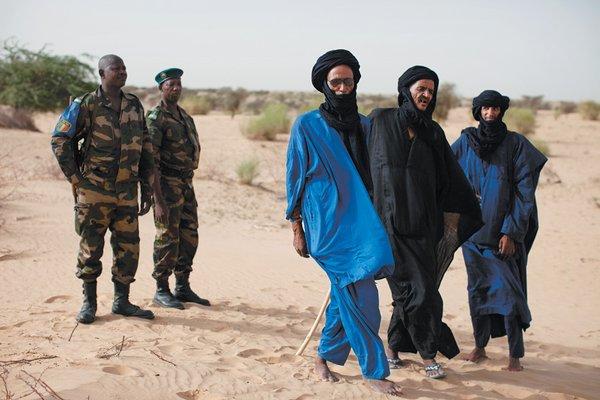 A JOB HALF DONE

In February, Pulitzer Center grantee Josh Hammer boarded a UN flight to Kidal, becoming the first journalist to visit the bleak outpost in the Malian desert since last November when militants from al-Qaeda of the Islamic Magreb—AQIM—murdered two French correspondents. Writing for The New York Review of Books, Josh documents a deteriorating situation following the 2012 coup and subsequent takeover by Islamic militants of a large chunk of the country's north.

French troops helped neutralize the AQIM threat, but, as Josh reports, "the desert is vast, with innumerable hiding places, and the extremists have long experience in holding on to their weapons, hiding their fuel and food, and surviving on the run." Josh reports that "as the French continue to scale down operations and turn over responsibility for the country's security to an all-African force, there is a growing sense that they are leaving with their mission and job half done."

PUBLIC POLICY AND PERSONAL FAITH

After visiting a Pentecostal church that can accommodate a million worshippers, Pulitzer Center grantees Allyn Gaestel and Allison Shelley conclude that religion is big in Nigeria. "Not just in size, not just in sound, nor in the omnipresence of reminders on billboards, bookmarks, pins and bumper stickers. It is big in the consciences of Nigerians, in the public understanding of morality, and in political debates," Allyn writes in a piece for The Los Angeles Review of Books.

Allyn and Allison were on assignment in Nigeria as part of an ongoing examination of maternal health in developing countries and the ways it is affected by culture and religion. Nigeria has the second highest burden of maternal mortality in the world—40,000 women die each year during pregnancy or in its immediate aftermath—and in some parts of the country half of these deaths can be attributed to illegal abortions.

Although the debate around contraception and abortion in Nigeria is particularly fierce and almost always intertwined with faith, Allyn and Allison found that in Lagos, the largest city, religious and cultural taboos make abortion a whispered word: "Below the surface, providers from across the healthcare spectrum, from herbalists to undertrained doctors to professional gynecologists quietly and regularly perform abortions. The safety and efficacy range widely, with the vulnerable young women in Lagos' poorer neighborhoods facing the most dangerous procedures."

RFK AWARDS

We were delighted to learn that two of our grantees were among this year's winners of the prestigious Robert F. Kennedy Journalism Awards. Photojournalist Robin Hammond won the international photography prize for his book, "Condemned: Mental Health in African Countries in Crisis." The Pulitzer Center has continued to support Robin's work on the mental health crisis in Liberia and Sierra Leone.

Varsha Ramakrishnan, a Pulitzer Center student fellow from the Johns Hopkins Bloomberg School of Public Health, was the winner in the college journalism category for "A Broken Promise: Dowry Violence in India," published in the Johns Hopkins Public Health magazine. Her project examines the ways in which a groom extorts money from the bride and her family and its effects on women both rural and urban and from all socio-economic classes.
RELATED ISSUES

Governance

Issue
Conflict and Peace Building
Conflict and Peace Building