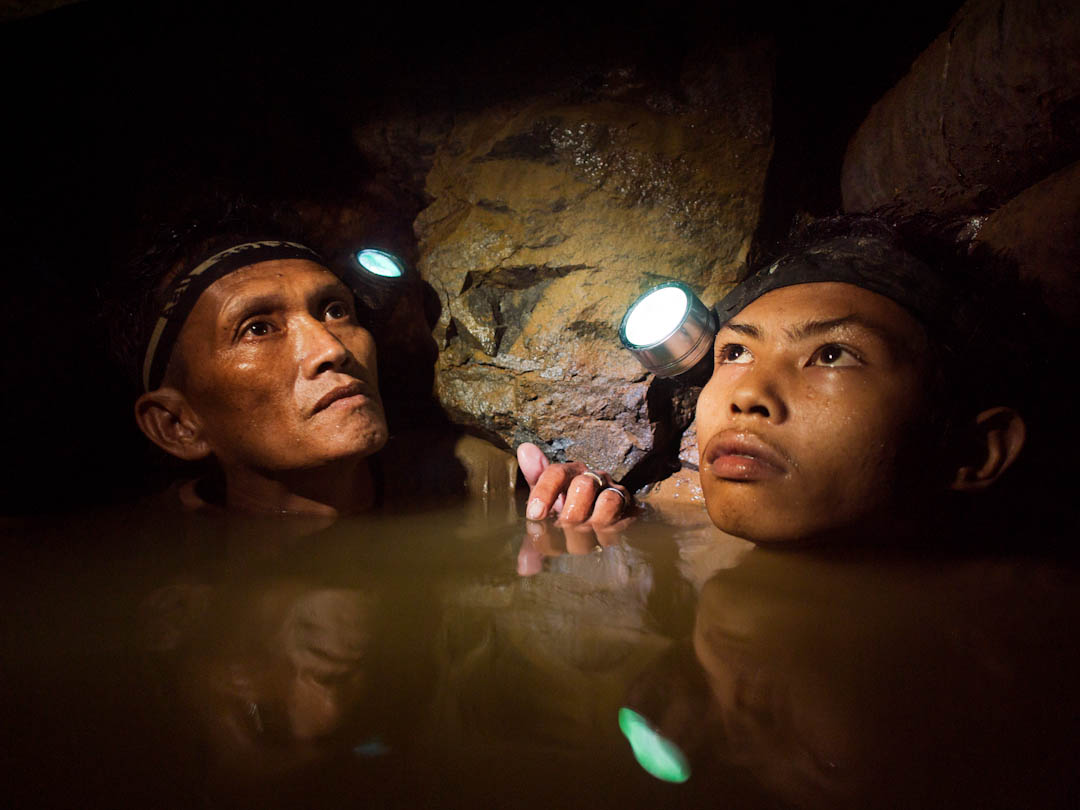 ACTION AGAINST DANGEROUS MINING IN THE PHILIPPINES

Small-scale gold mines in the Philippines and elsewhere in the developing world often rely on the labor of children. These illegal operations use child labor to dig the ore from shafts and pits, to pan in streams or rivers and to haul sacks of ore that can weigh up to 60 pounds. Children are also routinely exposed to mercury and cyanide used to extract the gold from the ore.

Pulitzer Center grantee Larry C. Price has been documenting the working conditions of these children in a series of reports for the PBS NewsHour and other outlets, including this remarkable photo essay on the NewsHour website and a podcast produced by the Pulitzer Center's Quinn Libson. At no small risk to himself, Larry has focused on a particularly dangerous form of underwater extraction known as compressor mining.

Last week, we were gratified to learn that the Philippine Department of Environment and Natural Resources has issued new guidelines that ban compressor mining. This follows a Philippine Senate resolution against the practice that cites Larry's reporting from this NewsHour segment. "Proof positive that this type of journalism is making a difference," Larry told us. "Finally, some action and lives saved."

SAVING MOTHERS' LIVES IN KENYA

Women in sub-Saharan Africa have a 1 in 38 chance of dying from complications related to pregnancy or childbirth. In developed countries, it's 1 in 3,700. What is perhaps more startling than those figures is that potential fixes for the high mortality rates in Africa are inexpensive and relatively simple to implement.

Pulitzer Center student fellow Paul Nevin traveled to Kenya to look at an emergency obstetrics training simulation run by PRONTO International, a Seattle-based organization that has partnered with the University of Washington. "PRONTO's low-cost, highly realistic birth-simulation trainings help health workers save the lives of mothers and babies despite huge challenges," says Paul, an MPH candidate at the university.

More than 400 Kenyan health workers have undergone the training and the results have been impressive. As Paul reports in The Seattle Times, one Nairobi hospital saw a 50 percent drop in stillbirths in the months following PRONTO training sessions.

ROADS KILL ROLLS ON

As anyone who has tried to navigate traffic in Bangkok or Jakarta knows, small, low-cost motorcycles are transforming life in much of the developing world. The transformation is particularly noticeable in Southeast Asia, where two-wheeled vehicles greatly outnumber cars by a gap that grows each year.

Access to cheap personal transportation has strengthened local economies and lifted millions out of poverty in places like Cambodia and Vietnam, but as Pulitzer Center Senior Editor Tom Hundley notes, there is a costly downside: Small motorcycles are deadly. Over the next decade, they are on course to claim more lives in the developing world than HIV/AIDS and tuberculosis.

Tom spoke with the Australian Broadcasting Corporation's Geraldine Doogue on the Saturday Extra program about what needs to be done to cut down on the fatalities. The Pulitzer Center's "Roads Kill" project, now in its second year, highlights this under-reported public health crisis and continues to draw interest from media outlets around the world.

Until next week,

Jon Sawyer
Executive Director
RELATED ISSUES