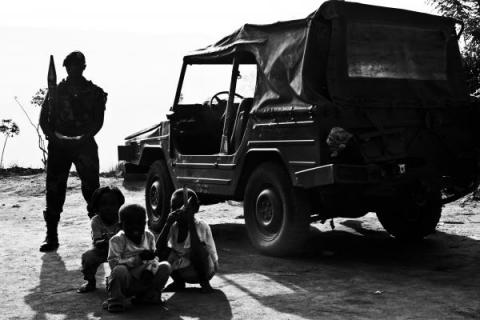 RAPE CITY

When a rebel militia occupied the city of Goma in eastern Congo last November, troops of the national army retreated through the nearby market town of Minova—and while there raped dozens of women and girls. Grantees Fiona Lloyd-Davies and Pete Jones have been documenting what happened, including assertions by some soldiers that the assaults were condoned—or even directed—by senior officers. Fiona's 22-minute documentary on Minova and its aftermath, including demands that the soldiers and officers be brought to trial so as to end impunity, aired this week on France24 and is available at Journeyman Pictures online. "We raped and destroyed everything in our path," one soldier tells Fiona. "When we rape we feel free."

NEXT TUESDAY ON FRONTLINE: "OUTLAWED IN PAKISTAN"

Impunity for rape is also a long-standing issue in Pakistan, where the women and girls assaulted are sometimes victimized again by families that shun or even kill them in grossly misnamed acts of "honor." For the past three years grantees Habiba Nosheen and Hilke Schellmann have followed the story of a girl and her family who chose instead to fight back. Next Tuesday at 10 p.m. Eastern their documentary "Outlawed in Pakistan" airs on PBS Frontline (check local listings). It is appalling, heartbreaking, and inspiring—the story of a dysfunctional justice system, inequitable social norms, and the courage of everyday people demanding something better.

BATTLING FOR CHILE'S FISH

In a three-part series for GlobalPost reporter Aaron Nelsen and photographer Fernando Rodriguez Chancks document disturbing trends off the coast of Chile, where overfishing has led to dramatic drops in annual fish hauls—in the case of jack mackerel going from 4.5 million tons as recently as the mid-1990s to a mere 300,000 pounds in 2012. Aaron reports on a new law that is intended to regulate production, and objections from representatives of the country's 85,000 artisan fishermen that the result will concentrate power in a handful of big commercial companies.

DAVID ROHDE JOINS PULITZER CENTER BOARD

We are pleased to announce the election of David Rohde to the Pulitzer Center's board of directors. David, a foreign affairs columnist for Reuters and The Atlantic, is a two-time Pulitzer Prize winner, for his reporting from Bosnia for The Christian Science Monitor and from Afghanistan and Pakistan for The New York Times. David is among the most respected journalists in the world, with deep experience covering the kinds of issues that the Pulitzer Center addresses every day. We know that his judgment and expertise will serve us in many ways and we look forward to working together.

FIVE TECHNOLOGY TOOLS JOURNALISTS USE

In a guest post submitted by the Asia Society to the Global Learning blog of Education Week, the Pulitzer Center's Amanda Ottaway and Mark Schulte talk with our colleagues about the many ways we're working with school and university partners to engage student audiences with the global systemic issues at the heart of our reporting—and that affect us all. "We're working to meet students where they are," says Caroline D'Angelo, the Pulitzer Center's social media editor, "whether it's on Twitter, iPad, or playing games—to try to engage them in the larger world around them."
RELATED ISSUES

Governance

Trade

Women