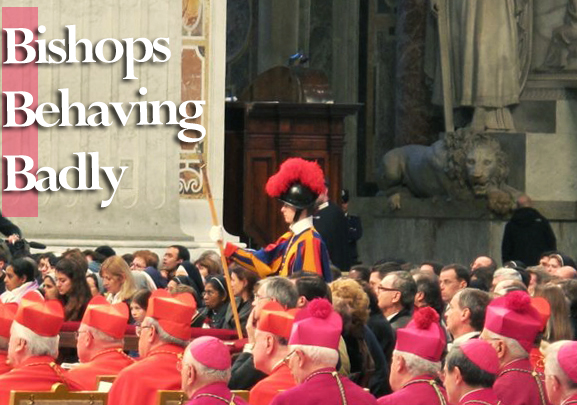 Still reeling from its decades-long cover-up of the clergy sex abuse scandals, the Vatican hierarchy has stepped into another polarizing conflict. This time it's American nuns. Nuns are often on the frontlines of Catholicism's struggle for social justice, but the bishops and cardinals of Rome see hints of what they call "radical feminism" in the nuns' alleged deviation from Pope Benedict XVI's strict conservative line.

Pulitzer Center grantee Jason Berry, writing for GlobalPost and The National Catholic Reporter, looks into the Vatican's investigation of the nuns, what caused it in the first place and the issues that lie ahead for an increasingly fractured church. In his first round of dispatches, he speaks with key figures, including Sister Pat Farrell, president of the Leadership Conference of Women Religious, the target of the Vatican's anger, and renowned church scholar Hans Küng, who accuses the Vatican of waging "an Inquisition."

* * *

As the end of the world approaches (today, by the Mayans' reckoning), Pulitzer Center grantee and Persephone Miel fellow Anna Nemtsova reports that thousands of disillusioned Russians have been flocking to various sects and cults. Business is booming for self-proclaimed messiahs, according to Anna, who has been writing about various trends among young Russians for The Daily Beast. "[T]he Russian government has grown increasingly worried about the sects and the Russian Orthodox Church has gone so far as to set up a department to monitor the cults' influence," says Anna. "The department's director, Alexander Dvorkin, estimates that 4,000 distinct religious movements and cults—involving up to 800,000 people—exist in Russia today."

On the subject of the Persephone Miel fellowship, we are pleased to announce that the call for proposals for the 2013 fellowship is now open. Journalists and media professionals outside the U.S. who are seeking to report from their home country are invited to apply.

* * *

The terrible massacre of 20 schoolchildren and their teachers in Newtown cries out for "meaningful action" from our nation's lawmakers. At the Pulitzer Center, we have put out a call for reporting proposals that examine the causes and consequences of gun-related violence. In particular, we are seeking projects that compare U.S. trends, government policies, and social attitudes with those in other countries. We especially seek proposals that include both an international component and relate to the Chicago metropolitan area, a major focus of Pulitzer Center educational outreach and also a region where gun violence claims one life per day.

***

The Pulitzer Center is looking to hire an intern to help with e-books promotion and marketing strategy for 10-15 hours a week in the spring semester.

Until next week,

Tom Hundley
Senior Editor

***

This holiday season, go on a journey and support journalism through our e-books. Meet the people of Haiti through stories, poetry, song, video, and original music. Travel for a year through Afghanistan by donkey with Anna Badkhen. Explore the global water crisis with Dan Grossman. See what it means to be without a country through the photography of Greg Constantine and the reporting of Stephanie Hanes on some of the estimated 12 million stateless people worldwide.