Pulitzer Center Update April 5, 2016
This Week: Celebrating Our First Decade, and Beyond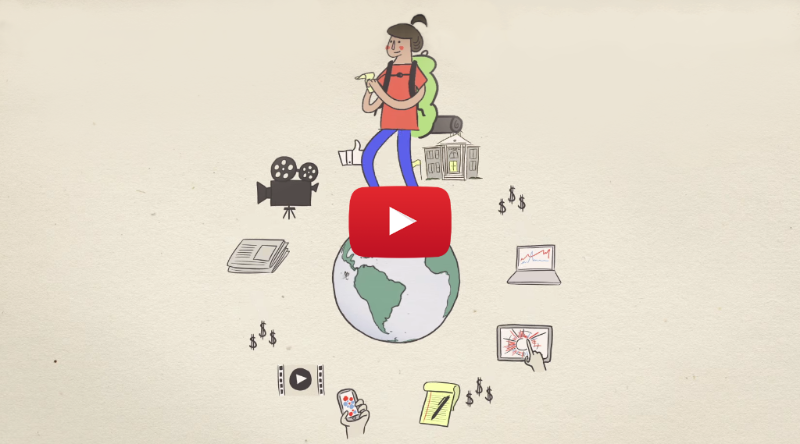 A $12 MILLION COMMITMENT

We are thrilled to announce an endowment challenge from Emily Rauh Pulitzer, the chair of our board, pledging up to $12 million as a match for every dollar we receive in long-term support. This is a remarkable vote of confidence in the public-good journalism we have sought to practice, in the 10 years since our founding, and a huge step toward assuring the Pulitzer Center's permanent role in journalism and education both.

Katherine Moore, another member of our board, has made the first $1 million match toward Emmy Pulitzer's challenge. Thank you both!

To mark our first decade we have worked with Pulitzer Center grantee Mathilde Dratwa to produce "Our Story," a lively video animation aimed at explaining our model in just over three minutes. We are also pleased to share an article on the Pulitzer Center—and on the new endowment gifts—that was featured today in The Chronicle of Philanthropy.

PANAMA SECRETS REVEALED

One of the biggest leaks ever of commercial records, 11.5 million documents from a Panama law firm known as Mossack Fonseca, lifts the veil on an extra-legal system of offshore financing that has been used to evade taxes, fuel conflicts, trade drugs, and more. The documents are now the subject of a worldwide investigation comprising over 100 media partners and led by the International Consortium of Investigative Journalists (ICIJ) at the Center for Public Integrity (CPI).

The Pulitzer Center is pleased to have partnered with ICIJ on a video animation, produced by our grantee Carrie Ching, that tells the story of the real-life victims of these shadowy financial practices, from civilian casualties of bombings in Syria to the women and children subject to sexual trafficking in Russia. The video has already reached over 1,125,000 viewers worldwide. Bring the groundbreaking investigation to your classroom with this lesson.

REVISITING NUCLEAR WINTER

In the early 1980s, Carl Sagan was among a number of prominent scientists who warned that a nuclear-weapons exchange could plunge the world into a new ice age. The science behind such assertions was later challenged and with the rise of global warming some experts now speculate that controlled nuclear explosions might actually counteract the effects of climate change. Pulitzer Center grantee Kit Roane examines the fascinating shifts in science and public debate in a Retro Reports video for The New York Times.

IN SIERRA LEONE, A BLIND SPOT?

And finally, congratulations to our own Emily Baumgaertner, the Pulitzer Center's health projects coordinator, for an unforgettable story in The Atlantic on the threat of blindness to the 15,000 West African Ebola survivors—and concerns among health-care professionals that treating those individuals could release the deadly virus among the general population again. "As long as that question goes unanswered," Emily writes, "the eyes of Ebola survivors are considered inoperable. Patients who need surgery are told to go home, to wait, until researchers confirm whether their eyes are viral landmines. Meanwhile, they're going blind."

Until next week,

Jon Sawyer
Executive Director