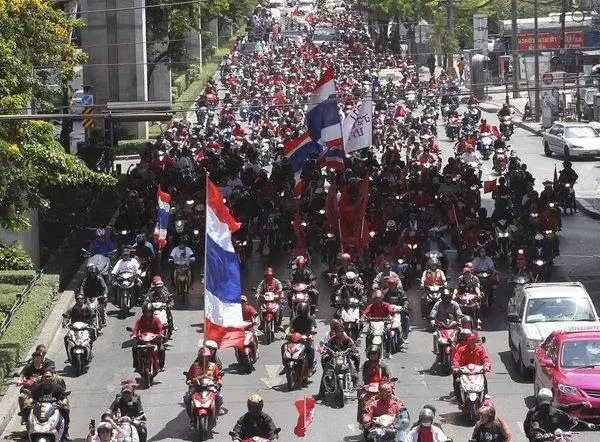 Supporters of Thailand's Red Shirt movement in a protest against the Constitutional Court in Bangkok last year. Image by Apichart Weerawong/AP Photo. Thailand, 2013.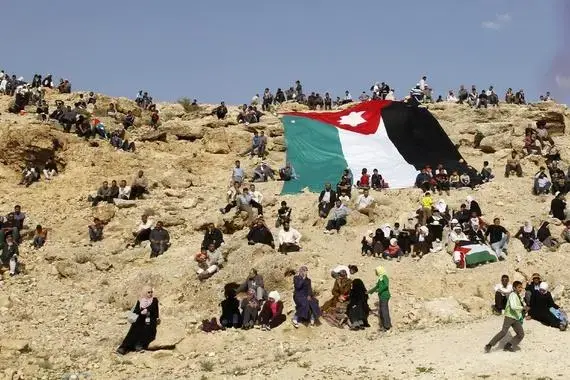 A group of Palestinian refugees gathered around a large Jordanian flag. Image by Muhammad Hamed/Reuters. Jordan, 2014.



TAXI TROUBLE IN THAILAND

Bangkok's legion of motorcycle taxi drivers—an estimated 200,000 of them—provided key logistical support to anti-government protesters in the spring of 2010. "(T)hey carried messages, money, and materials to the protesters, including the makings of Molotov cocktails," writes Pulitzer Center grantee Richard Bernstein in a dispatch for The New York Review of Books.

Since then, the drivers have also come of age politically, which may pose a serious problem for the military junta that took control of the country earlier this year. According to Richard, "people like the motorcycle taxi drivers are no longer the country bumpkins who used meekly to submit to authority. They are a politically engaged population spread across the heart of the capital, on every street corner—part of an electoral majority that has challenged the power of unelected governments again and again, and they aren't going away."

A former foreign correspondent for The New York Times and Time magazine, Richard is working on a series of stories about Thailand, a key U.S. ally in Southeast Asia that appears to be drifting away from the path of democracy.

THE REAL REFUGEE CRISIS

The Hashemite Kingdom of Jordan is a rare island of stability in a sea of extremist-fueled turmoil. But this blessing comes at a cost: "Jordan's real crisis is not the threat of encroaching extremism, but the grinding weight of hosting victims from the region's various humanitarian emergencies. The technical name for this is a "protracted refugee crisis"—a burden that Jordan uniquely bears as host to more than a million refugees and asylum seekers from surrounding conflicts," writes Pulitzer Center grantee Alice Su in her story for The Atlantic.

"Since 2011, Jordan's 6.3 million people have taken on roughly an additional 600,000 Syrians, who join about 29,000 Iraqis and some 4,000 refugees from Sudan, Somalia, and other countries, along with thousands more who remain unregistered with UNHCR, the U.N. refugee agency. If this were the United States, it would be as if Canada's entire population moved in virtually at once."

Alice, whose reporting on this subject also appears on Al Jazeera's website, is looking at the lives of refugees, how they impact host countries, and how they are ultimately forced to reinvent themselves.

A PITCH FOR TAR SANDS PROJECT

Pulitzer Center grantees Dan Grossman and Alex MacLean, who recently flew a small plane over the Canadian wilderness to document the environmental costs of the Keystone XL pipeline, have turned to Indiegogo, the international crowdfunding site, to raise $10,000 to fund additional reporting on the project.

The Pulitzer Center is pleased to announce that we will match the next $3,000 that Dan and Alex are able to raise. Dan's reporting and Alex's unique aerial photography of the Alberta tar sands have already appeared in GlobalPost, Huffington Post, Fast Company and on PRI's The World. If you would like to see more on this critical story, we urge you to visit the Indiegogo site and add your name to the list of contributors.

Until next week,

Tom Hundley
Senior Editor
RELATED ISSUES

Governance

Issue
Land and Property Rights
Land and Property Rights