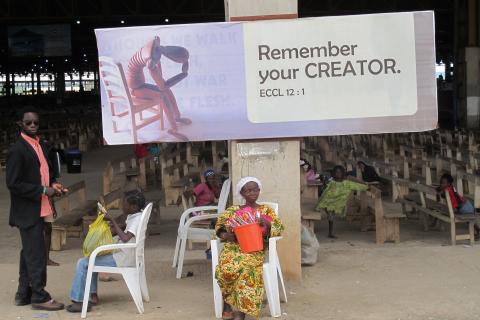 MAPPING FAITH

An innovative new project explores the remarkable growth of Pentecostalism around the world. Each day, an estimated 35,000 people join a Pentecostal church. Of the world's two billion Christians, a quarter are now Pentecostals—up from just 6 percent in 1980.

The Atlas of Pentecostalism developed by Pulitzer Center grantees Bregtje van der Haak and Richard Vijgen is a unique and dynamic online database that maps an expanding global religion as it evolves. The project uses global crowd-sourcing, big data—and an immersive video documentary on a Pentecostal church in Nigeria that routinely draws congregations of half a million people.

On the Pentecostalism project we are collaborating with the University of Southern California. It's part of a three-year project undertaken with support of the Henry Luce Foundation, aimed at exploring the intersections of faith and public policy and drawing on the expertise of Pulitzer Center partner universities.

At the Pulitzer Center we are keenly interested in developing new forms of journalism to tell important but often complex stories, and to bring those stories to the broadest possible audience. For an introductory walk-though on how the Atlas works, click here.

ENDING A WAR

Barely two years after the last American combat troops were withdrawn from Iraq and nearly a decade after more than 100 U.S. soldiers died in the battle for Fallujah, the strategic city in Anbar province has again been captured by Sunni insurgents, many of them with ties to Al Qaeda.

This sends a deeply pessimistic message to Afghanistan, which is awaiting the withdrawal of U.S. and NATO troops at the end of this year. Pulitzer Center grantee Jeff Stern has been in the country for several months on a long-term project that looks at the legacy of America's war in Afghanistan by chronicling how it ends. Jeff has spent time with Afghanistan's most vulnerable groups—women, ethnic minorities, youth, businesses dependent on the foreign presence—to see how they are preparing for life after the U.S. withdrawal.

In the latest installment, for Foreign Policy, Jeff speaks with Shabnam, 25, a therapist in a drug addiction treatment center in Kabul.

"Right now, there are organizations working against drug sellers, working against people who are importing, using, producing drugs, but when the foreign forces leave, there will be insecurity," Shabnam tells Jeff. "And that insecurity will increase the rate of drug sellers and drug users and drug importers. That's a big concern."

CHINA'S PIVOT

While the Obama Administration "pivots to Asia," China has signaled a pivot of its own—to Africa.

Writing for The American Interest, Pulitzer Center grantee Jacob Kushner notes that "when Xi Jinping pondered which foreign region to visit first as China's newly appointed President, he wasn't swayed to a mineral-rich Australia, a thriving Singapore or steadfast North Korea. Instead, his careful calculations took him to Africa. After a brief, almost obligatory stop in Moscow, he flew to Tanzania, South Africa and Congo-Brazzaville, where he promised $20 billion in new credit to finance infrastructure and agriculture in Africa over the next three years."

China passed the U.S. as Africa's main trading partner in 2009 and the gap continues to widen. Some two months after Xi's visit, President Obama made his first extended visit to Africa after more than four years in office. "The sign of America's lagging commitment to Africa was not lost upon Africans," writes Jacob.
RELATED ISSUES