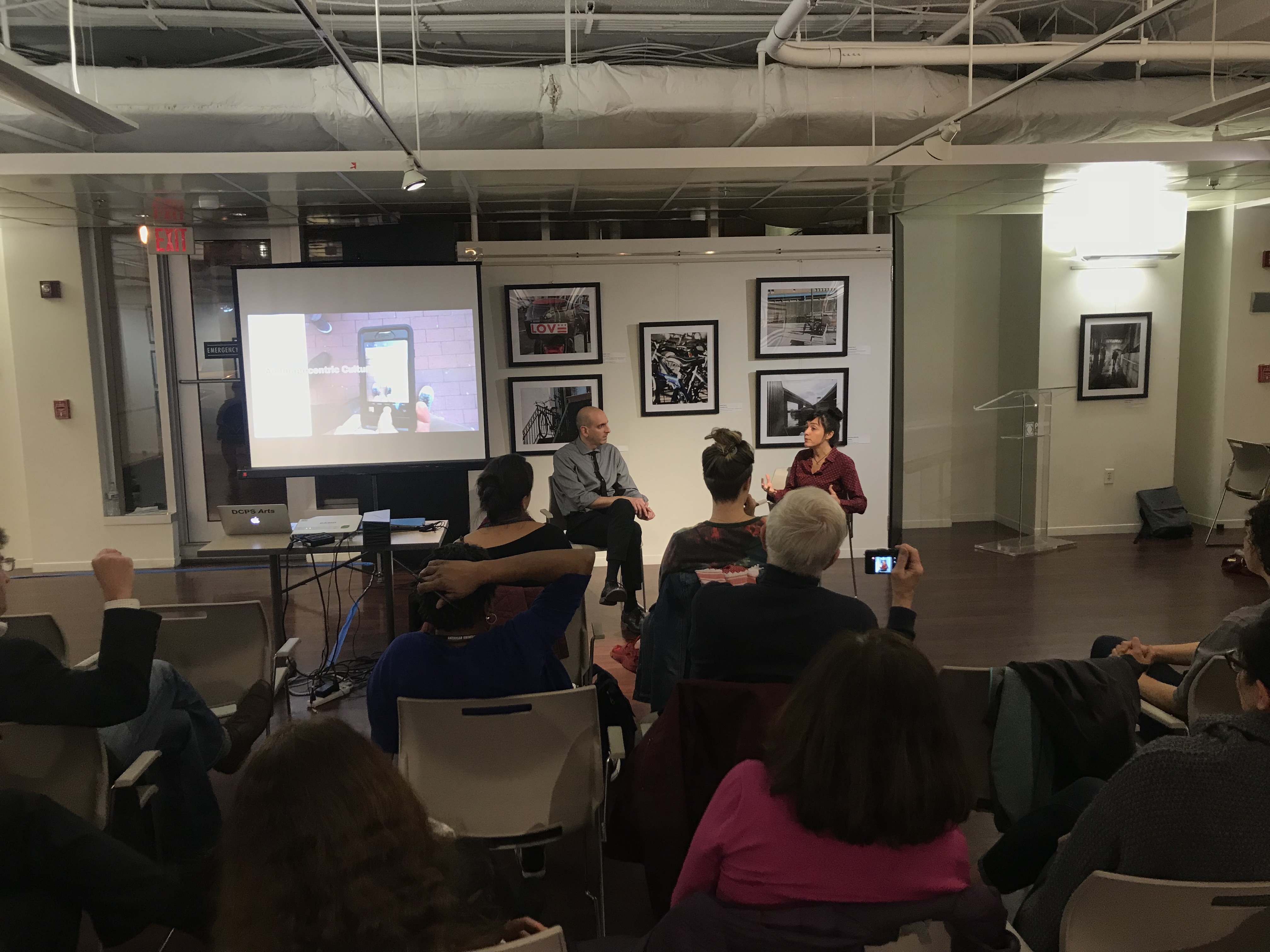 The Pulitzer Center and DC Public Schools (DCPS) Arts hosted the workshop "Interpreting Our Visual Culture: Teaching Visual Literacy Through Photography" last week as part of the "Everyday DC" student photography exhibition at the Pepco Edison Place Gallery in Washington, DC. Led by DCPS Director of Arts Nathan Diamond and award-winning photojournalist Allison Shelley, the discussion focused on how photography impacts the way we view our communities, cultures, and current events.
The workshop asked participants to examine how the images selected to accompany stories in our newsfeeds inform how we view information. It also aimed at showing participants that the images used can be just as important as the headline, font, or overall angle of the article when it comes to determining the story we are being told. 
As a former educator, Diamond stressed the importance of teaching ourselves, and especially our students, how to be critical of what and how media presents information using images.
"One of the things [DCPS] is really trying hard to do is to connect young people and the work that they do in an art classroom [to] how that relates to the rest of the world," Diamond said. 
He added that asking questions like, "Why was this image paired with this article?" or "What angle of the story is this image portraying?" can help students think more critically when examining the flood of information that is now produced 24/7.
Shelley pulled from her own work to show how pictures can either contribute to or refute stereotypes about certain peoples and cultures. As she presented a project she recently shot in Africa, she pointed out the challenges journalists and editors face in trying to accurately communicate stories while also being mindful of inaccurate stereotypes that readers often connect with the continent. 
"We noticed that the images we were asked to do on assignment or those we were expected to come back with, were not necessarily the things we were seeing on the ground," Shelley said. "There were a lot of stereotypes being reinforced and not the everyday life."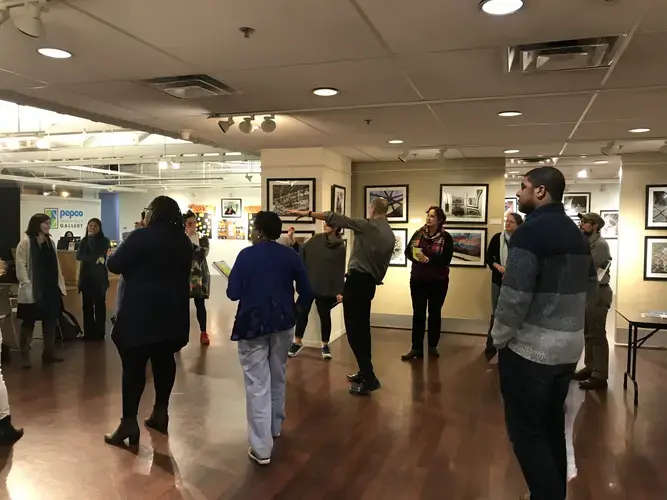 Those who attended the workshop participated in hands-on activities to help them better understand how visual literacy plays out in their own lives. Diamond led participants through a curation exercise that demonstrated how even the order of images can impact one's perception of a story. Teachers also practiced pairing one piece of writing with two different images to examine how the pairing of text and images can influence a reader's understanding of a story.
The workshop was open to the public and took place at the "Everyday DC" photo exhibition, which was on display at the Pepco Edison Place Gallery from January 9, 2018 through January 26, 2018. Over 100 DCPS middle school students contributed to the exhibition, which aimed at sharing images of how students see everyday life in the District. "Everyday DC" is the culmination of a visual arts unit designed by Pulitzer Center and DCPS visual arts teachers to teach photojournalism and visual literacy skills.
Click here or on the video below to watch Diamond and Shelley discuss the roles of a photojournalist and an editor in communicating global stories. Shelley also discusses her thoughts on sometimes editing her own work when working freelance on a project. 
"Everyday DC" is supported in part by the D.C. Commission on the Arts and Humanities, an agency supported in part by the National Endowment for the Arts. The project is also supported by the Pepco Edison Place Gallery, which generously donated the space for the exhibition. For more information on the "Everyday DC" unit, or any of Pulitzer Center's education initiatives, click here to contact our education department.