LiveHopeLove.com and Michael Kavanagh's "War in Congo" reporting for Worldfocus are both nominees for News and Documentary Emmy awards. LiveHopeLove.com is nominated in the "New approaches to news and documentary programming: Arts, lifestyle and culture" category; "War in Congo," which aired on PBS's Worldfocus as part of Michael Kavanagh's Pulitzer Center project The Roots of Ethnic Conflict in Eastern DRC, is nominated in the "Best story in a regularly scheduled newscast" category.

LiveHopeLove.com, an interactive site based on Kwame Dawes' Pulitzer Center project, HOPE: Living and loving with AIDS in Jamaica, has won other accolades including a People's Voice Webby Award, and is the inspiration for the upcoming multimedia performance Wisteria & HOPE, which will premiere at the National Black Theatre Festival in North Carolina August 6 and 7.

Michael Kavanagh has won several awards for his Congo project, including an Edward R. Murrow Award for radio writing and an RFK Foundation Award for best international reporting on television.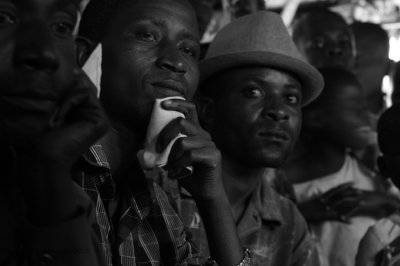 The 2006 election in the Democratic Republic of Congo was supposed to usher in a new period of peace...
RELATED ISSUES

Women

Governance

Issue
Conflict and Peace Building
Conflict and Peace Building