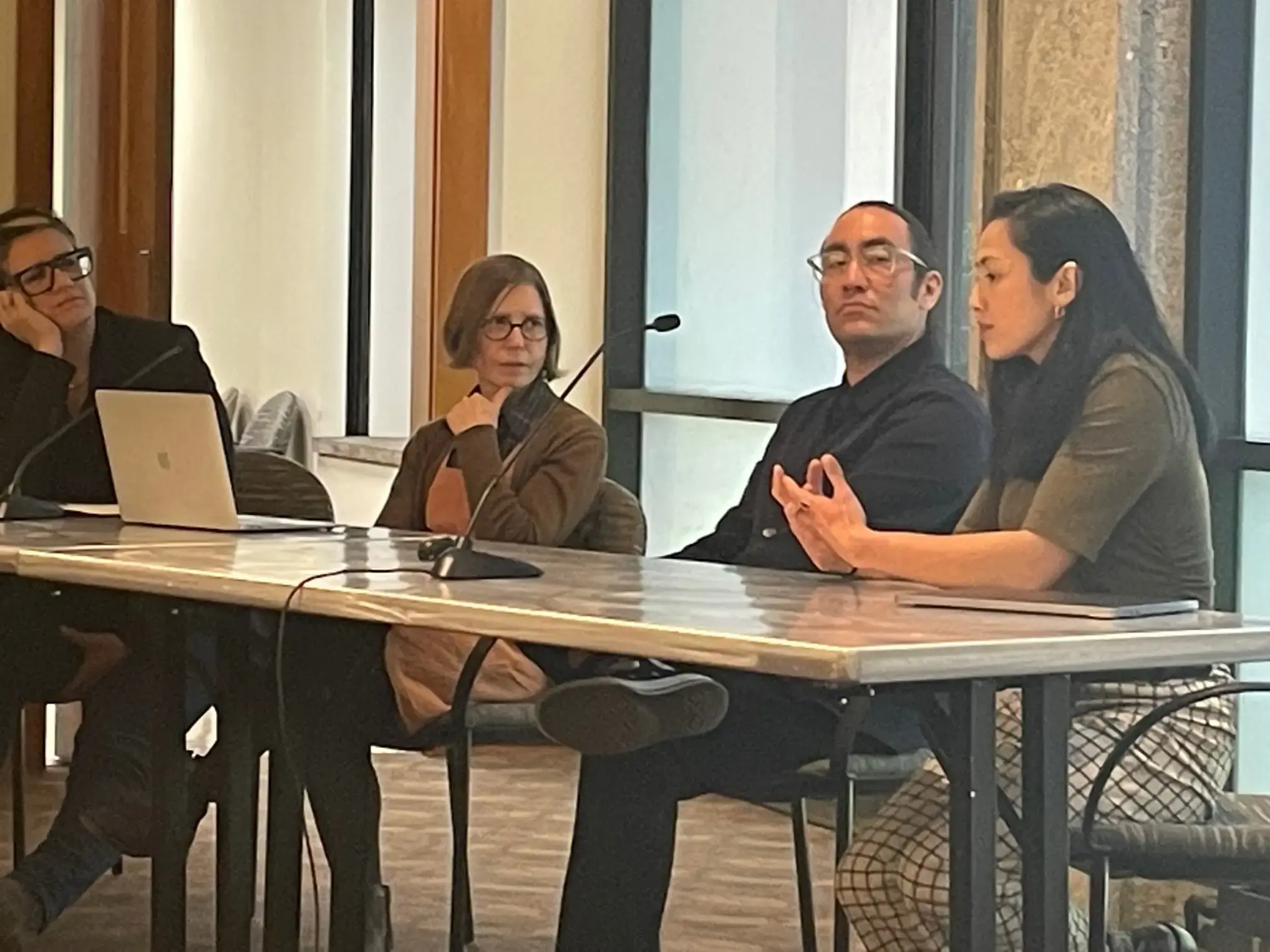 Journalists Tristan Ahtone and Maria Parazo Rose visited the Swarthmore College campus on March 27-28 to discuss their work on Land-Grab Universities, a two-year investigative project showing how American universities profited from the sale of land taken from Indigenous nations. In 1862, the Morrill Act, distributed public domain lands to states to support universities. The project details the redistribution of 10.7 million acres of land from more than 250 tribal nations for the benefit of 52 colleges land-grant universities.
Ahtone, former editor of High Country News, now editor-at-large at Grist, and Rose, a spatial data analyst at Grist, discussed their reporting process at a public event titled "Old Debts, New Research."
Data collection can be slow going: It took a large team weeks to make 44,000 manual entries in a database to show Indigenous cessions of land, the price paid for Indigenous titles, and the money raised for university endowments.
Associate Professor of Political Science Ben Berger, the executive director of the College's Lang Center for Civic and Social Responsibility, introduced the speakers. English literature professor Lara Cohen and Rachel Mattson, Director of Special Collections + Curator of the Peace Collection at Swarthmore, moderated a lively discussion. "Follow your curiosity," Ahtone said. "Examine an issue from all sides," Rose added. "But remember you can only tell one story at a time."
The two talked about how to use journalism to seek justice. "Look for stories that engage communities," Ahtone said. Both Ahtone and Rose stressed the need to mobilize and activate readers by giving them data. "And make it open access." Maps are also important to help people see, imagine, and relate, Rose said.
But storytelling is key. "Data is not the story," Rose said. "You need context." Ahtone said, "I'm always looking for the narrative. If you don't have a story, people don't engage." He doesn't read academic papers for fun on a Saturday morning. He reads stories.
While on campus, Ahtone and Rose also met with individual students, took part in a podcast, and visited classes titled "Why College?" and "Indigenous Peoples and Climate Change Impacts."
These events were made possible by Swarthmore College, Aydelotte Foundation, and the Lang Center for Civic and Social Responsibility, as well as the Pulitzer Center. Many thanks to Katie Price and Emily Paddon Rhoads for spearheading the Pulitzer Center partnership and facilitating the visit.
RELATED ISSUES

Governance

Issue
Indigenous Communities
Indigenous Communities

Issue
Migration and Refugees
Migration and Refugees