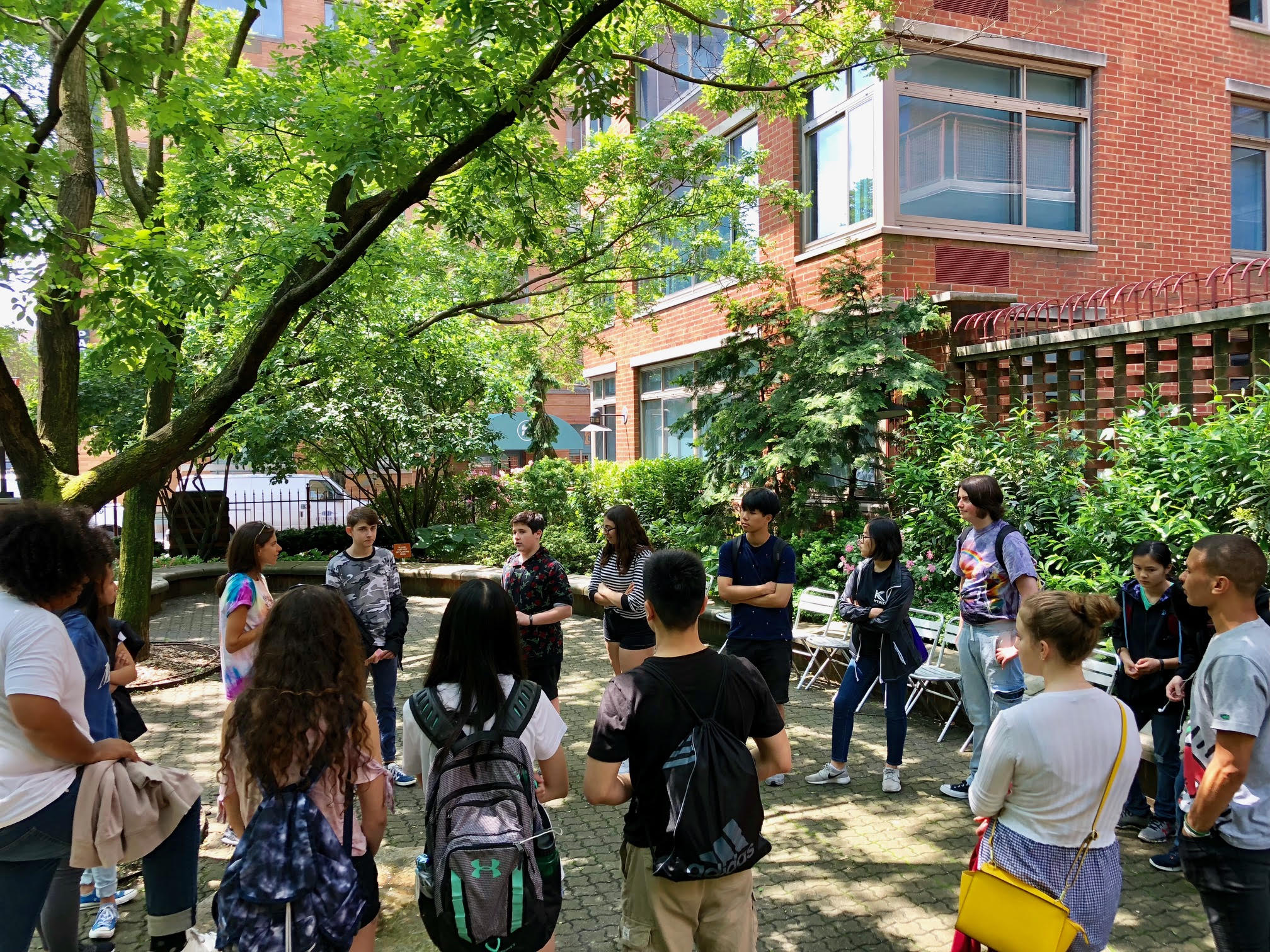 The instructions for visiting the neighborhood were simple: try a pirozhok, Russian for "small pie," and then profiteroles, Russian cream puffs, for dessert. Disembarking the train from South Brooklyn, the high school seniors walked along the boardwalk past the famed Cyclone roller coaster on Coney Island. They were headed for Little Odessa, the Brighton Beach neighborhood sculpted by its Russian immigrant population.
"I was caught by surprise at what I saw," wrote one student. "It was a Russian neighborhood that had yet to be corrupted by gentrification. It was an untouched taste of the Russian culture. Many described it as being in another country, however, I did not see it that way. Since I live very close to Jackson Heights, a neighborhood rich with many different Latin American and Asian cultures, I was used to these small areas that contain a lot of untouched culture."
For over three years, New York City high school students have wandered the boroughs practicing slow journalism as part of the Out of Lab Project. The project debuted in the spring of 2016 through a collaboration between the New York City Lab School in Chelsea and the Pulitzer Center education team. Out of Lab was inspired by National Geographic Fellow Paul Salopek's Out of Eden Walk, a decade-long project in which Salopek follows the path of human migration from Herto Bouri, Ethiopia to Tierra del Fuego, Chile on foot. Every hundred miles, Salopek shares a photograph, interview, and written reflection encapsulating that part of his journey.
By exploring Salopek's updates, students learn the value of slow journalism, a form of reporting that prioritizes a journalist's engagement with an issue over the thrill of breaking a story. According to Lab School teacher Sara Grundman, the project enables teachers to ask students, "What does it mean to slow down? What does it mean to observe closely? What does it mean to approach someone that you don't know and talk to them? How does that relate to participating in your city and the world?" For high school seniors impatient for post-graduation experiences in the famously restless  New York City, these questions are especially timely.
In 2018, 123 students participated in the Out of Lab project. Over the course of the spring semester, the students took several 1-5 hour walks to slowly uncover underreported stories in the city. Hour long neighborhood walks, walks through the city's parks, and teacher-designed walks prepared students to propose their own trajectories.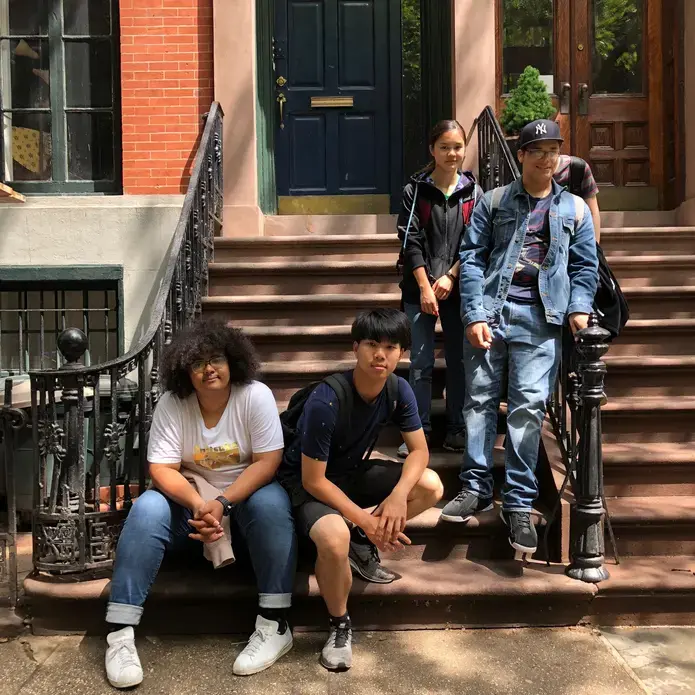 NYC Lab School students pose for a photo during a walk through the city. Image courtesy of Lab School. Image by Pat Dawkins. New York City, 2018.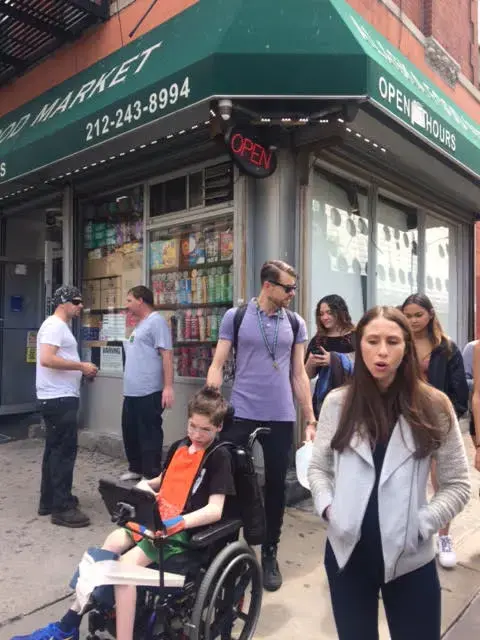 NYC Lab School students slowly wander through New York neighborhoods to uncover underreported stories. Image courtesy of Lab School. Image by Sara Grundman. New York City, 2018. 

Throughout these city treks, students record observations, take photographs, and interview neighborhood residents. Walking through Brooklyn Bridge Park, a student takes note of her surroundings: "The bridge. Walking the big grey structure always feels brand new. The way you can see cars moving beneath the cracks in the boards lining the floor. The sun tanned the back of my neck as we walked across, up out of DUMBO [in Brooklyn] and into lower Manhattan. The group had become dispersed among the other walkers. Tourists, mostly."
In addition to the walks, students participate in three workshops led by Jeff Blossom, the Geographic Information System Service Manager of the Center for Geographic Analysis at Harvard University and chief cartographer for the Out of Eden Walk. During the workshops, the students and Blossom utilize the mapping application STRAVA, typically used by runners and cyclists, to discuss cartography and plan routes throughout the city. "I'm enlightened and impressed more than anything" explains Blossom, "to the fact that a project like this can continue to produce so many great educational and media products while carrying on such a great message: slow down and observe your immediate surroundings. Be a person."
While the project helps students make deeper connections in their local communities, it also allows teachers to reflect on their pedagogy. "It's informed how we approach, or want to approach, teaching," Grundman explains. The project enables teachers to "add layers of engagement for the students so that they can see that learning takes place all the time, everywhere--not just in the classroom," says Alan Duffy, another teacher at the Lab School.
For future iterations of the project, Grundman hopes that students can develop deeper connections with the strangers they meet. "Let's say they go to Jackson Heights and they get a cup of coffee somewhere, maybe they decide to go back to that same coffee cart and arrange for a time where they can actually sit down for a longer period of time with some other arranged questions," says Grundman. She imagines that these longer conversations may lead to profiles of neighborhood residents and allow students to better understand the communities they visit.  
"For us, it's evolved from the first time we did it to something we would do with any grade that we were teaching," reflects Grundman. During their final presentation, the seniors led 9th grade Lab School students on short walks around the city. The 9th graders took some photographs, asked the people they met a few questions, and tried to slow down--a small look ahead toward the project they too will complete in their final weeks of high school.
Click here to see the 2017 Out of Lab projects.
RELATED ISSUES