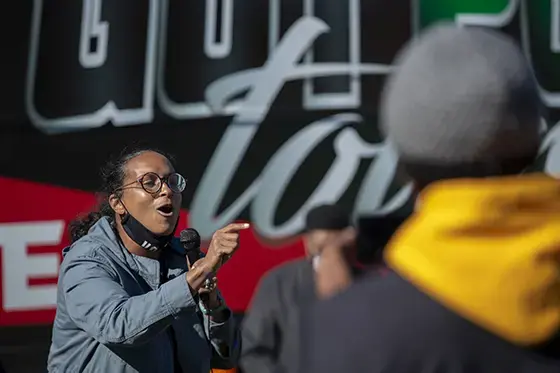 Kristie Puckett-Williams manages the Campaign for Smart Justice in North Carolina, an ACLU initiative aimed at barring by law the use of leg and wrist shackles on incarcerated women who are in the second and third trimester of pregnancy and requiring that pregnant incarcerated women get access to prenatal, labor, and delivery care. 
You might find it hard to believe that pregnant women would be treated that way. Puckett-Williams knows it from her own experience, incarcerated in a Charlotte jail a decade ago when she was pregnant with twins. She also knows the odds were stacked against her when she got out of jail—and what it took to keep her family intact and get the education she needed to become the leader for reform that she is today.
Grantee Ashley Mahoney tells Puckett-Williams' story in The Charlotte Post. She also shares the appalling scale of the challenges in helping formerly incarcerated people build productive lives. She cites a 2019 study by the Prison Policy Initiative: 81,000 individuals are released from prison each year, it says, and a staggering 1.8 million from local jails.
Meaningful programs to help with re-entry fall far short of the need. One of the more successful of them, A New Way of Life Reentry Project in California, is the work of formerly incarcerated Susan Burton. She describes her experience in a wonderful Pulitzer webinar with TIME for Kids Executive Editor Jaime Joyce.  
Grantee Meera Santhanam, our Justice Reporting Fellow from the University of Chicago, reports that in prison justice circles there is a growing emphasis on abolition, not just reform, of the entire system of mass incarceration. She writes about Tricia Rojo Bushnell, head of the Midwest Innocence Project and president of the Innocence Network, an affiliation of more than 60 independent innocence organizations dedicated to freeing the wrongfully convicted. The innocence work is important and urgent, Rojo Bushnell suggests, but it won't fix the deeper systemic challenges of the prison culture the country has built.
In the next several months we'll be addressing many of these issues through the End of Isolation Tour, the performances in five cities of grantee Sarah Shourd's play The BOX, a searing exposé on how solitary confinement has become an essential—and unjust—tool in keeping jails and prisons under control. On our events listing you'll find out how to join us on the tour—and how to help us bring this work to even more communities next year.

Photo: The image is by photographer Steve Remich.
RELATED INITIATIVES
RELATED ISSUES

Women

Criminal Justice