Pulitzer Center Update October 24, 2016
TCU's Bob Schieffer College of Communication Joins Campus Consortium Network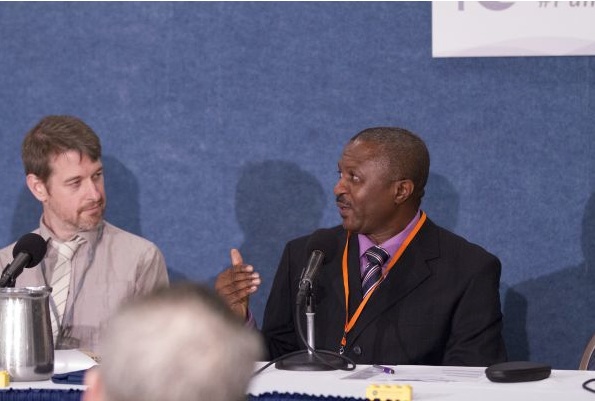 The Pulitzer Center on Crisis Reporting and Texas Christian University's Bob Schieffer College of Communication are pleased to announce that the Schieffer College's Department of Journalism has become the Pulitzer Center's first university Campus Consortium partner in Texas. The partnership was announced Oct. 8 in Washington, D.C., at the Pulitzer Center's 10th anniversary festivities.

"Our mission at Texas Christian University is 'To educate individuals to think and act as ethical leaders and responsible citizens in the global community.' We're excited that this new partnership will provide opportunities for our student journalists to leave Fort Worth and immerse themselves in reporting stories about crucial and urgent global issues that confront us all as citizens," said Dr. Kristie Bunton, Dean of the Bob Schieffer College of Communication.

The Pulitzer Center is an innovative award-winning non-profit journalism organization dedicated to supporting in-depth engagement with underreported global affairs. The Center undertakes its mission through supporting journalists to undertake international reporting projects across all media platforms and creating unique programs of outreach and education for students, educators and the general public.

TCU's Bob Schieffer College of Communication, which is named for TCU alumnus and longtime CBS network TV correspondent Bob Schieffer, is the academic home for approximately 1,100 undergraduate students majoring in four departments (Communication Studies; Film, Television and Digital Media; Journalism; and Strategic Communication), and for small graduate programs in Communication Studies and Strategic Communication.

The college's award-winning student activities include print, video and digital news media, a forensics and debate team, an advertising and public relations agency, a radio station and sports broadcasting productions. The college also offers a vibrant array of study abroad courses taught on the TCU campus in Fort Worth and around the world by its faculty.

"We are so pleased to welcome TCU into our Campus Consortium network," said Ann Peters, who oversees the Pulitzer Center's Campus Consortium partnerships. "The partnership offers a great opportunity for the TCU community to hear directly from journalists, often fresh from the field, who can provide their audiences with a better understanding of critical issues that affect us all. It also offers the journalists a great opportunity to learn from faculty experts and students keenly interested to know more about their world and bring their experiences to the table."

As a member of the Campus Consortium, the Schieffer College Department of Journalism will organize seminars on the TCU campus that involve international journalists whose reporting has been supported by the Pulitzer Center. Each year, the partnership will also provide two international reporting fellowships to TCU Journalism students, who will have the opportunity to report on under-reported issues from anywhere in the world.

In affiliating with the Pulitzer Center's Campus Consortium, the Schieffer College Department of Journalism joins the company of more than 25 other higher-education institutions, including Boston University, the College of William and Mary, the University of Chicago, the University of Michigan, Washington University in St. Louis and Yale University.