Pulitzer Center Update November 29, 2023
Special Call for Reporting Fellowship Proposals on Global Health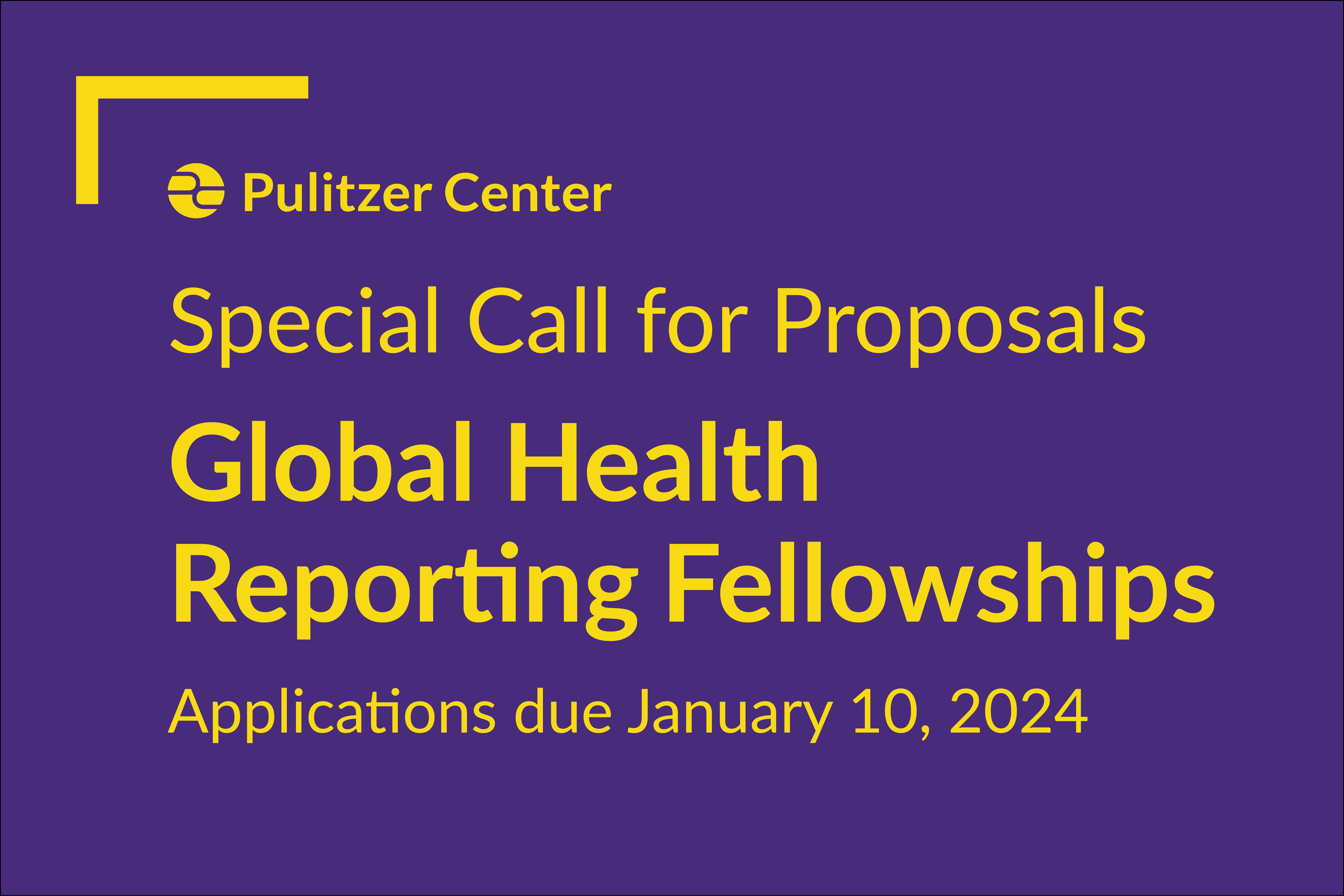 Editor's note: This post was updated on November 29, 2023 to reflect an extended application deadline of January 10, 2024. This post was originally published on November 8, 2023.
The Pulitzer Center is now accepting applications for Reporting Fellowships focused on issues related to Global Health. Current students at our Campus Consortium partners and recent graduates (classes of 2019, 2020, 2021, 2022, and 2023) are encouraged to apply. We are unable to accept applications from current students or alums of non-partner universities.
Individuals may submit no more than one application. Applicants may propose projects on multiple platforms—text and/or multimedia, including video, audio, and documentary photography.
Selected winners will be awarded a $4,000 stipend. They will receive mentorship from the Pulitzer Center staff and grantees, network with professional reporters and editors, and participate in workshops to build journalism—virtually or in person, when feasible. Fellows will also be invited to participate in the Pulitzer Center's annual Washington Weekend event, held in Washington, D.C., in October 2024.
Before applying, please visit the Pulitzer Center website. You'll see stories by Reporting Fellows and various resources.
Pulitzer Center health-related journalism focuses on global health inequities, system failures, food security, and more. Applicants should consider enterprising and underreported stories about U.S. and global health system failures. We're interested in a wide range of topics, such as chronic illnesses, outbreaks and epidemics, reproductive health, and public health systems. Our reporting looks at the breadth of health issues found across the globe. We're also interested in stories about misinformation and politicization that impede improved access to care and preparation for future health crises. Other projects may look at mental health, including the trauma caused by wars, the effects of pollution on communities, and preventable injury-related deaths such as car accidents. View related Pulitzer Center stories on our Health issue page. 
Deadlines
The deadline for applications is Wednesday, January 10, 2024, at 11:59pm EST. Reporting will take place in 2024.
Eligibility
Only current students and recent graduates (classes of 2019, 2020, 2021, 2022, and 2023) of our Campus Consortium partner schools are eligible to apply. We are unable to accept applications from current students or alums of other universities.
Applications must include the following:
A description of the proposed project and timeline in no more than 250 words
A preliminary budget estimate, including a basic breakdown of costs for travel, ground transportation, lodging, meals, visas, and local reporting partner/translator fees, if needed.
A copy of your resume
Three samples of published work, either print or multimedia
Three professional references. These can be either contact information or letters of recommendation. The latter is encouraged when letters from interested producers or editors are available.
Distribution avenues you are considering, in addition to the Pulitzer Center website
Applications may also include a more detailed description of the project, including a list of potential sources, but the most important part of the submission is the 250-word summary.
Please email

[email protected]

if you have questions.
RELATED ISSUES