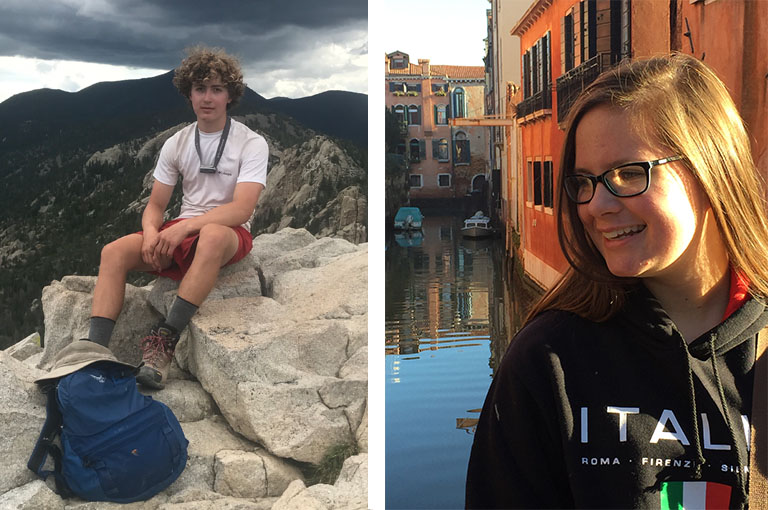 The Pulitzer Center, in partnership with the National Jamboree and Philmont Scout Ranch, is pleased to announce the two Scouts selected to participate in the Out of Eden Walk with Paul Salopek for two days in 2018.
Miciah Thacker, 16, is a Venture Scout from Cincinnati. She's on the academic quiz team at her high school, volunteers in her local library, and plays viola in the school orchestra. During the Jamboree, she says she "got carried away talking to people," and spent most of her time there getting to know the other Scouts. "I wanted to know why people were at the Buddhism table," she says. "What was their story?" 
In her essay, "Everyone Could be Anyone," Miciah showed us how Paul Salopek's practice of slow journalism can be used as a way to look deeply at other people. When we slow down and connect patiently, physical and language barriers melt away. And while each person has "their own lives and feelings… every person has a different, beautiful story."
Christopher Sherman, 16, is a Boy Scout from Washington, DC. An avid athlete, Chris plays hockey in two leagues in the DC area and runs cross country for his high school. At Philmont last summer, Chris says he had a "surreal moment" on the third day, when his team reached the peak of Mt. Baldy. 
"It just kind of made me think about how small we are in such a broad space, and that makes it hard to find meaning in life," says Chris. "I think writing helps you get there."
In his untitled essay, Chris expands on this epiphany, a moment when "my mind spilled out onto the trail, and I was able to see my whole life in front of me… with time to reflect, crossing back and forth I ran through my life, pausing and replaying through the moments that seem to make me who I am today. Freed from the tether to my phone, I feel I can evade time, and allow my thoughts to flow freely, without direction."
When they join Paul Salopek on the trail in a few months, Chris and Miciah will have a unique opportunity to use these observational and personal skills on the broad, rich canvas of northern India. The Pulitzer Center congratulates the two slow journalists on being selected for this once-in-a-lifetime experience, and we're eager to hear their Out of Eden Walk stories.
The Pulitzer Center has worked for the past several years with Philmont Scout Ranch and the National Jamboree and appreciates the support of their Staff Alumni associations—the Philmont Staff Association and the Summit Bechtel Reserve Staff Association—in co-sponsoring this trip with the Pulitzer Center. Through our partnership with the Boy Scouts of America, the Pulitzer Center is able to provide a unique educational program for tens of thousands of Scouts across the country.
RELATED ISSUES