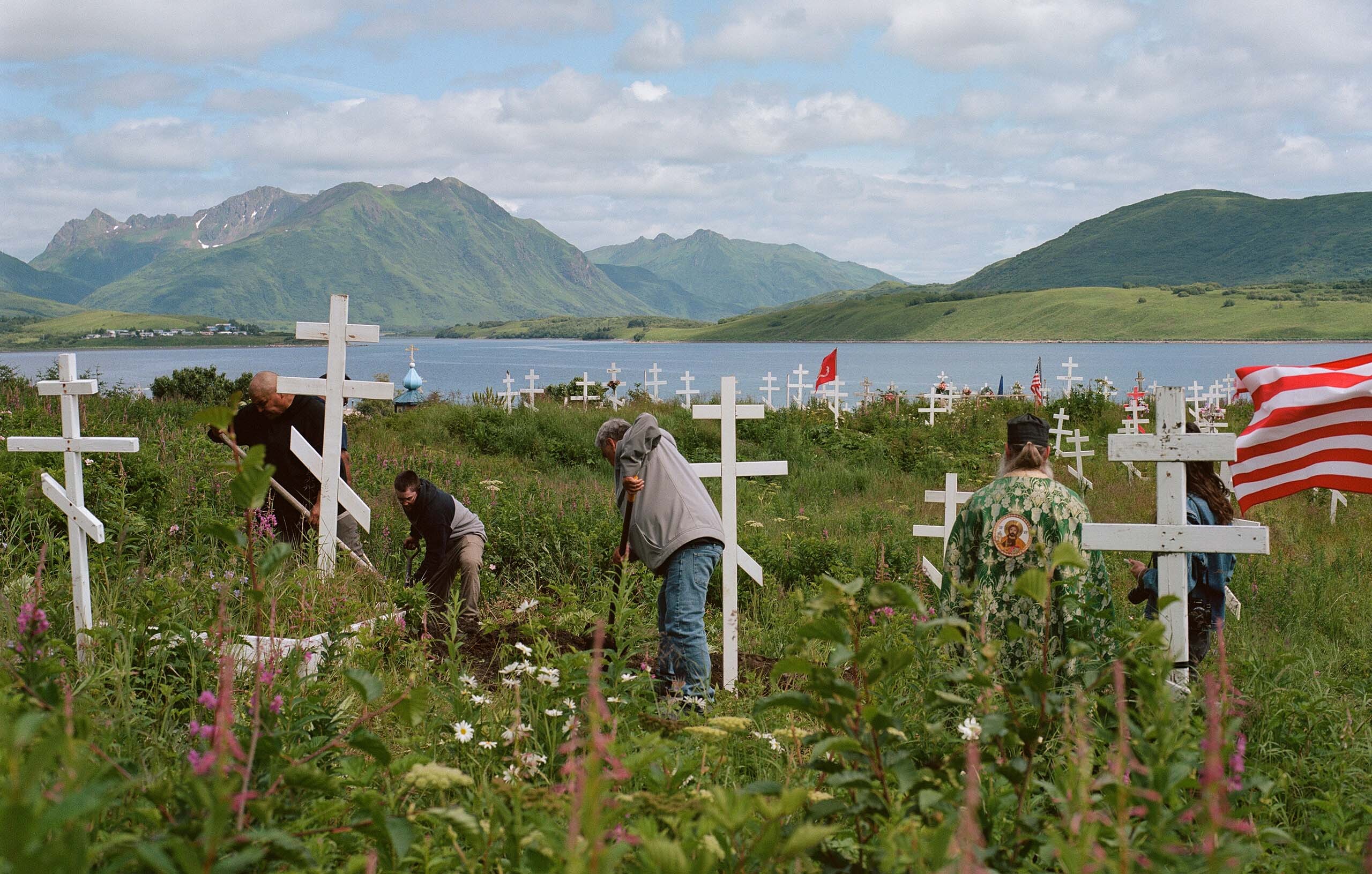 American Indigenous Communities Remember and Repair
"It's like losing a loved one you've known all your life."
As the United States government begins to look at its role in decades of abuse at Indian boarding schools, two new Pulitzer Center projects examine the legacy of these residential schools meant to assimilate Indigenous children into white society through the erasure of their history.
Bringing Anastasia Home, a project by grantee Jenna Kunze and Iñupiaq photographer Brian Adams for Native News Online, explores the life and death of Anastasia Ashouwak, one of the more than 100,000 estimated Indigenous youth in the U.S. who were removed from their families and sent to live in an Indian boarding school. 
Anastasia's remains were returned to her descendants in her hometown of Old Harbor, Alaska, 121 years after she was taken to a boarding school. Sugpiaq and Alutiiq tradition was at the forefront of her welcoming home ceremony, despite over a century of government efforts to erase these cultures. 
Her story is one of repatriation and resilience—about what was brutally taken during the boarding school era, and also what remains: a thriving Alutiiq culture that brings strength and healing to Anastasia's descendants. "I felt like showing her that our culture did not die with her. It's still strong," Cassey Rowland, Anastasia's great-great niece, said.
2022 Reporting Fellow Jordan Rusche's project, 'Kill the Indian, Save the Man': Indigenous Representation in South Dakota Education, explores the legacy of colonization in the education systems of South Dakota, another state with deep ties to Indigenous history and culture. The state also carries the painful history of residential schools, with at least 30 boarding or day schools operating between 1873 and the 1970s.
Rusche's reporting, including two podcasts for South Dakota Public Radio, emphasizes the stark contrast between South Dakota's past and present history and its teaching practices. Despite the influence of Indigenous peoples throughout South Dakota, the state's history of forced assimilation, failed legislation efforts, and a lack of teacher confidence have greatly limited the presence of Indigenous culture and values in its education systems. Much of this erasure is tied to the boarding school era.
We hope you will explore these two projects about communities breaking the cycles of trauma stemming from colonization in order to preserve Indigenous culture and traditions. Learning about this history and its ongoing legacy can help us to center decolonization in our lives and teaching practices.
Best,
Image

---
Impact
Grantee Jacqueline Charles, the Miami Herald's Haiti-Caribbean correspondent, received her second Journalist of the Year title from the National Association of Black Journalists (NABJ). Charles' coverage was honored at the NABJ-NAHJ Convention and Career Fair in Las Vegas. The NABJ teamed up with the National Association of Hispanic Journalists (NAHJ) for a joint convention this year. At the convention, Charles joined Lottie Joiner and Erica Ayisi on a panel that discussed ways to strengthen Black voices while covering global stories.
With the support of the Pulitzer Center in 2019, Charles told stories of women with cervical cancer and children with cancer seeking scant treatment. In 2020 and 2021, her project Haiti Earthquake: Ten Years Later examined a decade of political aftershocks and unfulfilled promises after Haiti's devastating 2010 earthquake. Her current project with the Pulitzer Center, Desperate Voyages, follows the exodus of Haitian nationals resulting from instability at home.
In an interview with Pulitzer Center editorial intern Ethan Widlansky, Charles thanked the Pulitzer Center for allowing her to do "the journalism that I want to do with those deep dives. It's always better when you're able to be there on the ground[:] [...] what it smells like, what it looks like, and [...] hopefully have people who are those policymakers see that coverage, and hopefully that coverage will make a difference."
---
This message first appeared in the August 12, 2022, edition of the Pulitzer Center's weekly newsletter. Subscribe today.
Click here to read the full newsletter.
RELATED ISSUES

Issue
Indigenous Communities
Indigenous Communities

Governance