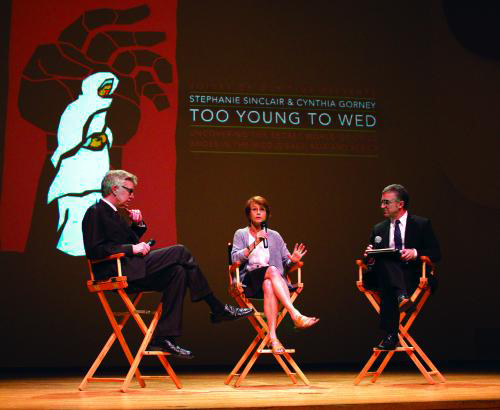 Pulitzer Center Executive Director Jon Sawyer and journalist Cynthia Gorney spoke to an audience of 500 people on April 3 at Wake Forest University about child marriages around the world, as part of a weeklong series of lectures and meetings with faculty and students at North Carolina Campus Consortium member schools. The discussion also highlighted the Pulitzer Center's innovative role in supporting quality journalism on under-reported issues as the modern journalism industry undergoes significant changes. In addition to Wake Forest University, Sawyer and Gorney visited High Point University and Guilford College.

Gorney reported on child marriage in collaboration with award-winning photographer Stephanie Sinclair for the June 2011 issue of National Geographic. The Pulitzer Center supported Sinclair's multimedia work on the subject. Sinclair has traveled over an eight-year period around the world to document the practice and its harmful consequences on girls forced to marry before the age of 18. The tradition impacts 51 million girls worldwide.

Wake Forest University's student newspaper, The Old Gold and Black, featured an article about the April 3 discussion on the front page of the print edition. Written by editor-in-chief Meenu Krishnan, the article illuminated the personal and ethical dilemmas Gorney faced while covering the complex and highly nuanced tradition of child marriage.

"The families who marry off their little girls, as Gorney discovered, believed they were giving them the best possible life," Krishnan wrote. "Often, girls who are married are protected from sexual assault and are frequently in better financial circumstances."

Read the article at The Old Gold and Black.
RELATED ISSUES

Women

Issue
Migration and Refugees
Migration and Refugees