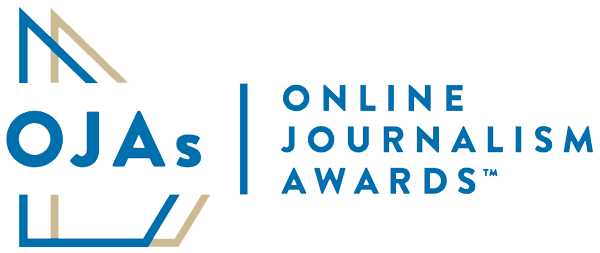 Pulitzer Center grantee project "Digging Into the Mining Arc" has been awarded The Al Neuharth Innovation in Investigative Journalism Award for a Small Newsroom at the 2018 Online Journalism Awards.
"Digging Into the Mining Arc" by Bram Ebus, Stefano Wrobleski, and Gustavo Falieros was an investigative project, part of the Pulitzer Center's data journalism and property rights reporting initiative. It was produced by InfoAmazonia with the help of the Venezuelan Correo del Caroní, with versions of the story appearing in the seven international news outlets. The project investigated the impacts of the expansion of a state-owned mining project in Venezuela. There, they discovered the exploitation of the Venezuelan indigenous population and illegal armed groups trafficking gold and other resources. They also uncovered the risks that the mining project put on the environment and communities that are subject to a high increase of malaria disease, mercury contamination and deforestation.
The Al Neuharth Innovation in Investigative Journalism Award is supported by the Gannett Foundation and honors a single or a series of stories that uncover major stories based on the reporters' own investigations that advance and serve the public interest. The award also considers creative use of mediums and platforms. Each winner received $4,000 in prize money.
The award was presented at the 2018 Online Journalism Awards in Austin, Texas. The event was emceed by the host of NPR Illinois' The 21st, Niala Boodhou, along with several special presenters. In total, there were 31 projects with awards, as well as three special recipients and three General Excellence winners, with prize money totalling $58,500. The Online Journalism Awards (OJAs) have recognized excellence in digital journalism around the world since 2000. The OJAs recognize major media, international and independent sites and individuals producing innovative work in multimedia storytelling.
RELATED ISSUES

Trade

Issue
Land and Property Rights
Land and Property Rights