Pulitzer Center Update November 3, 2014
The Pulitzer Center, International Reporting, and Non-Profits: James O'Shea's Assessment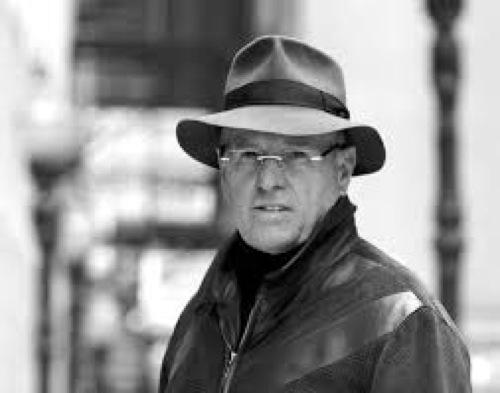 Editor's note: The Pulitzer Center commissioned an independent assessment of its operations by James O'Shea, former editor of The Los Angeles Times and managing editor of The Chicago Tribune. The assessment was funded by the Bill & Melinda Gates Foundation, which supports the Pulitzer Center's work on global health and development issues, but O'Shea was given a broad mandate—to assess the Pulitzer Center's operations overall, the current state of international reporting, and the role of non-profit journalism. A pdf of the full report is available for download here. O'Shea discussed the report at a dinner gathering of Pulitzer Center partners and donors that took place on Tuesday October 28 at the University of Chicago. His remarks follow below.

Thanks so much for that nice introduction. It's also great to get the opportunity to meet so many people face to face that I talked to on the phone when doing my report. Thank you all so much for your cooperation.

Jon Sawyer asked me to give you some of my thoughts on lessons-learned from doing the report on the Center. For me, the most significant conclusion involved a reformation of my views about the role of the non-profit organization in the future of journalism.

I began working on the report after a long-career in for-profit journalism. I worked as a reporter, editor and news executive for nearly 30 years for the Tribune Company, once the epitome of for-profit journalism. Of course, that's not the case any more. Actually, Tribune and many other media companies are rapidly becoming non-profits–involuntarily. But that's a different story.

My original views on non-profit news were forged after I left the Tribune Company when I co-founded the Chicago News Cooperative, which was known locally as CNC.

The coop was one of the earlier efforts to figure how to pay for quality journalism. We had an important partner, The New York Times, which paid us to create two pages of Chicago news for The New York Times Midwest edition twice a week.

But we relied mainly on philanthropy to provide us with the money we needed to build an organization that would eventually become self-sustaining through the solicitation of memberships in the CNC.

That didn't work and in 2012 I pulled the plug on the CNC and sold the intellectual property rights to the Chicago Sun-Times, which also offered many CNC journalists jobs as part of the deal.

There were lots of reasons that I folded the coop but the main one was that I didn't think that non-profit news had much of a future. I thought is simply couldn't be sustained and that my journalists had a better future at the Sun-Times.

After taking a deep look at a non-profit like the Pulitzer Center, though, I wonder if I was wrong.

The main question facing for-profit and non-profit news organizations today is how will they finance the expensive task of gathering the news?

When I interviewed Emily Pulitzer for the report, she said something that I've heard frequently over the past several years as I've watched news organizations struggle to survive in an era of digital journalism that favors companies with massive audiences such as Facebook.

"Maybe I'm naïve," she said, "but I think at some point somebody's going to learn how to do good journalism and make money." I think I first heard that sentiment expressed about ten years ago. Unfortunately, I don't think we've made much progress in finding our financial angel since then, particularly in the area of local news that is so important in providing citizens with the kind of information they need in a democracy.

Most for-profit news organizations remain overly dependent on advertising to finance their operations. They create websites chock full of celebrity gossip, sensational news and sports stories in hopes they can lure clicks that will make their sites attractive to online advertisers.

But ad revenues are plunging at newspapers, the news organizations that provide crucial coverage of places like City Hall. The public isn't the only one that relies on newspapers for this crucial function: Other digital news organizations, broadcasters and bloggers depend upon the content newspapers continue to produce for bread and butter news coverage. They repeat the news; they don't report it. And the economics of digital advertising suggest that online ads won't fill the gap created by declines of print advertising, which had plunged 50 percent over the last decade..

While doing the report, I interviewed Phil Balboni, the New England broadcast executive who co-founded GlobalPost, a digital news organization that provides foreign news to many Americans. He gave me a frank and sober assessment of the for-profit news sector:

"If anything," he said, "the business of journalism has gotten worse every year since we started, sometimes every single month to the point that you sometimes wonder how anybody, regardless of size, can survive. There simply isn't an economic solution for journalism yet." He was not only talking about fledgling organizations like GlobalPost but also The New York Times and other legacy publishers.

And that comes from a dedicated capitalist -- someone who built a high-successful cable news operation in New England. Unfortunately, I don't think things are going to get better any time soon. In fact I think they will get worse, particularly for newspapers.

Indeed, Emily Pulitzer qualified her remarks by saying that until the industry finds the Steve Jobs of journalism, non-profits will play a crucial role. She is absolutely right.

After looking at how the Pulitzer Center operates, I wonder if the organization Emily and others in this room helped create is the vanguard of a new kind of news organization, a hybrid that capitalizes on the best of non-profit and for-profit journalism.

On the surface, the Pulitzer Center operates as a classic non-profit, raising money from folks like the good people in this room and recycling it into smaller grants to journalists who want to do something unique: Provide independent international news, the kinds that most newspapers have abandoned.

But is also doing something that the for-profit world of journalism needs to emulate—it is creating new sources of revenue through its partnerships with great academic institutions such as the University of Chicago.

Through its Campus Consortium, the Center charges universities a reasonable fee to send its journalists to campuses. They use their journalism to stage classes and lectures about important global issues. The Center's education arm does much more than that and I don't have the time to get into details. But I'll go out on a limb here and say that the Pulitzer Center is doing a better job of creating new revenue sources than most for-profit news organizations. In effect, the Center is a non-profit, for-profit hybrid that leverages quality journalism and converts it into something with value.

To survive and thrive, news organizations need to face up to an unpleasant reality: Advertising will not be the reliable partner it once was in financing news. Indeed, advertising probably will become less so as times passes. The media needs to follow the Pulitzer Center's lead and invest in journalism that has value and leverage it into new revenue streams that will make all of our futures happier and brighter.

Someone asked me here tonight why the Pulitzer Center had been so successful. It is successful and is doing great work. And the reason? Because it has a soul. The people who work there really care about what they are doing. If the for-profit news organizations would follow the Pulitzer Center's lead, maybe they just might win back some of their readers and sell some of that advertising they lost.

Thank you.