Pulitzer Center Update July 2, 2018
Pulitzer Center Featured in Shorenstein Report on Journalism Funding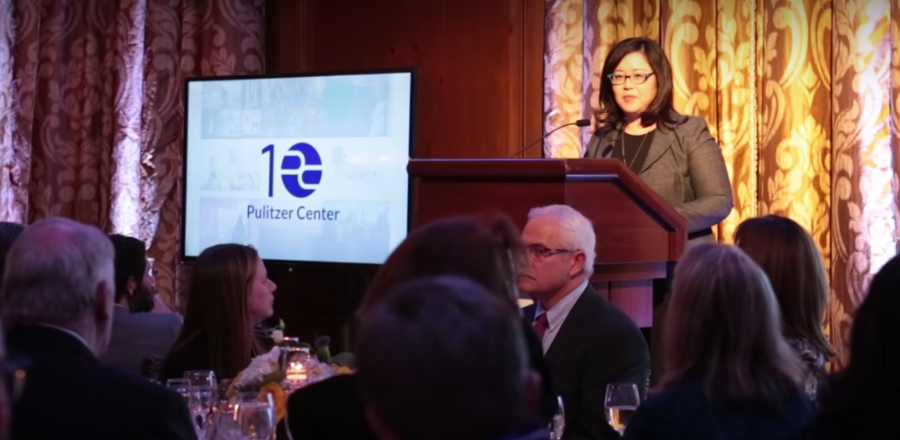 In an era of intense pressure and disruption for the news media, innovative organizations like the Pulitzer Center are finding new models that work.
That's the conclusion of "Funding Journalism, Finding Innovation: Success Stories and Ideas for Creative, Sustainable Partnerships," a new report from Media Impact Funders and the Shorenstein Center. The report looks at successful relationships between news organizations and funders that might serve as a guide to how journalism can continue to find the financial support it needs to thrive.
"While funders have traditionally supported journalism through public media," the report notes, "there are now a growing number of nonprofit news sites that are focusing on a variety of reporting styles, including issue-specific, investigative, accountability, advocacy, and more to fill the gaps created by newspaper cutbacks and an ever-more polluted commercial news media."
The Pulitzer Center was cited in a one of the case studies highlighted in the Shorenstein report, as one of 12 journalism nonprofits to receive funding from the John D. and Catherine T. MacArthur Foundation as part of its groundbreaking decision to support journalism organizations with five-year unrestricted grants.
"Pulitzer acts as a broker between amazing freelance talent and news outlets that need original content," Kathy Im, director of the journalism and media program at MacArthur, notes in the Shorenstein report. "And in between the two parties, Pulitzer brings a tremendous amount of editorial and creative oversight into the projects, bringing them to that next level. They have the capacity to work across many media forms and have relationships with both local/regional and national outlets to bring untold stories to audiences that need both deeper and broader appreciation of the world."
Pulitzer Center Managing Director Nathalie Applewhite added: "With the generous infusion of funding from MacArthur, we really had to ask ourselves how we could take advantage of all of our relationships with reporters, news outlets, educational institutions, and audiences. The unrestricted support gave us a sense of both deep responsibility and profound freedom."
As to what Pulitzer means for its news-media partners, the report quotes from a talk given by Jake Silverstein, editor in chief of The New York Times Magazine, at the Center's 10th anniversary celebration in 2016:
The Pulitzer Center is "sort of a laboratory of audacity," Silverstein said.
"This is, undoubtedly, a new age of journalism that we're in. It's a challenged age. And we have to be creative. And part of that creativity is in finding partners you can work with to amplify what you're trying to do. That's true for everybody. It's true for small outlets and individual journalists, and it's even true for The New York Times. The Pulitzer Center has an absolutely huge role to play in all of this."
The full case study and report is available on the Shorenstein Center website.