Pulitzer Center Update June 6, 2014
Pulitzer Center D.C. Education Program and "Do More 24"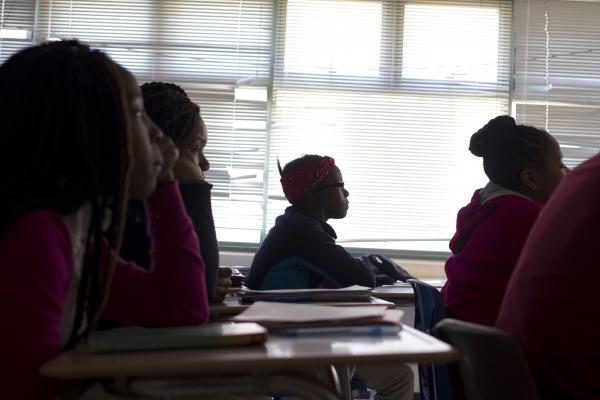 A few weeks ago I sat at a desk in an ESL class at Woodrow Wilson High School in Washington, D.C. and listened as a thoughtful discussion unfolded about U.S. soft power, foreign aid and corruption. The students hailed from all over the world: Egypt, Afghanistan, Mexico, Italy, El Salvador, China, France.

"What causes the hate?" Jort van Dalen of the Netherlands asked the journalists at the front of the room, 2014 Nieman fellow and 2013 Persephone Miel fellow Ameto Akpe and award-winning photojournalist Allison Shelley. Ameto had been discussing some of her reporting on U.S. soft power in Nigeria, and we talked about how some recipients of foreign aid feel resentment toward the donor country and culture.

"The people think all the bad things happening in the country are because of the West," replied Gabonese student Cédric Nziega, before Ameto or Allison could respond.

"I don't really agree with you," said Jort. They talked it over for awhile, then Ameto jumped in.

"You're both right," she told them. "It's way more complicated than saying just corruption, than just Western sentiments."

Their teacher told me later that the discussion inspired one of the students to be more engaged than he'd been all year.

On Thursday, June 19 we'll participate in Do More 24, a 24-hour online giving campaign for D.C. nonprofits, to help support our work in schools in the nation's capital. Here's the link to our donation page on the site: http://www.domore24.org/#npo/pulitzer-center-on-crisis-reporting

As education coordinator at the Pulitzer Center a big part of my job is to work with students and educators in the D.C. area—our home base—on our school outreach here. We spend time with students of all ages in all kinds of schools: from the southernmost corners of Washington to the sprawl of suburban Virginia to within blocks of the Capitol building, talking about the global issues our grantee journalists cover. To give you an idea of the scope of the outreach, after the Wilson class we spent two hours discussing Nigeria, Africa and journalism with about 30 enthusiastic third-graders in an after-school program at D.C. Prep, over a snack of sunflower seeds and pears.

As residents of the United States' capital city, young people here are more plugged in than they realize. D.C. students talk of plans to protest drone strikes. They question soft power. They organize pride days. They tell us they want to inform Michelle Obama that their school's meal portions are too small. They make connections between violence in Honduras and violence in their own communities, between the Arab Spring and youth unemployment rates around the globe. They are awesome. At the Pulitzer Center we want to continue to be a resource for them, one that exposes them to stories from around the world that they connect to but might be missing otherwise.

We often say here that our main education goal is to help kids realize that the world is a cool place and that good journalism is one of the best ways to learn about it. Conversations like the one we had at Wilson happen often when journalists visit D.C. classrooms.

I encourage you to donate on June 19 if you can. It's inspiring to be a part of those conversations, but more importantly it's crucial that we have them.


Do More 24™ is a local movement that brings together nonprofit organizations, companies, and people committed to making a difference. Through focused online giving on June 19, 2014, Do More 24 provides the opportunity for people to create solutions to our region's most difficult social challenges by determining which issues matter most to them and channeling their funding towards tackling those problems.

Powered by United Way of the National Capital Area, Do More 24 raises much-needed funding for local nonprofits that create opportunities for underserved populations. The 24-hour event acts as a catalyst for targeted community change.