Pulitzer Center Update September 26, 2023
Pulitzer Center Announces New Mission and New Funding at NYC Event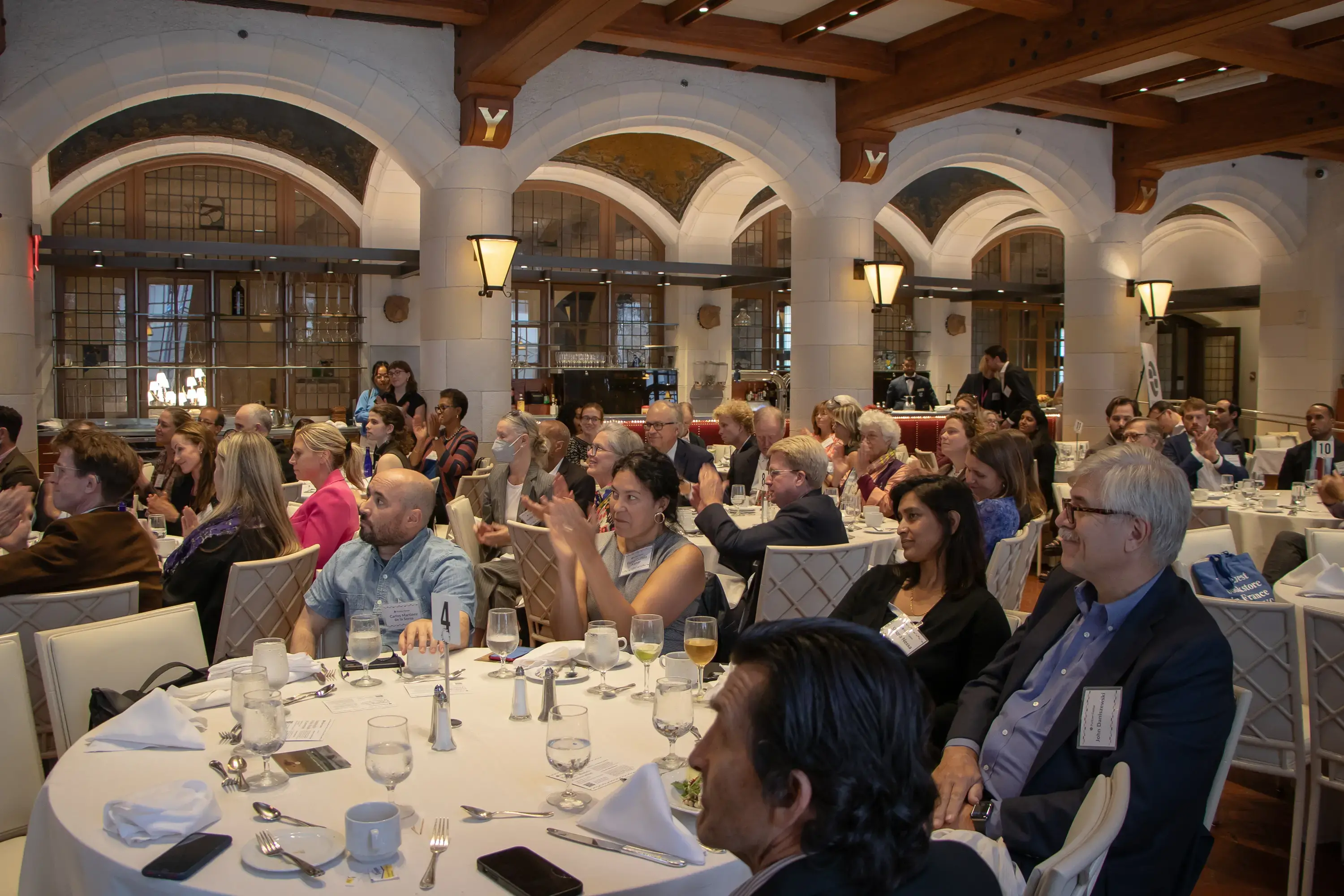 The Pulitzer Center introduced its new mission statement at a lunch at New York City's Yale Club. It was also announced at the September 21, 2023, event that the Center's commitment to championing stories that inspire action will be furthered by $30 million in new long-term funding support.
Journalists and supporters gathered to celebrate the Center's work, with speakers emphasizing its crucial support for timely and challenging reporting.
Jon Sawyer, the Pulitzer Center's CEO and president, highlighted that the Center's "communities of learning" build a "network of networks" among journalists, educators, and civil society, raising the quality of journalism and generating real change.
"I'm thrilled to say that our colleagues in Norway agree," Sawyer said, referencing the $16 million funding commitment over the next five years from the Norwegian Agency for Development Cooperation (Norad) and Norway's International Climate and Forest Initiative (NICFI). The new funding supports the Center's continuing work on rainforests and oceans and also on commodity supply chains, financial transparency, and corporate/government accountability. Additional multi-year support comes from the Laudes Foundation and the Open Society Foundations.
Sawyer noted that the long-term operating support had been spurred in part by a challenge grant from Pulitzer Center Board Chair Emily Rauh Pulitzer. The grants announced in New York met the conditions for a $10 million gift by Emily Pulitzer to the Center's general endowment fund.
"Emmy has chaired our organization since its creation," Sawyer said, "tirelessly working to leverage her own contributions so as to bring in additional support—and to make the Pulitzer Center the permanent resource we both intend it to be."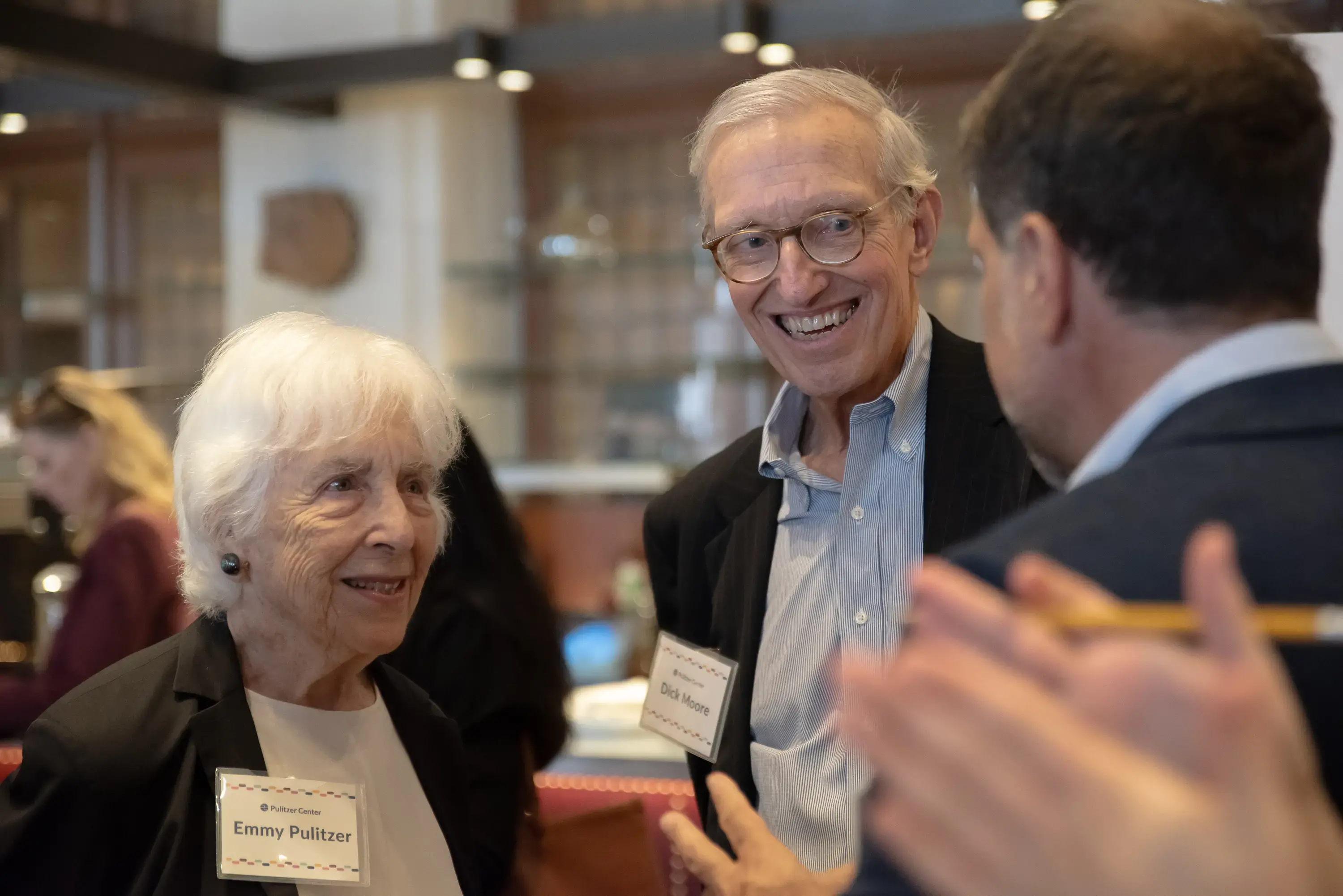 Espen Barth Eide, Norway's Minister of Climate and Environment, hailed the ongoing partnership with the Pulitzer Center, which began in 2018 with support for its work on rainforests. In his remarks Eide acknowledged that the  climate crisis is worsening but he highlighted grounds for optimism.
He cited as an example his work on an international treaty to end plastic pollution by 2040, alongside a coalition of more than 50 countries. He said it's an ambitious goal, but more world leaders are listening to the science, aided by journalists and NGOs across the globe.
"These things don't just happen," Eide said. "... It works because of the power of stories. It works because you have investigative journalism, you have NGOs, you have environmental defenders, you have Indigenous people. They are connected to each other and to the world, and then their profile is raised and people start caring and they start asking us politicians to deal with these issues."
Combating polarization and false information requires a free and well-resourced press, Eide said. Journalists also demonstrate opportunities for climate solutions, offering hope.
"We need to have stories," Eide said, lauding the work of the journalists in the room. "We need to have people willing to take the risk."
Four such risk-takers, Pulitzer Center-affiliated journalists Azmat Khan, Jake Silverstein, Richard Mosse, and Ana Aranha continued the conversation in a panel discussion. Their work exemplifies core Pulitzer Center values: supporting better coverage of underreported issues, challenging threats to journalists, and championing the power of ambitious projects.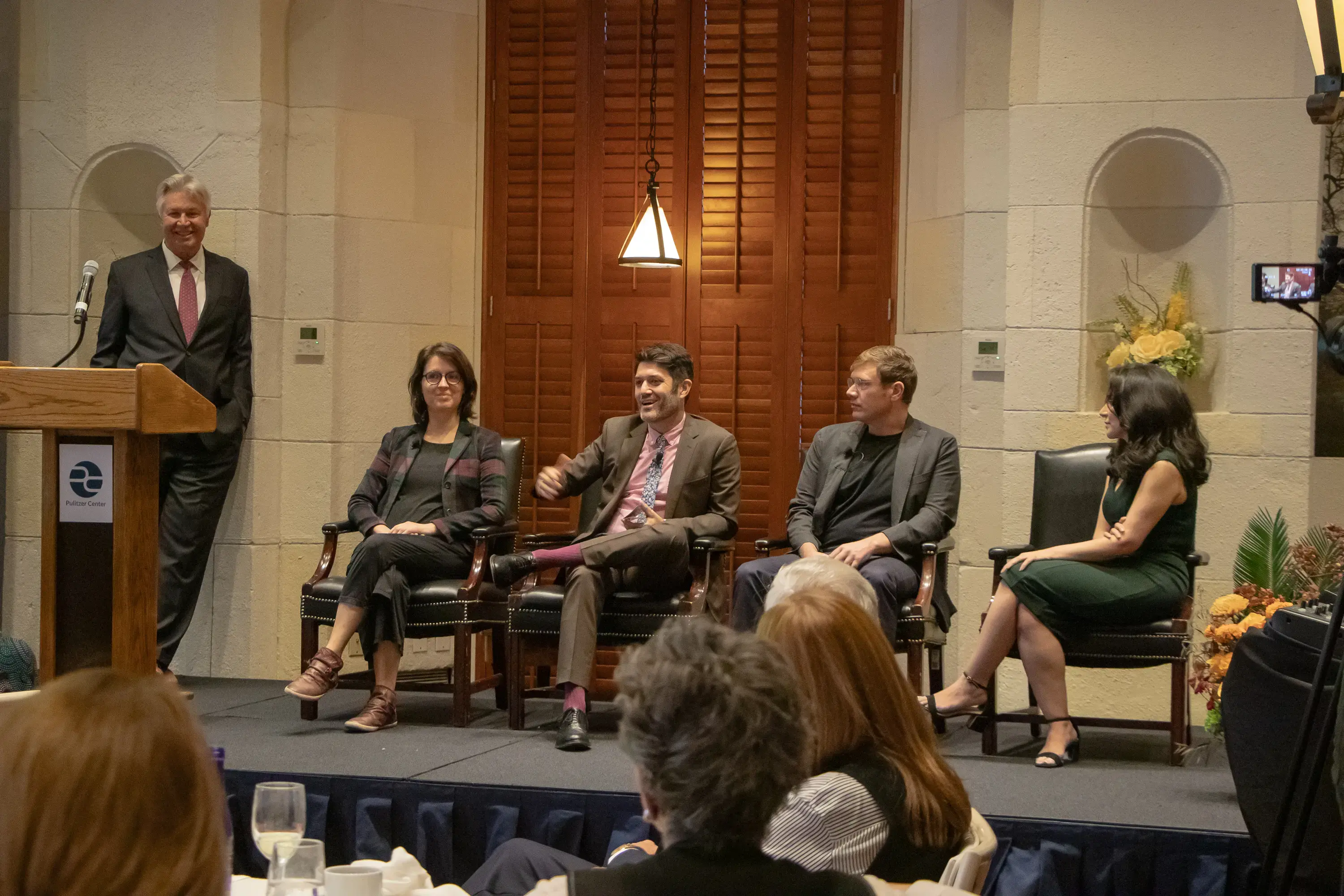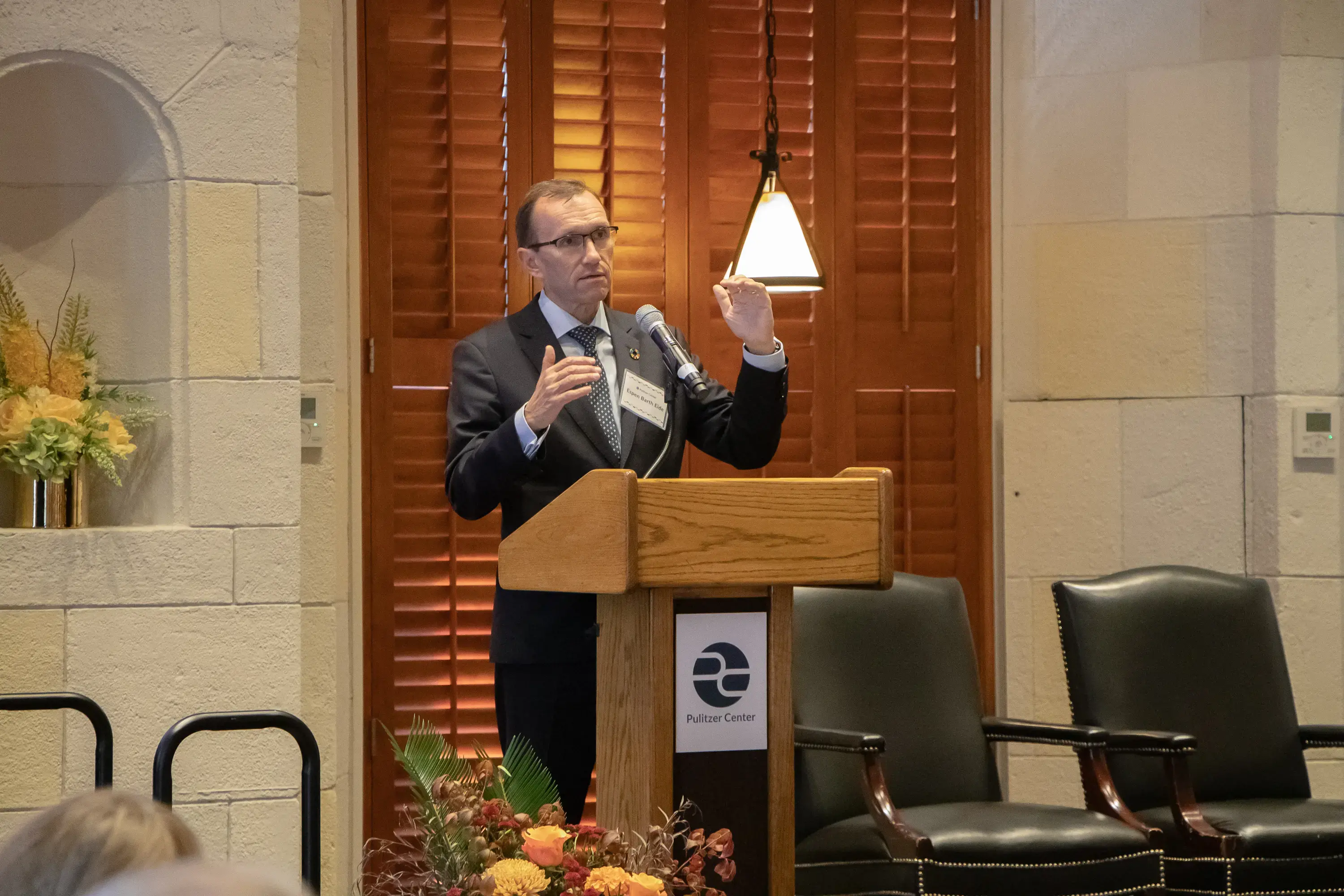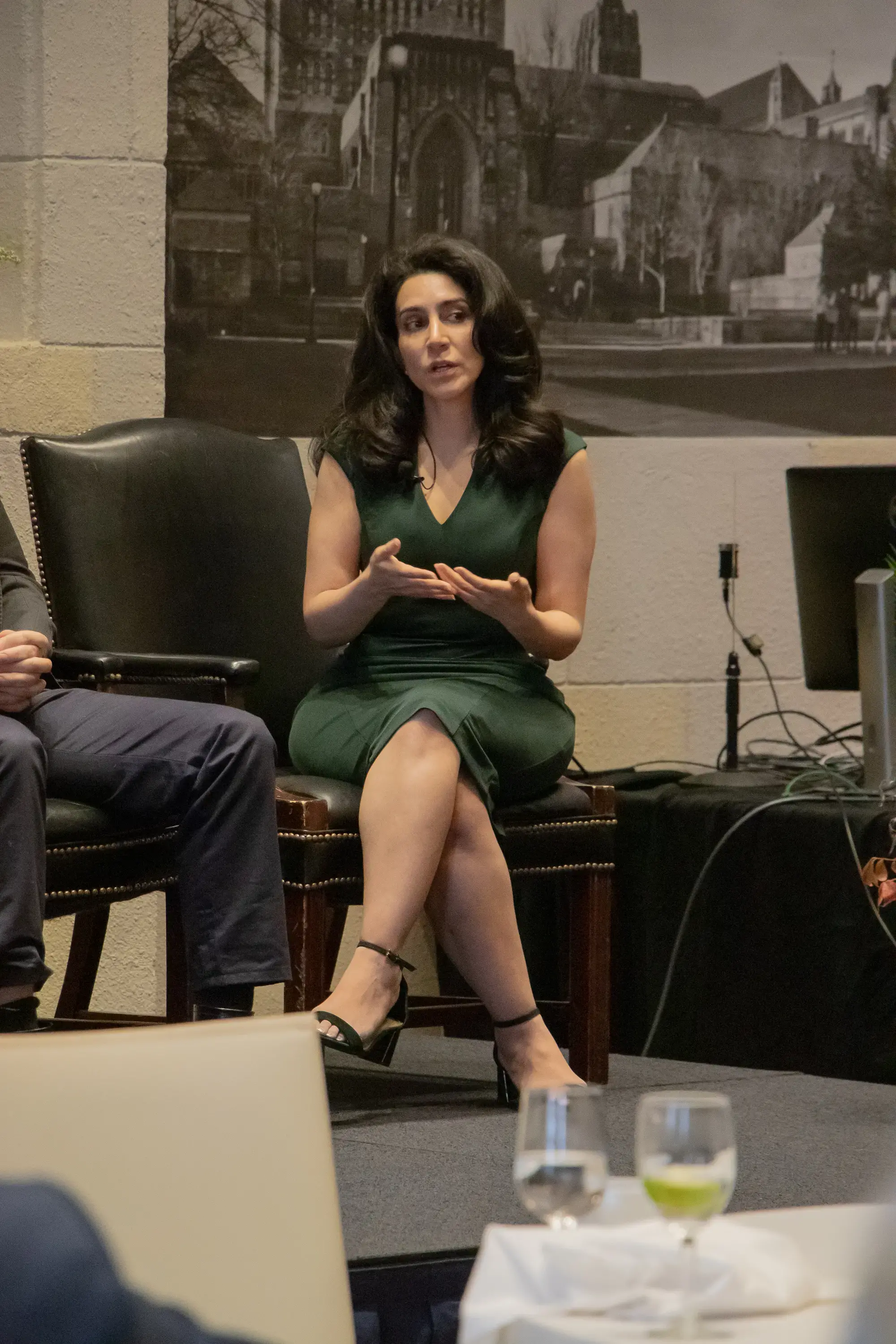 In 2011, Mosse, a photojournalist, grew frustrated with coverage of the war in Eastern Congo that lacked nuance and understanding. "There was a failure of reportage," Mosse said. "There was a failure of storytelling. A failure of the media. And a failure of seeing. That goes back to this saturation of an image. When you see an image so many times, it starts to fail."
With the help of the Pulitzer Center, he sought to refresh the narrative. Mosse made images with an infrared camera—a way of "seeing the unseen," normally used for military and industrial purposes. The rich Congolese forest was shown in hues of red and purple. What was once an underreported issue gained widespread attention through unconventional and thoughtful images.
In an era when journalists' safety is at risk worldwide, support from the Pulitzer Center makes projects happen that otherwise would never be possible. Aranha, for example, directed a film alongside Pulitzer Center grantee Daniel Camargos for Repórter Brasil, investigating the killing of their colleague Dom Phillips while Phillips was on assignment in the Amazon in 2022. She said journalists covering the climate crisis today often live in fear for their lives.
"That's the kind of brutality that's knocking at our door," Aranha said. "Whenever we are going to these places, this is what we are facing."
Still, they continue to report.
Khan, a Pulitzer Center board member, is known for her Pulitzer Prize-winning New York Times investigation into civilian casualties from U.S. airstrikes in Afghanistan, Iraq, and Syria. She said the networks of journalists, editors, and resources fostered by the Pulitzer Center have changed the industry, making large-scale projects imaginable.
"That ecosystem played an essential role in making that kind of work happen—that big, in-depth, sustained reporting," Khan said.
For Silverstein, who is editor-in-chief of The New York Times Magazine, Pulitzer Center-supported projects are not only ambitious in scope, but also in outreach. In Fractured Lands, an early collaboration with the Center that filled an entire edition, grantee Scott Anderson details the seismic shifts in the Middle East from 2001 to 2015. After the book-length article was published, Anderson traveled the United States to connect with students.
"The educational outreach the Pulitzer Center has provided changed the way we think about the impact our journalism can have in the world," Silverstein added.
With the Pulitzer Center's initiatives expanding worldwide, notably through the Rainforest Journalism Fund, the Rainforest Investigations Network, and the newly launched Ocean Reporting Network, Sawyer believes the Center's audience-centered engagement model will grow, too.
"That's one of the things we're so excited about with the new support from Norway," Sawyer concluded. "We're able to draw on this community of journalists who are truly global and start connecting those dots. I think we can have real impact by doing that."
View the full discussion below:
Video by Daniel Vasta. United States, 2023.