Pulitzer Center Update June 23, 2022
Pulitzer Center Announces 2022 Richard C. Longworth Media Fellows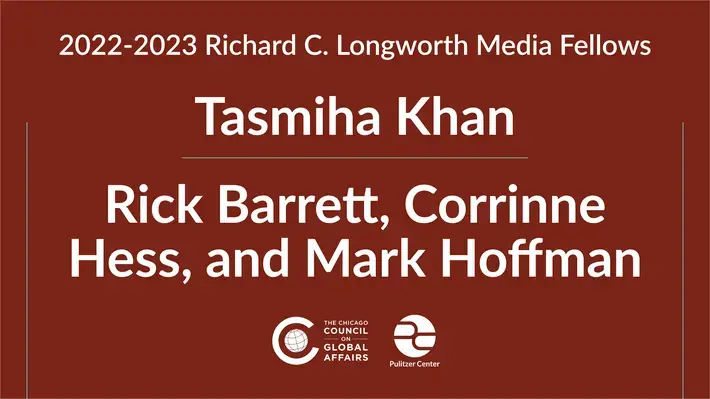 The Pulitzer Center is pleased to announce that Chicago freelance journalist Tasmiha Khan and a team of reporters from the Milwaukee Journal Sentinel — Rick Barrett, Corrinne Hess, and Mark Hoffman — have been selected as the 2022-23 Richard C. Longworth Media Fellows.
A collaboration with the Chicago Council on Global Affairs, the Longworth Media Fellowships promote international reporting by Chicago and Midwestern journalists. Fellowships in the amount of $10,000 are awarded each year, thanks to a grant provided by the Clinton Family Fund to honor Longworth, a former Chicago Tribune foreign correspondent and current Distinguished Fellow at the Chicago Council.
The fellowships aim to reconnect Midwestern readers with international stories that impact their daily lives, after years of financial pressure forced regional outlets to cut foreign correspondents from their staffs.
For her project, Khan will report on religious communities in the Midwest and South Asia and how they think about adhering to their religious values as they come to the Midwest as immigrants. Khan will be focusing on the South Asian community primarily, beginning with Bangladeshis and potentially other immigrant communities. Through her reporting, she will look at immigrants' relationships with religion across borders: How does family back home influence the adherence and expression of religious faith among immigrants in the U.S.?
Khan's work has appeared in The New York Times, The Washington Post, and Vox, among other outlets. Currently, she covers a wide range of topics related to health, race, politics, culture, and religion. This past year, Khan was named a fellow for Knight Science Journalism at MIT, and an Interfaith Youth Core/Religion News Service Religion Journalism fellow. She is also the founder of a nonprofit, Brighter Dawns, which works to address health concerns for women in Bangladesh, an initiative for which she was invited to the White House twice by President Obama.
The Journal Sentinel team will travel to Asia and Latin America to look at why Midwest companies, caught up in rising global conflict and broken supply chains, are bringing manufacturing back to the U.S. from overseas.
Barrett covers technology, telecom, and agriculture. He has received Best in Business awards from the Society for Advancing Business Editing and Writing and was a co-recipient of a Barlett & Steele award for investigative business journalism.
Hess is a business reporter at the Journal Sentinel and the USA Today Network, covering manufacturing and green energy. Until earlier this year, she was a general assignment news reporter for Wisconsin Public Radio, and before that she wrote for various publications, including the Kenosha News.
Hoffman has been on the staff at the Journal Sentinel since 1992. He was hired as a picture editor before becoming deputy photo editor a short time later. After 10 years in management, he went back to his dream job of storytelling as a photojournalist. Prior to that, he was a photo desk supervisor and picture editor at the New York headquarters of the Associated Press. Some of the international stories he has covered include the struggle of Syrian refugees in Jordan and Germany and a Milwaukee doctor's mission to help them; the threat of zoonotic diseases with reporting in Uganda and Kenya; the civil war in El Salvador; and the environmental effects of oil sand mining in Alberta, Canada.
About the Chicago Council on Global Affairs
Founded in 1922, the Chicago Council on Global Affairs is a nonpartisan, nonprofit organization dedicated to increasing knowledge and engagement in global affairs. Its in-depth analysis and expert-led research influence policy conversations and inform the insights it shares with a growing community. Through accessible content and open dialogue of diverse, fact-based perspectives, the Chicago Council empowers more people to help shape our global future. Learn more at thechicagocouncil.org.