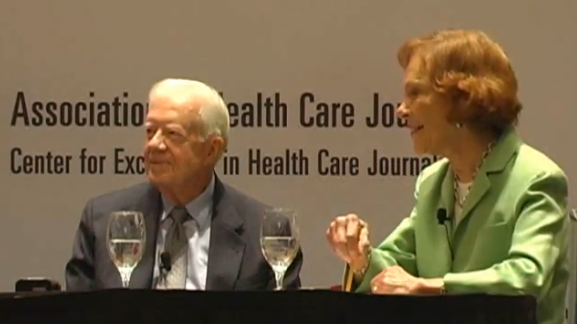 Former President Jimmy Carter highlighted a Scientific American article by Pulitzer Center-Nieman Global Health Fellow Helen Branswell in remarks to a group of health journalists at the Health Journalism 2012 conference in Atlanta on April 19.
Branswell's piece discusses the transition to a different vaccine formulation that must occur if polio is to be eradicated. Her reporting is part of her Pulitzer Center project on the continuing challenges of polio eradication, Sewage Science: Stalking a Threat to Polio Eradication in the World's Sewers.
Global health is a priority for The Carter Center, an organization that has undertaken many projects around the world to eradicate diseases such as river blindness and guinea worm. Scientific American Senior Editor Christine Gorman highlighted Carter's remarks in a blog for her publication.
In the video, the discussion on polio begins at 35:45 and Carter references the Scientific American article at 37:30. The former president's wife, Rosalynn Carter, participated with him in the session, which was part of the Association of Health Care Journalists' annual conference.
RELATED ISSUES