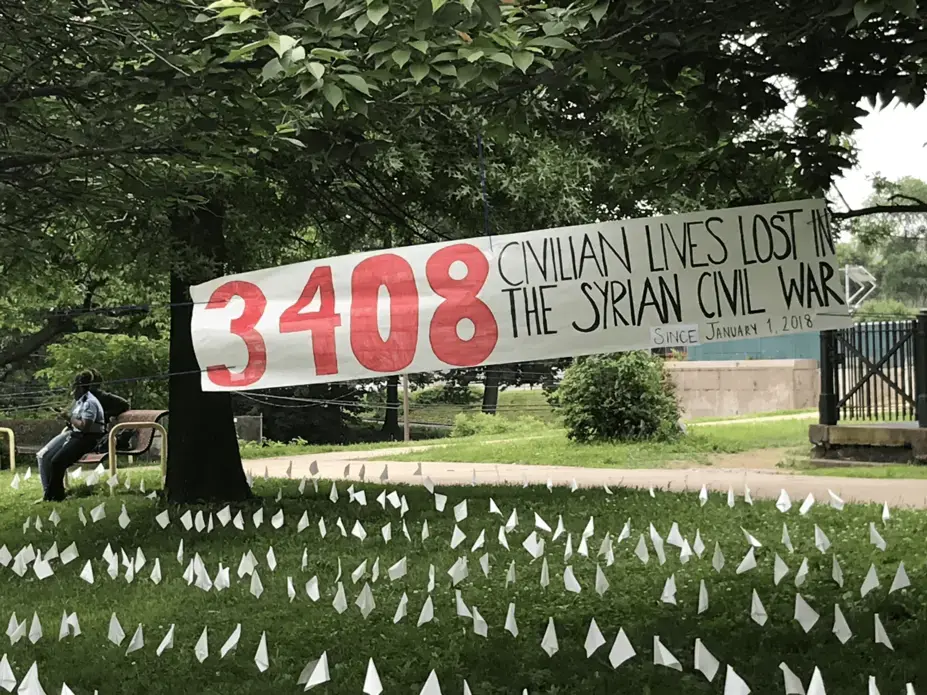 The visual installation of white flags was one of many projects Central High School students worked on to educate their community on the Arab Spring. Image by Ken Hung. United States, 2018.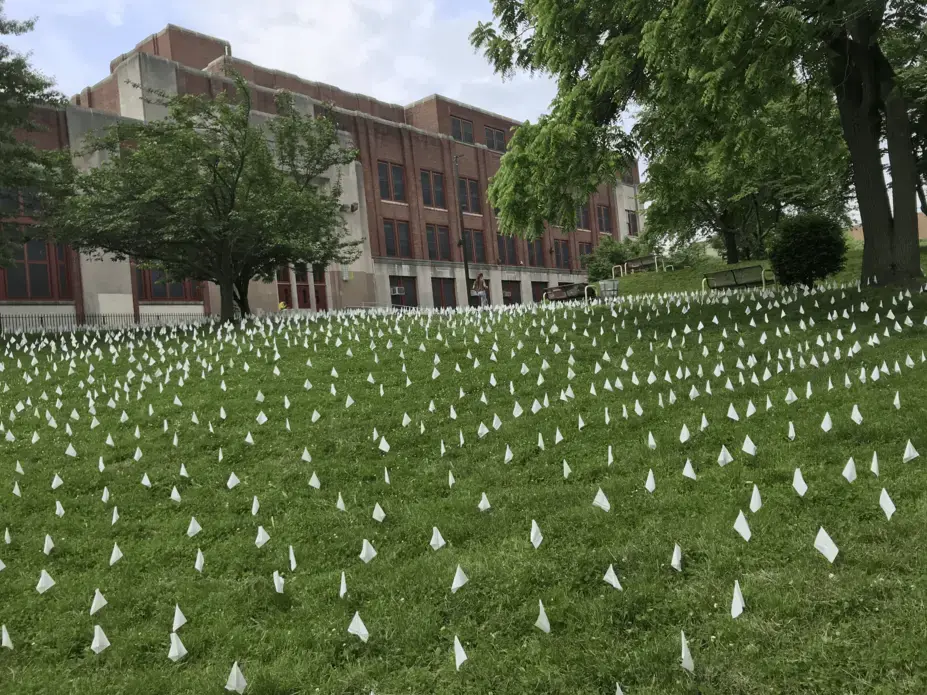 The 3,408 white flags in front of Central High School marked the number of civilian lives lost in the Syrian Civil War this year. Image by Ken Hung. United States, 2018.



"Where did it all go wrong?"
This question, which citizens and politicians alike having long been asking about the chaos that has swept the Middle East, was revisited by students at Central High School in Philadelphia, PA as part of their first annual Conflicts Day, an event inspired by Pulitzer Center grantee Scott Anderson's project"Fractured Lands".
Students in Ken Hung's Contemporary World Conflicts class organized Conflicts Day to educate the Central High School community on the causes and effects of the Arab Spring, according to Hung. This multimedia event, held on May 30, 2018, was the culmination of a unit modeled after the Pulitzer Center's "Fractured Lands" lesson plans and supported by a Skype session that connected students directly to Anderson for a discussion about how the story was reported.
Conflicts Day consisted of four projects: a visual installation of 3,408 white flags representing the number of Syrian civilian casualties in the conflicts this year, a poster exhibition on the impact of the Arab Spring, a fundraiser for the Narenj Tree Foundation to provide supplies for Syrian refugees, and a spoken word presentation based on the six subjects profiled by Scott Anderson in "Fractured Lands."
Stretching between two trees, a banner in the front of school displayed the purpose of the white flags in striking block letters. Colorful posters summarizing how each Middle Eastern country highlighted in "Fractured Lands" was affected by the Arab Spring were plastered along Central's hallways. Students performed their spoken word pieces in multiple classes throughout the course of the day, humanizing the conflicts facing the subjects of Anderson's story by bringing a physical voice to the profiled subjects. "I was just like you," one student laments. "What's your biggest fear? That's my reality."
Each monologue ends by repeating the question: "Where did it all go wrong?"
"Fractured Lands" follows six individuals caught in the chaos of the Middle East since the start of the Arab Spring. Featured in the August 14, 2016 issue of The New York Times Magazine, this collection of narratives aims to provide a comprehensive view of the events that led to the turmoil and their lasting impact on this region. It is accompanied by a virtual reality film, "The Fight for Falluja," by Pulitzer Center grantee Ben Solomon.
For support connecting this story with students in your communities, contact [email protected].
RELATED ISSUES

Issue
Conflict and Peace Building
Conflict and Peace Building

Governance

Religion