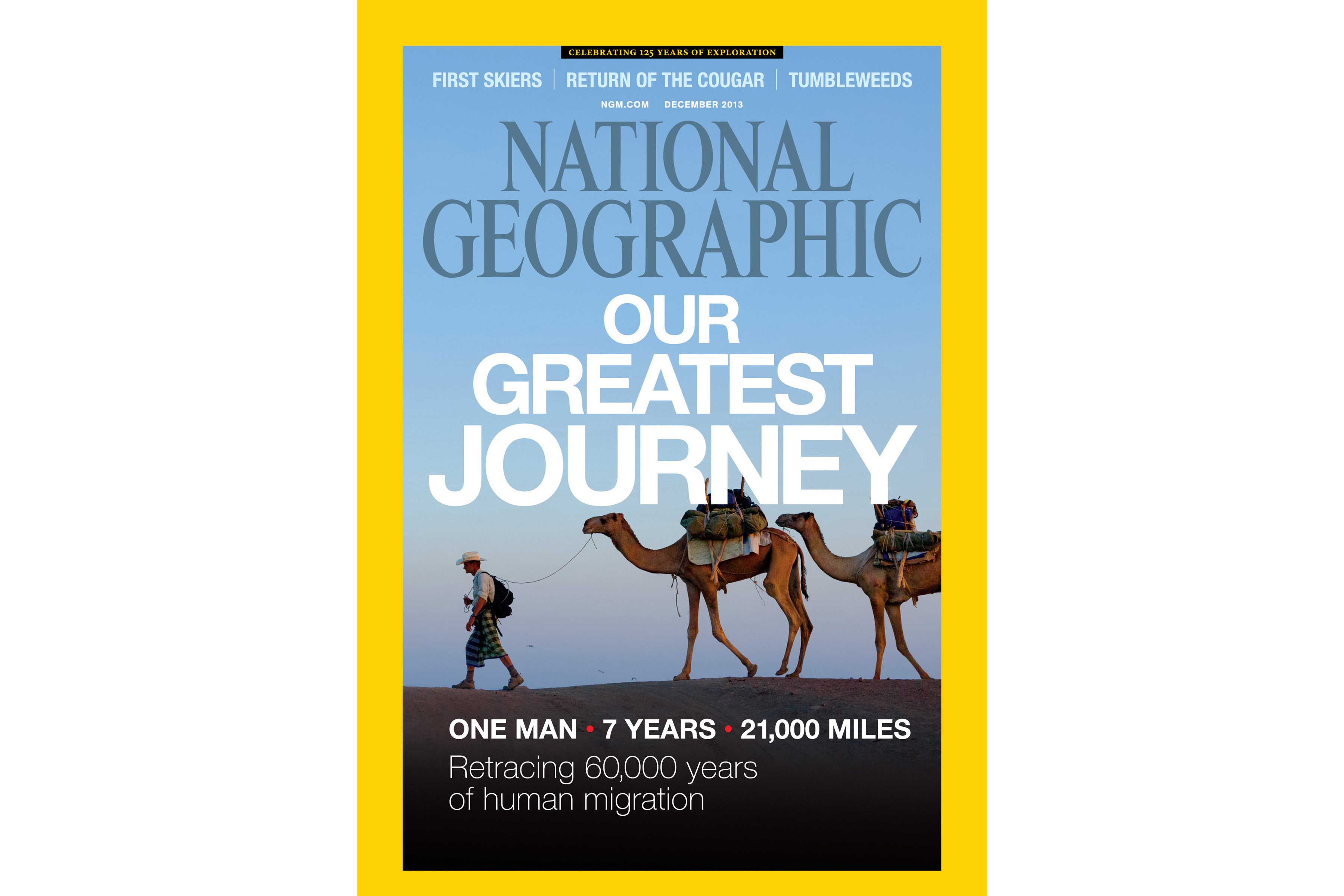 Have you ever thought, "It's a beautiful day for a walk?" Well, Pulitzer Center grantee Paul Salopek decided that it is a beautiful seven years for a walk. He's following the story of human migration, dating back 60,000 years, in a walk that takes him from Africa to South America.

National Geographic, a funder of Paul's amazing journey, is featuring the Out of Eden Walk on the cover of its December 2013 issue. In his article Paul explains: "I am in pursuit of an idea, a story, a chimera, perhaps a folly. I am chasing ghosts."

Paul's journey is also the subject of his front-page story for The New York Times Sunday Review, a lament for how the culture of "Car Brain" is inexorably severing our connections to, and understanding of, the physical world in which we live.

Currently in Jordan, Paul's expedition will end in 2020 at the Beagle Channel in Patagonia, Argentina.

Follow Along

Follow Paul on social media for updates, pictures of camels and more. You can find him on Facebook as well as Twitter @PaulSalopek, and the project is @outofedenwalk. You can also find him on Instagram @outofedenwalk. Furthermore, there is a new "Out of Eden" Youtube channel that followers can subscribe to.

Tools for Educators

Interested in making Paul's walk an educational experience for students? The Pulitzer Center education department put together lesson plans and maps for students of all ages; visit National Geographic's hub page for more.

Want to go even further? Contact the Pulitzer Center's education department (globalgateway AT pulitzercenter DOT org) to schedule class Skype sessions — these are only available when Paul is in Internet-ready areas. However, Paul is not the only journalist who can visit classrooms. The Pulitzer Center has connections with journalists all over the globe and lesson plans for plenty of topics. If you are interested in bringing a journalist to your school, please contact us.

In the meantime, remember to slow down—"To think. To write. To render current events as a form of pilgrimage." And keep Paul's journey in mind.
RELATED ISSUES