Pulitzer Center Update April 11, 2022
Our Q1: 70 Projects, 87 Journalists, 46 Countries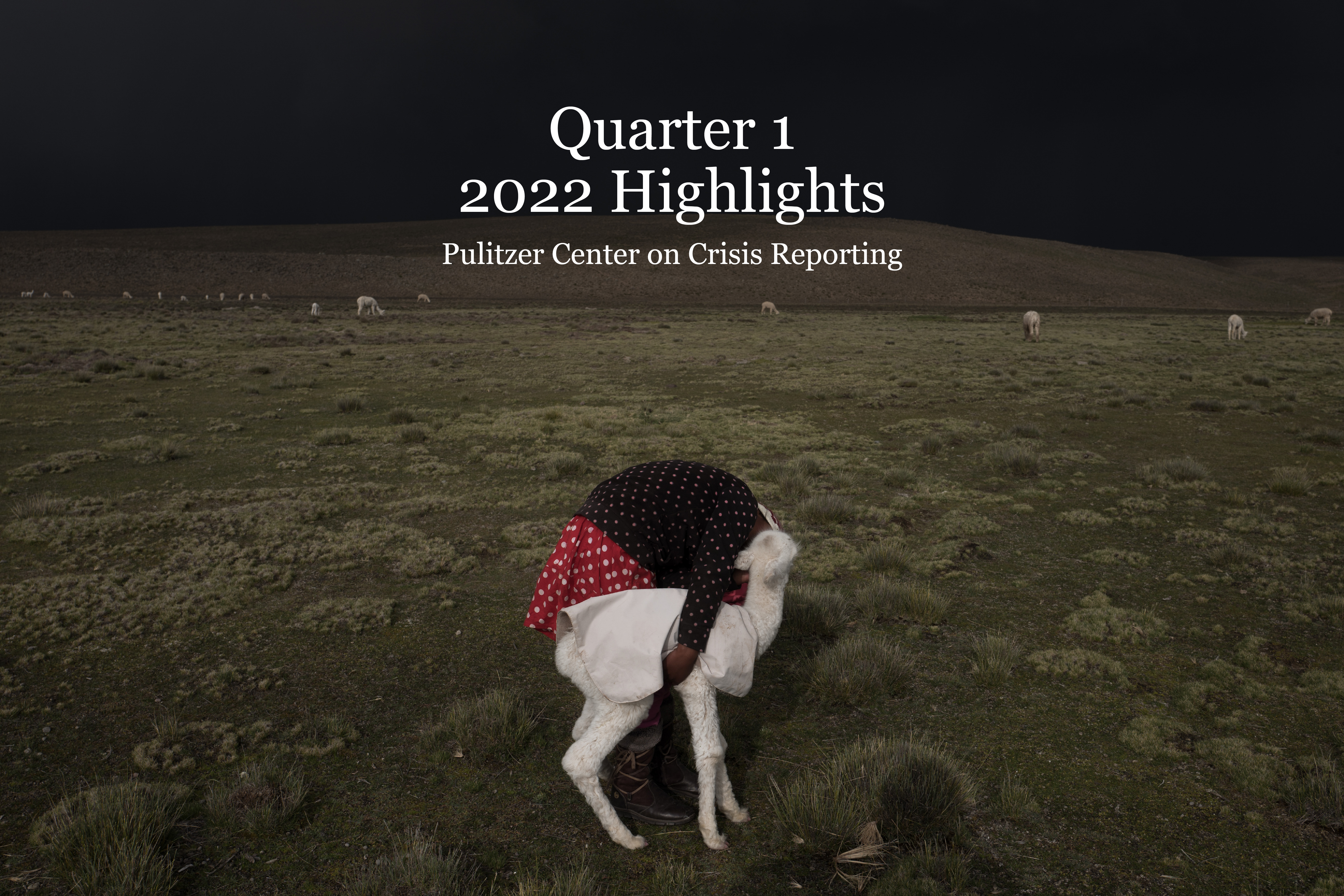 The Pulitzer Center's Q1 2022 Highlights
With many new initiatives under way, we knew the first quarter of 2022 would be hectic. What we did not know was that a brutal war would be raging in Europe—and that it would claim thousands of lives, including that of one of our former grantees, filmmaker Brent Renaud.
The Pulitzer Center has focused on peace and conflict since its earliest days, including my own reporting from Darfur in 2006, our very first project. Our interest has always been to dig beneath the surface of the headlines, helping to understand the drivers of conflict and exploring the pathways to peace. Some of our best projects over the years are ones that drew attention to simmering conflicts before they erupted, as was the case with James Verini and Paolo Pellegrin's deeply reported work from the Donbas region of Ukraine in late 2021.
Peace and conflict cuts across nearly all of the work we support—from migration as a cause and a consequence of conflict, to the impact of war on women and children, the role of climate change, technology, religion, and racial and social justice. All these issues are interconnected. Our model allows us to engage with incipient conflicts before they make the news—and to stay engaged once most news outlets have turned away.
Our top priority since Russia invaded Ukraine has been to ensure that our grantees can cover the war as deeply and safely as possible. They are reporting across all media platforms—newspapers, magazines, television, digital—and focusing on the many underreported angles of the invasion. Grantee George Butler, a gifted artist, is using drawings to depict the human cost of war. We have also continued our support of in-depth reporting on the causes and consequences of conflict all over the world, from the brutal war in Ethiopia to conflict over illegal fishing and violence against Indigenous peoples in the Amazon triggered by resource extraction.
We welcomed a return to in-person programming by our grantees across college campuses and public events, while continuing to engage a diverse range of global audiences virtually. The first quarter also marked the conclusion of the first-year cohort of The 1619 Project Education Network, 40 teams of K-12 educators from across the United States who are creating compelling lesson plans on 1619education.org. Nearly 1,000 students from 22 states took part in the "Local Letters" competition, using Pulitzer Center reporting as the basis for letters to elected officials.
We believe that advancing nuanced understanding of the interconnected nature of the greatest challenges of our times is a form of peacebuilding. As is creating opportunities for dialogue.
Our reporting and education initiatives are only possible through the generous support of the many individuals and foundations who support our work. We're deeply grateful to all of you who help sustain this work.

---
Impact
Rainforest Investigations Network (RIN) Fellow Yao-Hua Law's findings on deforestation resulting from forest plantations was cited in the Parliament of Malaysia. Law's RIN project investigates the sustainability of forest plantations in Malaysia and Southeast Asia, where commercial farms of fast-growing trees are expanding. Pahang State Legislative Assembly Member Lee Chean Chung called on Law's data, first published in Macaranga, to show how deforestation rates are outpacing replanting efforts in Pahang forest reserves.
---
This message first appeared in the April 8, 2022, edition of the Pulitzer Center's weekly newsletter. Subscribe today.