Pulitzer Center Update April 16, 2015
The Orenda Project: Bringing Education to Pakistani Slums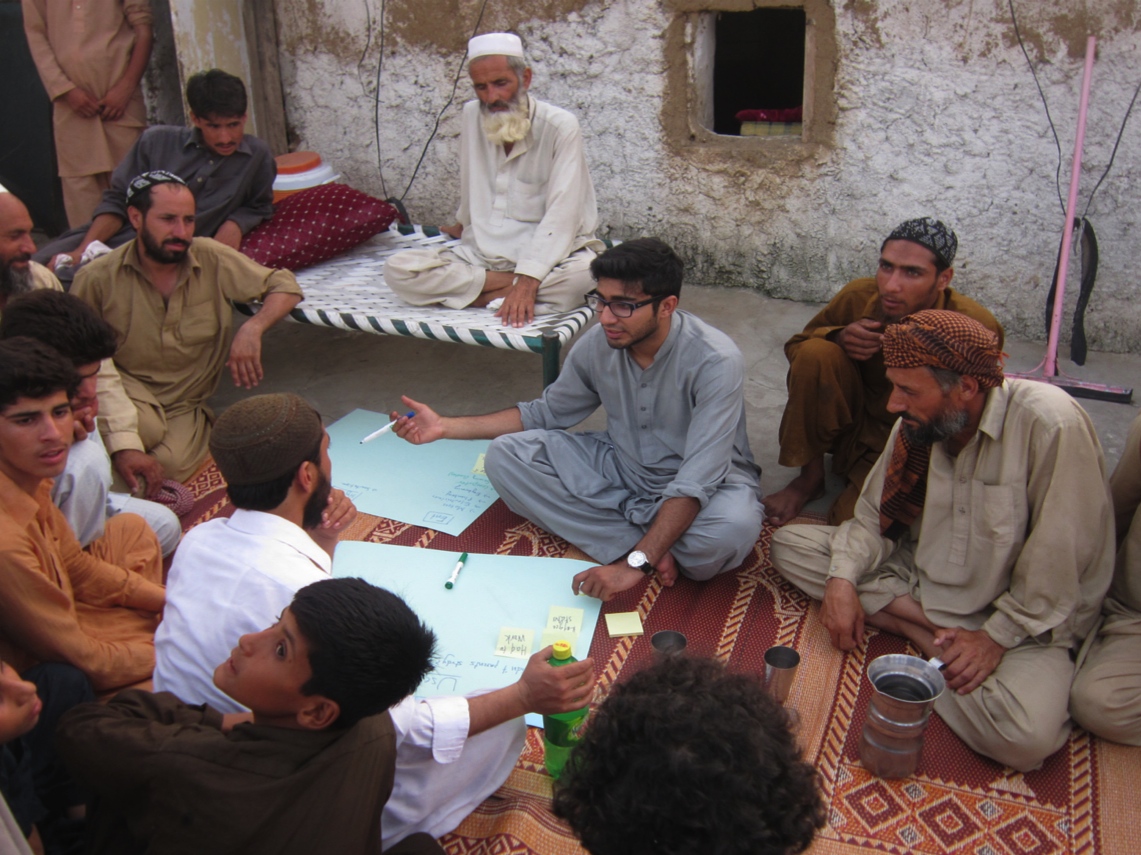 In Afghan Basti, a crowded slum on the outskirts of Islamabad, Pakistan, there's a small tea stall that stands next to an open sewer. That's where Haroon Yasin met a group of elderly men wearing turbans and dressed in salwar kameez. They were sitting on wooden charpais, sipping Kabuli chai, tendrils of smoke rising from their teacups.

"When they saw me approach them, the men rose and made room for me and offered me some tea. They eyed me curiously because it was obvious that I came from the city," said Haroon Yasin, 21, a student at Georgetown University School of Foreign Service in Qatar. "I was born and raised in Islamabad, but I had never entered the slums and villages of this part of the city before."

"How long have you been living here?" Yasin asked the men in Urdu. Only one of them seemed to understand—Yasin's brisk, big-city Urdu was unfamiliar to their ears.

"Over thirty years," the old man responded. Yasin asked him if he has children and if they go to school. The man silently nodded and then laughed, "The schools are too far away, so some of them go, but most of them end up leaving the school at one point or another…they have better things to do."

Afghan basti is home to a large population of Afghani refugees, most of whom fled to Pakistan after the Soviet occupation of Afghanistan in the 1980s. There's no access to education or healthcare in the slum, so most people would have to travel to the city for those basic benefits, but few can afford to do so. Yasin visited the slum as a part of the Orenda Project—an initiative he and three other students started at a conference held in Doha, Qatar. Their objective is simple: to provide education to the displaced and refugee population living in Pakistani slums.

"Orenda" means to find a hidden ability and polish it to an extent that it becomes the purpose and center of your life," explained Yasin, co-founder of the project. "The name was chosen because of what the project means to the refugees—giving them a lifeline, only through polishing abilities that they already have."

"Our project is based on the philosophy of co-creation. We want to provide them with an education and help them find their orenda," continued Yasin. "We can't make decisions for people whose lives we haven't led, so we asked them how we could help them best."

Yasin and the other students—Ahwaz Akhtar, Fatima Sanz and Ahsan Malik—met at the World Innovation Summit for Education conference held annually in Qatar. The summit calls itself an international platform for students and decision-makers from around the world who come together, share ideas and seek solutions to solve challenges faced by education globally.

At first, the students decided they wanted to build low cost schools such as temporary shipping containers which could be moved easily in case of any crisis. But, soon they realized that it would be expensive to build one, and it would look out of place in a poor slum area and might not attract many people.

"We decided that we needed field research before we could continue, so Yasin visited the slum village last summer," said Ahwaz Akhtar, 21, another co-founder of the project and a student at Georgetown's Qatar campus.

Yasin and the other students found that 80 percent of the people spent their monthly income (about $100 per family of 8-10 members) on health-related issues, though most of them had no idea that the diseases were due to bad hygiene practices and could be easily cured. They wanted their children to go to school, but they couldn't afford to send them to school for long as they were also earning members of the family.

"We came up with a curriculum that would teach the children basic subjects like English, science, math, etc. and also teach them about health and hygiene, entrepreneurship skills, etc.," continued Akhtar. "The idea is that even if they chose to drop out of school, they would have learned basic skills that would help them get simple jobs at least, instead of not doing anything."

According to Yasin, the school will be built with help from volunteers from the city and by people who now live in the slums. Their homes are small hovels made of mud, clay and concrete, put together into small blocks, like lego pieces, which can be easily attached and detached when the residents need to move. The same design will be used to build the school with two study rooms and a playroom, big enough to fit approximately 50 students.

"After I graduate in May, I plan on moving to Islamabad for good and be more involved with building the school," said Yasin. "If all goes well, we want to start the project by August at the latest, though we can't say anything for sure for now."

Though the initial planning of the project went smoothly, raising funds for their project proved to be one of the biggest challenges.

"We started an online fundraiser and raised about $11,000. We were also awarded a $10,000 grant by Georgetown University's home campus in D.C, as a part of the Davis 100 projects for peace initiative," Yasin said.

"Building the school won't require much funding, but we will need more to train people to teach, pay them as full time teachers, buy stationery, etc. Our aim is to raise at least $46,000 for the project which will at least take care of the first year," said Yasin.

Another challenge that they face, according to Malik, is the lack of administration on the ground as the members of the project live in different parts of the world. Malik is studying at the University of Warwick in London, while Akhtar and Yasin are studying at Georgetown and Sanz is working full time at Teach for Qatar.

"We try to have weekly Skype interviews to stay in touch with each other and talk about the progress we've made," Malik said. "But there can't be much progress unless we can be on the ground, so the people can believe that we are truly trying to bring about some change."

However, one of the biggest challenges threatening the project comes from the government of Pakistan itself. The Capital Development Authority (CDA) in Islamabad, which looks over the municipal functions of the city, has declared most of the slums in Islamabad illegal establishments, mainly inhabited by refugees, Christians, and Pashtuns from Khyber Pakhtunkhwa.

In an interview with Dawn, one of Pakistan's leading newspapers, an official from the CDA (who asked not to be identified) said that previous attempts were made to shift the slums to different plots around the city, as the overcrowded slums were facing water, electricity and hygiene issues in poor living conditions. But, he added, the only way to resolve the issue is to remove all the slums at once.

Whether the Orenda Project in Afghan basti will be hindered by the government's increasing hostility towards slums remains to be seen, but for now, the members of the project are hopeful.

"I've profound respect for the people who live there. I look up to the way they approach life," Yasin says. "I've glimpsed what the children are capable of, and I want to be a part of their incredible story and help them give life their best shot."