Please join us for our Pulitzer Center film festival, "Global Crises, Human Stories," featuring the beautifully crafted and heart-wrenching film, "No Fire Zone." Carefully evidenced and powerfully measured, "No Fire Zone" is a feature length film about the final months of the 26 year long Sri Lankan civil war told by the people who lived through it. It is a meticulous and chilling expose of some of the worst war crimes and crimes against humanity of recent times - told through the extraordinary personal stories of a small group of characters and also through some of the most dramatic and disturbing video evidence of the conflict ever recorded. Directed by Callum Macrae, this film follows two highly influential documentaries on the same subject for the UK's Channel 4. Running time: 93 minutes.

The film starts in September 2008 and is also built around compelling personal stories. There is Vany, a young British Tamil who was visiting relatives in Sri Lanka and became trapped along with hundreds of thousands of other men, women and children, desperately fleeing the government onslaught. She had trained as a medical technician in the UK; now she found herself helping in a makeshift hospital while doctors tried to treat hundreds of desperately injured people, in some cases performing major surgery without general anesthetic.

Inevitably too, this film is the personal story of some who didn't make it.

"No Fire Zone" also brings the story up to date. The Sri Lankan government still denies this all happened in what they described as a "humanitarian rescue." The repression and ethnic restructuring of the Tamil homelands in the north of Sri Lanka continues; journalists and government critics are still disappearing.

The film has been screened around the world and is part of a call to action. Learn more about the film and the campaign at NoFireZone.org.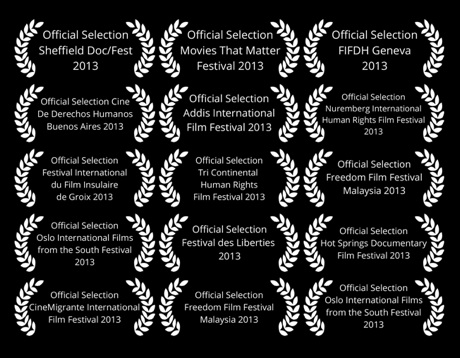 Tickets are $5 general admission, and $3 for students and seniors.

Tickets on sale now at http://www.westendcinema.com/

No Fire Zone Screening Times

Friday, September 20:
5 pm

Monday, September 23:
3 pm

Wednesday, September 25:
7 pm

West End Cinema
2301 M St NW, Washington, DC 20037

All Films in the Festival:
The Abominable Crime: Homophobia's deadly consequences in Jamaica, and the fight for freedom, security––and understanding. Directed by Micah Fink.
No Fire Zone: The true story of war crimes committed at the end of the Sri Lankan civil war in 2009. Directed by Callum Macrae.
Outlawed in Pakistan: A rape victim's odyssey through her country's flawed justice system. Directed by Habiba Nosheen and Hilke Schellmann.
Seeds of Hope: One woman shines a beacon of hope to dispel the despair of women survivors of rape in the Democratic Republic of Congo. Directed by Fiona Lloyd-Davies.
Pulitzer Center Photojournalist Shorts: A special shorts program featuring work by award-winning photojournalists including Shiho Fukada, Stephanie Sinclair, Dominic Bracco II, Larry C. Price, Andre Lambertson, Joshua Cogan, and Allison Shelley.

See the full film festival program and schedule.
RELATED ISSUES