Pulitzer Center Update December 3, 2015
Nigerian Journalists Dig Deep Into Land and Property Rights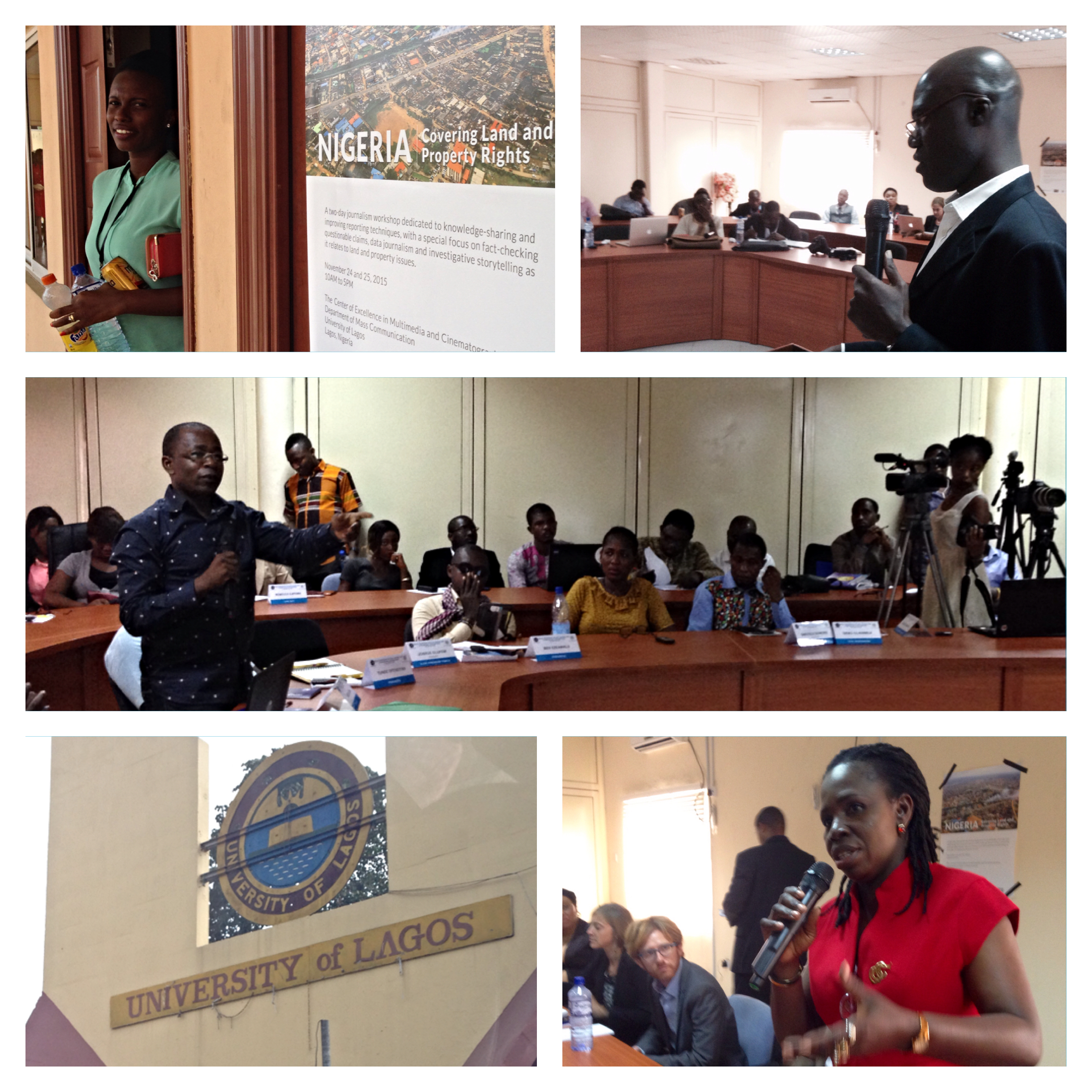 Reporters from Nigeria's leading media outlets were among the 55 professional journalists and 48 students who attended a unique journalism workshop on "Covering Land and Property Rights" held in Lagos on November 24 and 25. One journalist even drove some 1200 kilometers to attend the event.

The workshop, co-hosted by the Pulitzer Center and the University of Lagos, School of Mass Communications, offered the participants insights and tips about current property rights issues, fact-checking, data journalism, and investigative reporting.

Nigeria, like many countries in Africa, is in the process of reexamining its land and property laws in an effort to reduce land disputes caused by rapid urbanization and rising numbers of land deals for agricultural and commercial development. The day before the workshop, the United Nations Special Rapporteur on the right to adequate housing, Leilani Farha, urged the Nigerian government to halt unlawful evictions and demolitions that have displaced upwards of 10,000 people since 2013.

The workshop kicked off with a presentation from a consultant to Nigeria's Presidential Technical Committee on Land Reform, Dr Ademola Omojola. He gave an overview of property rights and land governance challenges in Nigeria, with an emphasis on the need to overhaul the antiquated land governance system. He told the audience that since formal land registration began in Nigeria over 100 years ago, less than three percent of land nationwide has been registered. He also bemoaned the fact that nearly all land-related documents remain undigitized more than a decade after a presidential directive called for the computerization of all federal government lands and land records.

Africa Check's Assange Diagne from Senegal released a fact sheet called "Who Owns the Land in Nigeria?" and a second fact-sheet on land and property rights in Senegal. He spoke about the importance of fact-checking as a tool to hold public figures accountable in a democracy, and he also reinforced the three fundamental principles of fact-checking: impartiality, transparency, accuracy.

Omoyele Sowore, founder of Sahara Reporters, challenged the journalists to continue reporting the good, the bad, and the ugly in Nigerian politics, no matter the consequences. He emphasized the need for more reporting on land and property issues, in order to give voice to the voiceless and to hold politicians and land grabbers accountable, thereby strengthening democracy and rule of law in Nigeria.

Many of the journalists at the workshop had reported on the forced evictions, displacement, and land grabs. However, some common misconceptions about land tenure and occupancy have persisted. During the civil society and land rights panel, Justice Empowerment Initiatives' Megan Chapman delved into Nigerian constitutional law and surprised many journalists with the numerous rights to land tenure and occupancy that Nigerian citizens actually have under the law.

Emmy-award winning African journalist Sorious Samura, and his ever mysterious colleague Anas Aremeyaw Anas, of TWI Insight Media, had the rapt attention of the journalists in attendance as they shared tips for reporting undercover that included technical as well as legal tips.

Three of Nigeria's top data journalism practitioners led what became one of the most popular panels during the workshop. The Premium Times' Joshua Olufemi wowed the crowd with a terrific presentation on turning boring government figures into vibrant infographics. Code for Nigeria's Temi Adeoye discussed data mining, data scraping and data cleaning as part of an investigative reporting strategy. And Stanley Achonu of BudgIT was eloquent on the need for greater transparency and open data from the government. BudgIT is known for its creative use of complex government data, often breaking it down into compelling infographics and tweets for the public to understand. All three data experts generously offered to assist the assembled journalists in transforming government data into dynamic data visualizations.

As the workshop concluded, Professor Ralph Akinfeleye organized the drafting of a communiqué, calling on the Nigerian government to ensure the systematic management of land in order to achieve optimum utilization, value enhancement, and reduction of slums.

Several organizations in attendance offered to hold follow-on workshops to help the journalists improve their skills and stay informed on land and property rights issues. This offer was warmly received by the journalists, who were vocal about their desire to attend more workshops like this one in the near future. The journalists also agreed to start an online working group dedicated to sharing knowledge on property rights and organizing future workshops.
RELATED ISSUES