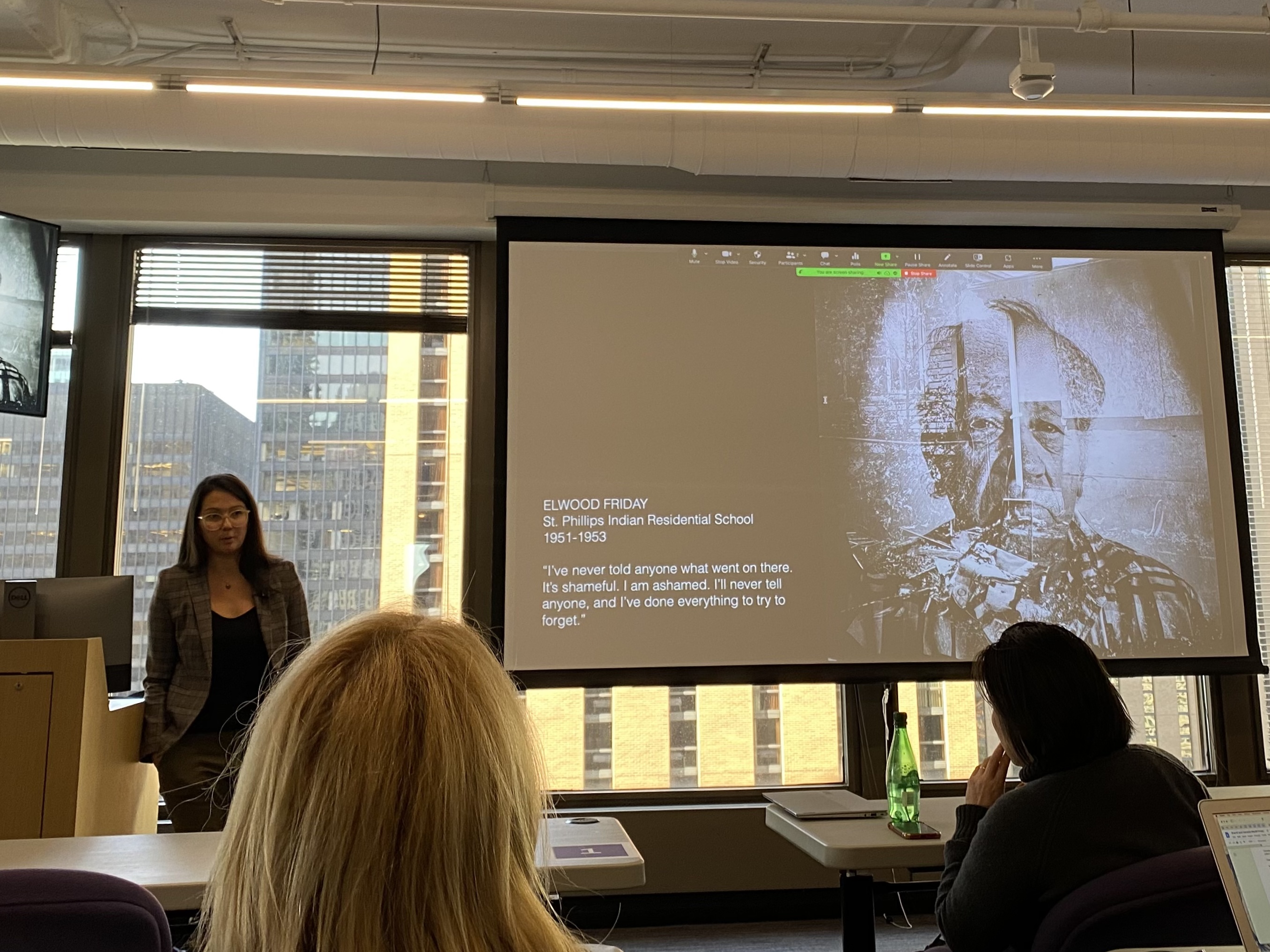 Graduate students at Northwestern's Medill School of Journalism received grantees Brandi Morin and Daniella Zalcman for a visit on Friday, October 14. The floor-to-ceiling windows of Medill's 16th-floor suite give way to a vast Chicago skyline, but attendees were laser-focused on Morin and Zalcman's storytelling and advice for future journalists.
Morin specializes in telling stories about Indigenous people, especially those who were impacted by the residential schools throughout North America.
"I had been exposed to a lot of the negatives of what it meant to be 'Indigenous,' but as I started to report and understand and learn a lot of these truths that even people in our communities did not know, I was on this healing journey at the same time, and it's a really beautiful experience," Morin said. 
Morin worked with Zalcman, a photojournalist, on a story about victims of residential schools for National Geographic. Previously, Zalcman dedicated eight years to sharing stories of different individuals and groups impacted by colonization and assimilation, including the First Nations people of Canada.
"Hearing [Morin and Zalcman] talk about their passion for the projects they are working on and how important the work is that they are doing for Indigenous people made me really think about the passion we all have," said Mack Meaney, a Medill student in the Sports Media specialization. "We all hope that we can do something as meaningful and recognizable as they have." 
Morin stressed to the students the importance of telling stories of those with deep, extreme trauma in a way that centers the people and their experiences.
Image
"From the violence of colonization to the snatching away of Native children from their families, shipping them to Indian Boarding Schools to become assimilated and sometimes killed, to the widespread impacts of this genocide that are still playing out today, it's your responsibility as journalists to document it and do it right," Morin said. "[We were] doing this when it was unpopular. Any community that you report on that is underreported on is going to be unpopular."
"For me, the most frustrating part about being a journalist is we often feel like middle-people," added Zalcman. "We are hoping to get the word out to the people who actually are capable of enacting that change, but we feel like we are not ourselves changemakers. You're not able to change their life circumstances; you're not there to immediately change their lives. [However], it's important to remember we are responsible for making change happen, but it's not always quantifiable."
Zalcman said she has hope for the future of journalism because young people are angry and ready for change.
"I'm leaving the discussion with a renewed sense of purpose to follow my anger and transform it into stories that serve [communities] and hold people accountable for actions that continue to hurt others," said Alexa Erbach, a Medill student in the Social Justice specialization.
Erbach added, "I am grateful for their time and feel that this was the talk I needed to focus on why we do what we do. Brandi and Daniella prove that good, meaningful journalism can change the world, and I hope I can be part of that legacy."
 
RELATED ISSUES

Issue
Indigenous Communities
Indigenous Communities

Women