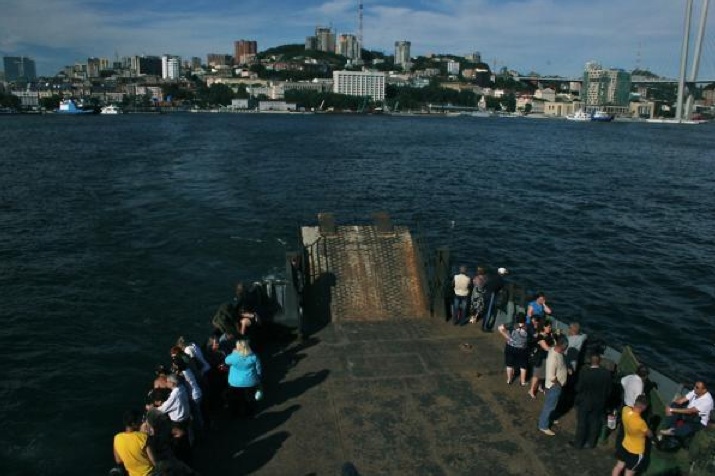 Russian journalist Anna Nemtsova stood in front of four different American high school classrooms this spring and asked students what they knew about her home country.
"I was thinking they would know that Russia is the biggest country in the world, maybe [know about] Siberia – that's it," Nemtsova said of the high school students. "The space I cover of course has nothing to do with American realities."
But the students at Bethesda-Chevy Chase High School (Maryland), Woodrow Wilson High School (Washington, DC) and Robinson Secondary School (Virginia) surprised her. Nemtsova took questions about everything from the 2014 Olympics and whether being a journalist is ever boring to how she met her husband. (Answers: She grew up visiting Sochi; no; he was her English tutor.)
"There were very thoughtful questions that surprised me," Nemtsova said. "I was particularly interested in their ideas. We had great dialogue. I think that was the best part of this tour…that I had a chance to hear their questions and also hear a little bit about their lives. Very inspiring experience."
Nemtsova's "tour," as she called it, is the educational outreach side of the Pulitzer Center's mission in supporting international reporting. She came from Russia in spring 2013 to bring her reporting directly to students and the broader community in the Washington, DC area. Nemtsova received the 2012 Persephone Miel Fellowship, a joint initiative of the Pulitzer Center and Internews. Her fellowship supported her reporting of "Russia: On the Move," her Pulitzer Center project on migration trends in Russia--from the millions of young people leaving Siberia for the more prosperous European portions of the country to others aiming for new lives in communes free from Moscow's brutal rules.
Nemtsova has worked as a Moscow correspondent to Newsweek and The Daily Beast and contributor to Foreign Policy, The Chronicle of Higher Education and Radio Free Europe. The Miel Fellowship is designed to help media professionals outside of the United States undertake more in-depth reporting in their home countries and bring their work to a broader international audience. The fellowship is named in memory of Persephone Miel, who passed away in 2010 after a long battle with cancer. Miel had been a senior advisor at Internews as well as a regional director for Eurasia and Russia. Before she died, she said she wanted to be remembered by a fellowship that would provide such opportunities to non-U.S. journalists.
Due to Russia's enormous size – it spans nine time zones – journalists and their employers often cannot afford the journey out of Western Russia to document untold stories from other regions. The Miel grant allowed Nemtsova to report from vast, sparsely populated and sometimes dangerous areas of Russia: the North Caucusus and Siberia.
"That was probably the best experience I had as a journalist," Nemtsova said of the grant from the Pulitzer Center, "because of this unique opportunity to travel from Moscow all the way to the Far East. Without the Pulitzer's grant, I wouldn't be able to travel to the south of Russia, to Dagestan, to the Far East, to Siberia, and cover this enormous space during one year. So I found it a great opportunity for myself, to find the conceptual link for all the stories and put them together in one project.
"I'm very happy that I had a chance to peek into all those areas and get a sense of what's going on," Nemtsova continued. "That was a fantastic opportunity…There was a lot to tell."
"Russia: On the Move" consists of four chapters, unrelated in their subject matter but unified by one "conceptual link," as Nemtsova called it: the idea that Russians are migrating, whether physically or just mentally, away from their country. Over the course of a week she presented this work to approximately 100 students in two peace studies classes, an international relations class and a journalism course. She also spoke at the Pulitzer Center's second "Talks @ Pulitzer" event, a public forum where fellow Moscow-based journalist Joshua Yaffa also discuss his Pulitzer Center reporting project, "Putin's Challenge: The Reawakening of Russian Politics."
Before flying home, Nemtsova appeared on the Internews panel, "From Counting Women to Making Women Count: Women-Focused Media Development." Once home, Nemtsova continued her independent reporting from Russia, traveling to Dagestan to report on human rights and continue long-term work for a series on mono-towns, cities dependent on one factory, in both Sochi and Far East Russia.
"My only goal was to have maybe some of the students, when they see the word 'Russia' in the newspapers, then they would read more than a couple paragraphs," Nemtsova said of her brief U.S. tour. "It is very important to think of other corners, even in your own country…I can see they are potential readers, these guys. I got very inspired because there is a hope that these young people will read my stories in the future."
RELATED ISSUES