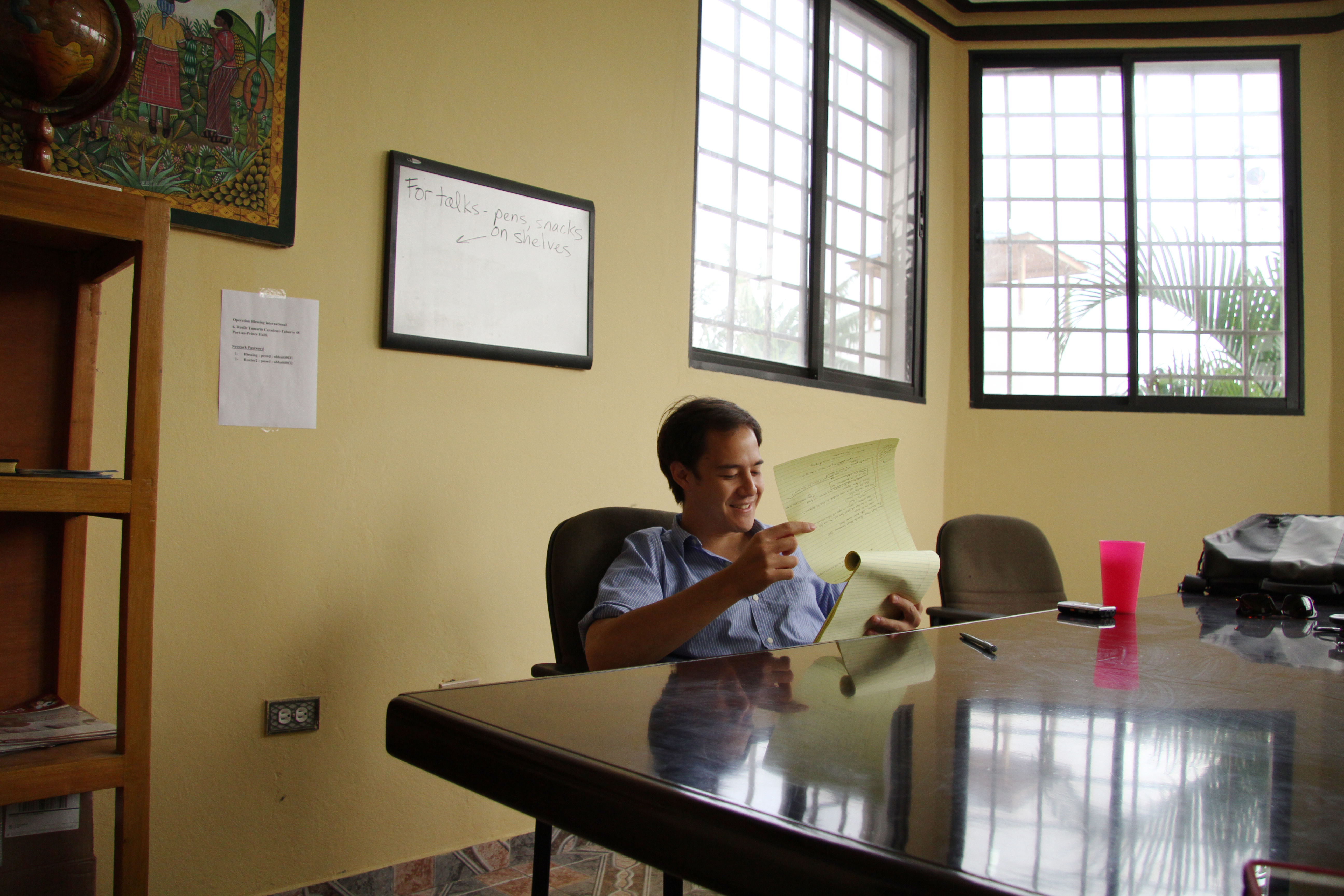 The Pulitzer Center student fellowship program offers undergraduate and graduate students at Campus Consortium member schools the opportunity to pursue an international reporting project and receive professional support from Pulitzer Center editors and journalists.

At Boston University, the Pulitzer Center student reporting fellowship is specifically focused on public health journalism and is supported by an interdisciplinary collaboration between the College of Communication, the School of Public Health, and the Center for Global Health & Development.

In summer 2012, Jason Hayes, a graduate student in the School of Public Health, traveled with photojournalism student Meghan Dhaliwal to Haiti to report on the cholera epidemic. In a written interview with the Pulitzer Center, Hayes shared some of his experiences. Excerpts from the interview follow.

Pulitzer Center (PC): Why did you decide to apply for the student reporting fellowship?

Jason Hayes (JH): I decided to apply for a student fellowship at the Pulitzer Center after attending a panel discussion that featured Stephanie Sinclair, a photojournalist, and the previous Boston University student fellow, Anna Tomasulo. It was clear to me through their stories and experiences that the fellowship presented a unique opportunity to synthesize several aspects on my public health curriculum as well as to write for an audience outside the scientific world, something I was ready to attempt.

PC: What aspect of the fellowship was most valuable to you?

JH: As a public health student, I think the most valuable aspect of my time at the Pulitzer Center was the opportunity to bring together several threads of my coursework. In order to write about cholera in Haiti, I was able to draw from almost all the core courses of my program. Furthermore, the support fellows receive from the Pulitzer Center in regards to planning, networking, and editing made a reporting trip possible that, for me, simply would not have been otherwise feasible.

PC: What was it like working with a partner on this project?

JH: Boston University strives to pair a journalism student and public health student and I think the formula yields a team with a uniquely dovetailed skill set, especially when applied to topics like cholera. I learned so much from Meghan about the technical skills required to undertake a reporting trip, but more importantly I learned how to create a sensitive and comfortable environment for interviews and photographs, something Meghan does extremely well.

PC: You're currently studying public health. What was it like to jump into the journalism world from that field?

JH: I think that it always feels like a big step to enter a new professional world. However, the Pulitzer Center provides all the support and opportunity to make it as smooth a transition as possible. Office staff offers tutelage in computer programs and machine-based skills, while the chance to enter the political arena of Washington, DC, as a reporter – vetted by a sweet lanyard-draped press pass - confers confidence. In addition, being paired with a photojournalist (a really big camera seems to assure journalist status like a white jacket does a doctor) is a security blanket akin to arriving at a high school party with a cool older sibling.

PC: What was it like working in the field?

JH: I think Meghan and I got pretty lucky with our reporting trip. Overall, it felt like we were able to meet the people we wanted to meet and gain access to the places we wished to enter. There seemed few exceptions. Largely, our good fortune was a product detailed planning and connections. We made the acquaintance of a few people who, in addition to our fixer Andre Paultre, made the trip possible by putting us in touch with their network in Haiti and offering us resources like translators and interaction with well respected community figures.

PC: What did you learn about yourself through this experience?

JH: I think that this fellowship impacted what kind of work I want to do when I graduate, and I am excited to try to continue writing. I feel there is a necessary relationship between responsible journalism and public health, one that may play an important role in asserting health as a human right across the world. I hope to work between these two worlds in some capacity in the future.
RELATED ISSUES