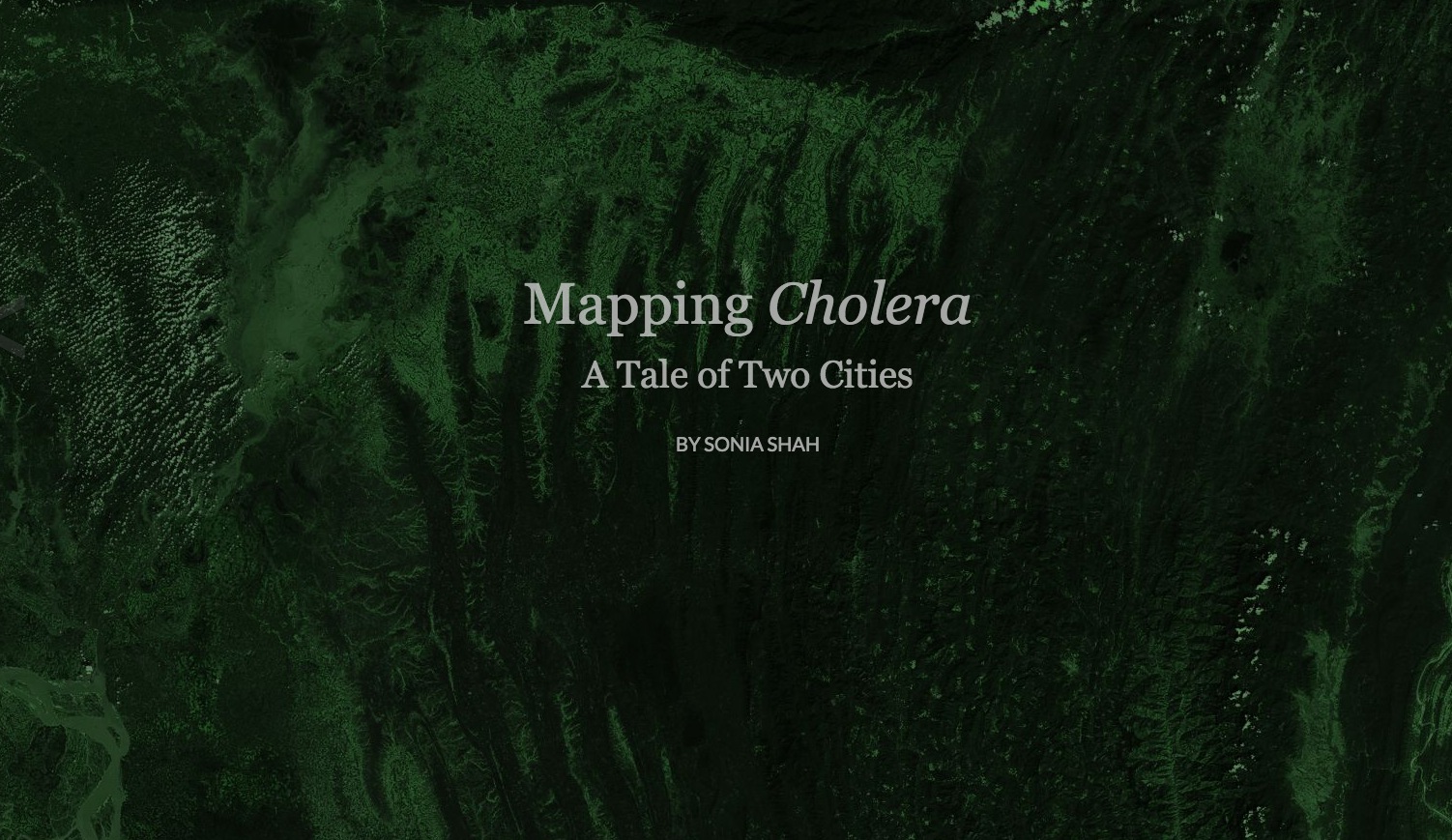 The Nov. 4 panel discussion of "Mapping Cholera," jointly sponsored by the Pulitzer Center and the New York Academy of Medicine, began with a description of the elements of good science journalism by Jon Simon, director of the Center for Global Health & Development at Boston University.

Simon was aptly describing Pulitzer Center grantee Sonia Shah but his list is one that every science journalist should keep in mind. To have a "voice with insight," Simon said, a voice cultivated by real and deep knowledge of the topic explored. To be "a voice for alternative truths." And lastly, to be a voice that "challenges the 'known'—everything you thought you knew."

In her presentation Shah showed how cholera came to Haiti in 2010, how the absence of basic sanitation and clean water fueled its explosive spread, and how officials—beginning with the United Nations—conspired to deny what was happening. And then she put that tragedy in vivid historic context, via a comparison to a quite similar chain of events that took place 178 years earlier in another crowded, unsanitary island—the island of Manhattan.

In the Manhattan of 1832 local officials were also quick to deny what was happening. Doctors dealing with the epidemic resorted to publishing their own newspaper, chronicling day by day the list of those who had died or fallen ill. Shah, working with information designer Dan McCarey, used that data to create the vivid visualization "Mapping Cholera."

The panel discussion that followed Shah's presentation included striking additional examples of insight and voices "challenging the known."



Physician Annie Sparrow of the Icahn School of Medicine at Mount Sinai compared Haiti's experience to the current Ebola outbreak and the resurgence of polio in Syria, suggesting that all three should be confronted not just as public health crises but as human rights abuses. Pablo Mayrgundter, a founding member of Google.org's Crisis Response team, described his work in Haiti mapping cholera's spread—and called on the international community to do pre-mapping in vulnerable communities across the globe. Veterinary epidemiologist Jonathan Epstein of EcoHealth Alliance said the news media needs to do a far better job of educating the public as to relative risks—the exceedingly low likelihood of contracting Ebola in the United States, for example, versus the thousands of annual deaths from easily preventable flu.

Simon closed the evening with an equally pointed critique. The New York Times covered a Centers for Disease Control and Prevention (CDC) report this September with the explosive headline "Ebola Cases Could Reach 1.4 Million Within Four Months," he noted. The story gave only passing attention to the fact that the CDC was projecting a range of possible outcomes only and that on the low end there might be no cases of Ebola by January at all.



The Pulitzer Center is grateful to the New York Academy of Medicine for hosting this event, to all the panelists for their rich insights, to the audience for their thoughtful questions—and for the reminder that we as health specialists and journalists and policy-makers have a responsibility to address these challenges in ways that advance the common good.
RELATED ISSUES