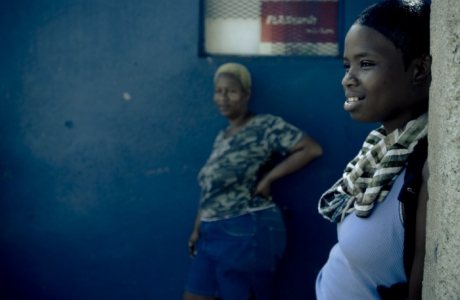 LiveHopeLove won a Gracie Award for outstanding radio documentary from the American Women in Radio and Television (AWRT).

Produced by Stephanie Guyer-Stevens and Jack Chance of Outer Voices, and Nathalie Applewhite of the Pulitzer Center, the radio documentary, "LiveHopeLove: HIV/AIDS in Jamaica" is part of Hope: Living and Loving with HIV in Jamaica, the Pulitzer Center's award-winning multimedia reporting project that chronicles poet and writer Kwame Dawes' travels to Jamaica, where he explores the experiences of people living with HIV/AIDS and examines the ways in which the disease shapes their lives.

Excerpt from AWRT:

With a strong commitment to recognizing the accomplishments of all markets of talent, as well as the next generation of media stars, American Women in Radio and Television is pleased to announce the 2010 local market, public and student winners of the annual Gracie Awards. The winners will be recognized at an industry luncheon on Wednesday, May 26, 2010, at the Beverly Hilton Hotel, Los Angeles, CA. After more than three decades in New York, the Gracies will be delivering its message of empowerment to a Los Angeles audience when the Gracie Awards go Hollywood.

National Gracie Award winners will be presented at a dazzling black-tie Gala also at the Beverly Hilton Hotel on Tuesday, May 25, 2010.

The Gracies recognize exemplary programming created for women, by women and about women in all facets of electronic media, as well as individuals who have made contributions to the industry. The awards program also encourages the realistic and multifaceted portrayal of women in entertainment, commercials, news, features and other programs

Each year, the Gracies attracts the best and brightest in radio, television, cable and new media. This year's local, public and student winners include KXAS' Deborah Ferguson, George Washington University's Engage, Enlighten and Educate, KRTK's Heart of the Huddle, WNYC's In Verse, Minnesota Public Radio's Mabel's Story, and WTOP's The War that Never Ends.

"We are so proud of the important work being done by all women across the country," stated 2010 Chair of AWRT, Sylvia Strobel, Esq. "The Gracies Luncheon is our platform for acknowledging that work and the amazing people behind it."

The Gracies are presented by the Foundation of AWRT, the philanthropic arm of AWRT, which supports educational programs, charitable activities, public service campaigns and scholarships to benefit the public, the electronic media and allied fields. The Gracie Awards, established in 1975, honor programming and individuals of the highest caliber in all facets of radio, television, cable and web-based media, including news, drama, comedy, commercials, public service, documentary and sports.
RELATED ISSUES