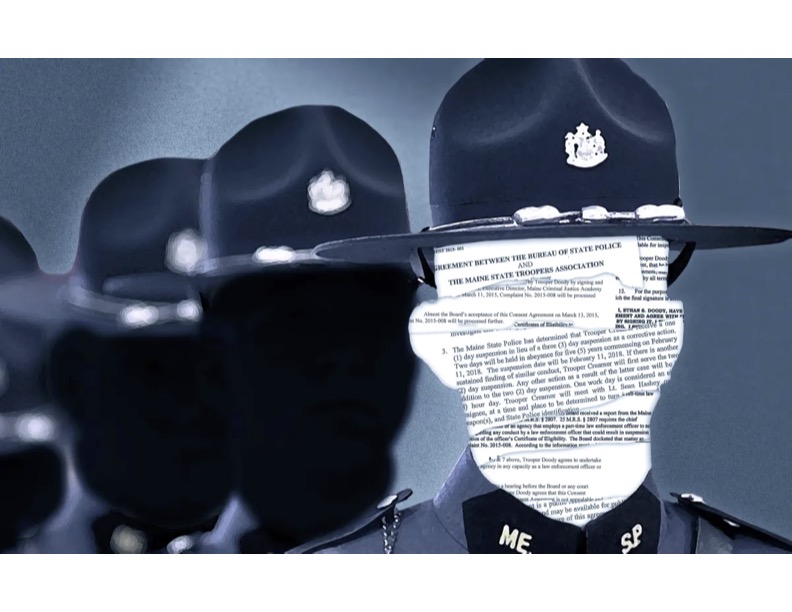 Maine's two biggest newspapers successfully sued the Maine State Police, who must now turn over previously redacted portions of trooper discipline records that were the subject of a 2021 Pulitzer Center-supported project.
Last week, Judge William R. Anderson of the Penobscot County Superior Court ordered the state police to conduct a new search for disciplinary records requested as part of the joint Bangor Daily News and Portland Press Herald Pulitzer Center-supported series Misconduct Concealed.
"I think that the ruling validates the core principle in Maine's public access law that there should be accountability and transparency around government officials who hold great power over the public," said Callie Ferguson, a Bangor Daily News investigative reporter who worked on the project.
"I would say that this is definitely a win," said Erin Rhoda, editor of the Maine Focus team at the Bangor Daily News. "At the same time, I think we feel that we shouldn't have had to file this lawsuit in the first place. Because the details of police misconduct are very clearly public in Maine."
While the judge defended several redactions pertaining to medical information, the state police must now conduct an additional search for "missing documents," including final discipline records and settlement agreements outlined in the newspapers' original Maine Freedom of Access Act (FOAA) request.
"Our view is we got the guts of what we were looking for," Bangor Daily News attorney Berney Kubetz commented. "The judge seemed to recognize the broad scope of the Maine Freedom of Access statute and its importance and that exceptions to it should be narrowly construed. So I view it as a significant victory."
The Bangor Daily News and Portland Press Herald joined forces early last year for a three-month investigation into how the state's largest police force used vague language and redactions to avoid disclosing case details within public discipline records. The Maine State Police disciplined at least 19 officers for misconduct between 2015 and 2020, but for 12 of the officers, the records were too heavily redacted to discern what behavior or actions led to their punishment.
To fill the gaps in the most opaque cases, the team reviewed additional police documents, court records, and witness reports and interviewed legal experts. Reporters were then able to reconstruct a picture of misconduct obscured within the discipline records, including one officer's failure to report his former fiancee's car crash and another who initially failed to report a fellow officer for punching a handcuffed man in the face.
"We were able to uncover quite a bit," Rhoda said. "But there are some [cases] that we weren't able to confirm on the record. So we're hoping that the release of the redactions will provide a little bit more clarity on the misconduct of these officers."
The court ruling underscores the importance of journalism in holding state officials and law enforcement accountable, particularly as local outlets continue to face shrinking payrolls and dwindling resources to conduct these kinds of investigations. The Pulitzer Center helped cover attorney fees and record request costs for the project.
"Daily newspapers today work on very limited budgets. My client is no exception," Kubetz said. "The assistance provided by the Pulitzer Center was very helpful in enabling Bangor Daily News and Bangor Publishing Company to be able to aggressively and comprehensively pursue this case in court."
Misconduct Concealed is part of Bringing Stories Home (BSH), a Pulitzer Center initiative supporting regional and local newsrooms reporting on systemic issues in their own backyards and amplifying that reporting through education and outreach. In 2021, BSH supported nearly 200 stories across more than 40 different U.S. outlets, from North Carolina's Outer Banks to Alaska's Arctic Circle.
Kubetz, attorneys for the Portland Press Herald, and law students at the Media Freedom and Information Access Clinic (MFIA) at Yale Law School, who worked pro bono on the case, are speaking soon to discuss next steps. While the state can still appeal the ruling and the judge set no deadline for the police to produce the unredacted records, Kubetz emphasized the ruling is a "very helpful precedent for Maine media to point to" for future access cases.
"The ruling shows that we were right in the end," Ferguson concluded. "Without the Center's help, we potentially would have been in a position where we would not have been able to fight for information that we are legally entitled to. I think this shows that with support and funding, Maine news organizations, or members of the public for that matter, may be actually entitled to more information than they are initially being told."
"This [ruling] is really one of the big reasons why newspapers are so important, because they will fight for the public's right to know," Rhoda said. "It is essential for public institutions to know that we believe in the right to public information and we'll defend that right."
The Maine State Police did not immediately respond to a request for comment.
RELATED INITIATIVES
RELATED ISSUES