Pulitzer Center Update June 9, 2021
Journalists connect St. Louis high schoolers with reporting on power and the pandemic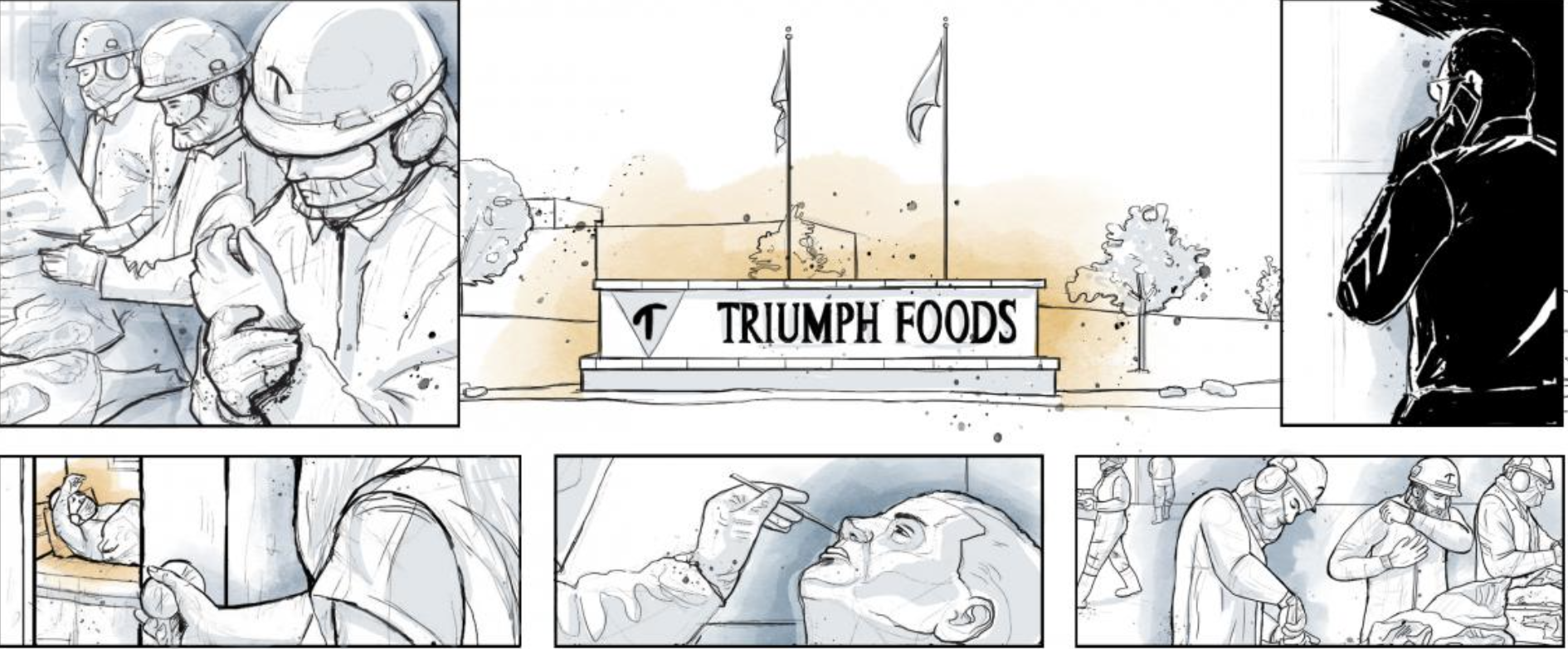 From April 26 to May 7, 2021, grantees Sky Chadde, Rachel Axon, and Kyle Bagenstose went on a virtual tour of St. Louis-area high schools. Chadde, of the Midwest Center for Investigative Reporting, and Axon and Bagenstose, both of USA TODAY, presented their work on the reporting project COVID-19, Agriculture Workers, and Our Food System. A collaboration of the Midwest Center for Investigative Reporting and the USA TODAY Network, supported by the Pulitzer Center, the stories in the project explore the experiences and exploitation of workers in meatpacking plants in both the Midwest and the southern United States.
Chadde, Axon, and Bagenstose collaborated on a story about workers at Triumph Foods, a pork plant in St. Joseph, Missouri. The story covered the "crucial period from mid-March to mid-April" of 2020, when Triumph Foods "failed to respond with effective safeguards" against the burgeoning and little-understood coronavirus pandemic. The reporting from the team found that the company instituted measures such as "a bonus program that rewarded workers for perfect attendance [at work] even as they complained and fell ill." As a result of ineffective precautions taken by the company, the reporting team found that "500 Triumph employees — roughly a fifth of its workforce — tested positive" for COVID-19, and four people died.
The reporting highlighted larger trends in the meatpacking industry during the pandemic, and the years leading up to it, of poor labor conditions and hygiene. In its visits, the team spoke with students about its work and its reporting process. The story had particular relevance to the students at the six high schools: Ladue, McCluer North, Parkway West, Lindbergh, University City, and Crossroads. Triumph Foods is about a four-hour drive from St. Louis.
Arthur Lieber is the director of Civitas, a youth civic engagement organization in St. Louis. In an email exchange, he notes that the reporting from Chadde, Axon, and Bagenstose connected with the "sense of ethno-centrism on the part of the students" by homing in on the timeliness of the COVID-19 outbreak and its impact on Missouri.
Lieber has collaborated with the Pulitzer Center's Global Gateway program in St. Louis since 2006. He says, "Students love first-hand reporting and many have a keen interest in the profession of journalism." Visits from journalists give students avenues to explore these interests as well as connecting to social and political activism among St. Louis youth.
Lieber emphasizes that "issues of race and gender identity are very important to young people in Saint Louis." These themes, and others, were featured in the reporting from Chadde, Axon, and Bagenstose. With the pandemic as an anchor, the team touched on power, politics, and labor, speaking with students in urban St. Louis about the ways these issues operate in the rural communities outside their city.
In an email interview, Chadde says the goal, in preparing and presenting the project to students, "was to communicate why reporters' jobs are important. There's a lot of bad information out there about what we do, and we wanted the students to know that we take our jobs seriously, that we care about being empathetic, fair and accurate." He comments on the "intuitive" questions from students on "how reporting on these stories affected our own mental health." He says:
"We told them it's hard to talk to people who have gone through trauma, and we try to take care of ourselves when doing that kind of reporting, but our experience is nothing like what the workers are going through. One student asked about how ethical it was to talk to workers if talking to us could get them fired, and that made me talk about how one of a reporter's responsibilities is to not cause any harm and why we use anonymous sources."
This emphasis on journalistic ethics and the moral responsibility of journalists not to cause harm to their subjects seemed to be a major point of connection between Chadde, his colleagues, and the students. Chadde says the team wanted to communicate two main ideas to the students: First, "the power and influence these companies have," and second, "the population — immigrants and people of color — that were being forced to work so Americans could continue buying meat at the store. We wanted to tie the workers' situation back to the students' lives to (hopefully) show them why they should care about this story."
In this sense, the story, described by the reporting team in an interview with Pulitzer Center staff as "an autopsy on how the pandemic unfolded" at one meatpacking plant, served as a vehicle to open up larger conversations on health, labor, and justice. The story was picked up by several other local news outlets in the area, including a television news station and a newspaper. Speaking to the impact of the team's work on St. Louis and the surrounding communities, Chadde notes, "Whenever you spend a lot of time laser-focused on one place — in our case, five months — you're always hoping the locals will pay attention and follow up. We were happy to see that happened in this case."
Read more about the COVID-19, Agriculture Workers, and Our Food System project on the Pulitzer Center website. To view a webinar with the reporting team, click here.