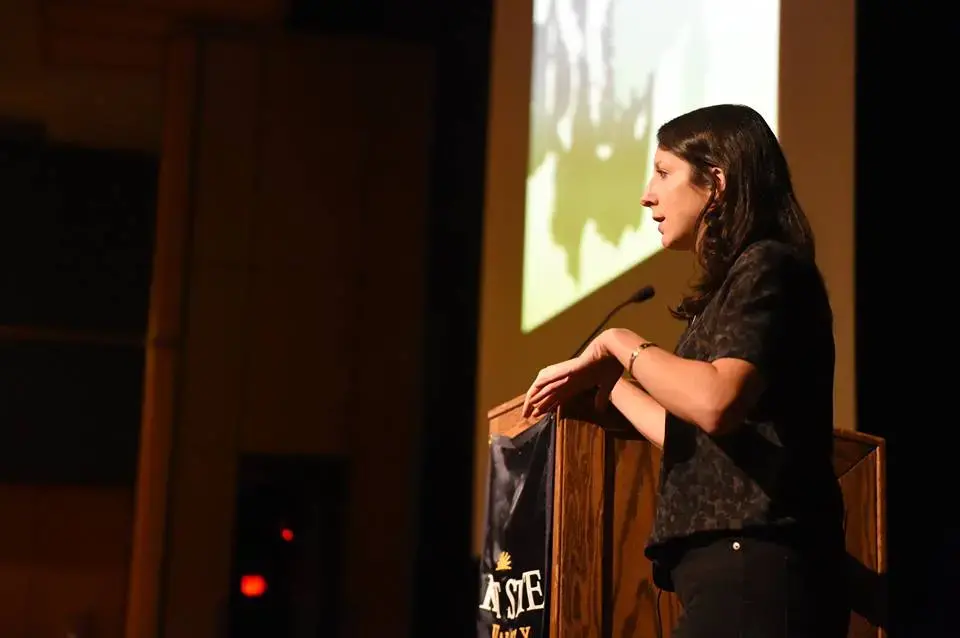 Emily Feldman speaks at Kent State's Global Issues Forum. This year's forum had a specific focus on refugees. Image by Matt Unger/Kent State University Communications and Marketing. Kent, Ohio, 2015.


At this semester's Global Issues Forum at Kent State University's School of Communication Studies, Istanbul-based Pulitzer Center grantee Emily Feldman spoke to students about her reporting on the fallout of wars in Iraq and Syria. Feldman's work focuses on the effect that such conflicts have on refugees in the region, particularly for women.

Her reporting on the persecution of the Yazidi ethnic minority in northern Iraq by ISIS has been featured in Mashable, the BBC World Service, and Al Jazeera America.

During the forum on Tuesday, October 20, Feldman urged students to think critically about the conflicts in Syria and Iraq. In an article for the Kent Stater on Feldman's visit, Alexis Wohler, a reporter for Kent State's College of Communication and Information, wrote that Feldman told the audience, "it's important for people in America to know what is going in Syria and Iraq because there is a big debate about what America should do, as to whether or not to help the refugees." Americans live in a place untouched by these wars, but for Feldman, who lives in Turkey, "it's very in your face and hard to avoid and it makes you think about what happens if a war comes to your country."

"So many refugees have fled from Iraq and Syria and are now living in places such as Turkey or in Jordan, Lebanon and in Europe," she told students. "It's easy to visit the refugee camps, to chat with them, see what their lives are like and why did they have to leave their homes."

Feldman pointed to the need for students and journalists alike to know what is going on in the world, and to put pressure on their governments to act. She told the audience that it is critical to understand global issues so that it might "open their minds to professions or possibilities that they may have not considered before."

Footage of the full forum is available online.

Kent State University is part of the Pulitzer Center's Campus Consortium network of more than 20 universities, colleges and community colleges.
RELATED ISSUES

Governance

Issue
Migration and Refugees
Migration and Refugees

Issue
Conflict and Peace Building
Conflict and Peace Building