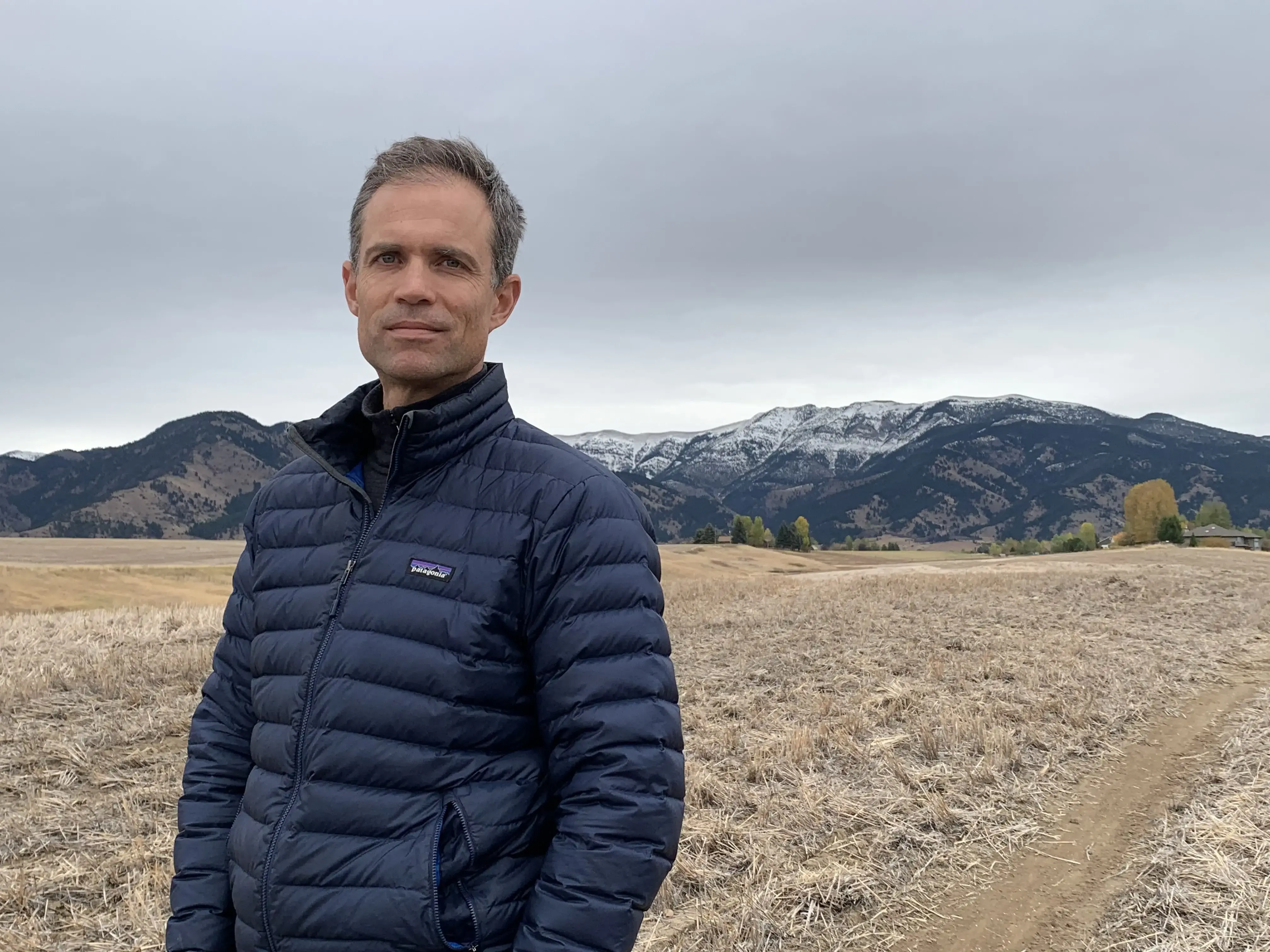 This update was written by Siobhan Cooney for Georgetown University's Berkley Center website.
---
Georgetown welcomed Pulitzer Center grantee Fred Bahnson for a November 10 conversation on his work as a freelance religion journalist. Moderated by Paul Elie, a Berkley Center senior fellow, the discussion focused on Bahnson's profiles of monastic figures and his personal connection to contemplative life, as well as what it means to embrace journalism as witness in a secular world.
It is this spirit that serves as a fundamental principle of the profession: "the mission of spotlighting not just wrongdoers, but good actors and individuals working to bring about a just and better world; journalism bearing witness to the full spectrum of humanity's capacity to affect change," said Rebecca Sinderbrand, director of Georgetown's journalism program, in introducing the event.
Earlier in the day, Georgetown students also had the opportunity to attend a luncheon at the Berkley Center, during which Bahnson and Elie shared their experiences as religion-focused writers and how their own faith shapes how they see their work.
These events were part of the Berkley Center for Religion, Peace, and World Affairs' collaboration with the Pulitzer Center and co-sponsored by Georgetown University's Journalism Program.
Informed and Inspired by Faith
Growing up as a missionary kid in Nigeria, Fred Bahnson's childhood encounters with isolation led to his later interest in monastic spirituality, shaping both his interior spiritual practice as well as his journalism work.
His first book, Soil and Sacrament (2013), helped Bahnson discover his professional niche at the nexus of religion and the environment. The memoir told the story of the early 2000s sustainable food movement in the United States through the lens of faith communities engaging in agriculture.
As a Christian writing for non-Christians, Bahnson described how his work in religion journalism for secular outlets has forced him to navigate the struggles of writing about religious figures and traditions while simultaneously grappling with his own spirituality.
"I think that's the kind of writerly challenge that I enjoy: writing about religion in a way that's not confessional per se, that's not making a theological argument, but that is bringing the reader into the world of someone with a religious story, someone with religious commitments."

 
Bahnson underscored the importance of being honest with the reader, describing how he incorporates his own personal questions about his subject matter into his pieces to demonstrate that he has something at stake. Elie related this idea to American author Flannery O'Connor's notion of making belief believable.
'Guardians of Memory'
Even though Bahnson's academic theological training and religious upbringing enable him to speak and write like an insider of faith, he aims to write for a general audience. Oftentimes he accomplishes this by not taking a particular issue head on, but instead focusing a few degrees away on an odd, obscure religious figure with a compelling story that can be dramatized. "The trick," according to Bahnson, "is to make those people come alive as people first."
This ethic manifested itself in Bahnson's August 2022 Harper's Magazine article, "Guardians of Memory: The Quest To Save Ancient Manuscripts." Backed by the Pulitzer Center, Bahnson joined Fr. Columba Stewart, OSB, Georgetown University's 2021 Costan Lecturer and the 2019 National Endowment for the Humanities' Jefferson Lecturer, on a quest to digitally preserve manuscripts held by a prominent Muslim family in Mali.
While other past profile essays have focused on the adventurous aspect of Fr. Columba's work, Bahnson was more interested in excavating the tension between the rooted, grounded life of a monastic versus Columba's life of travel to track down rare documents.
During the reporting process, Bahnson recalled being forced to face the limitations of his professional and personal calling. With a wife and three sons waiting for him back home, he described in the Harper's article his decision to remain in the safety of a United Nations camp rather than follow Columba on a dangerous site visit:
"Columba could take the risks he did because he had gone all in on God. He and other monastics I'd met over the years were at peace with themselves because they knew there was more to life than themselves."

 
Bahnson explained that blurring the lines between profile and personal essay in pieces like "Guardians of Memory" allows him to employ spirituality to negotiate the relationship between place and person, setting and self.
The Role of the Companionable Writer
The intersection of reporting and reflection constitutes the bedrock of immersion journalism, what Bahnson described as an adventure for the writer, from embodying the rhythms of narrative to taking the reader to places they can't go. Consequently, he prefers to use "I" in his articles as a literary device, more so than to indicate point of view.
"The self becomes simply the reader's eye. You're there as the one doing the witnessing for the reader."

 
Nevertheless, Bahnson emphasized the fact that a journalist needs to strike a balance between ego and humility. To illustrate, Bahnson called upon an image of the writer figure that he adopted from his mentor Barry Lopez, one in which the author stands beside the reader with his hand on the reader's back, looking out at the landscape together.
Bahnson has carried this level of journalistic intimacy across his 20-year career. The breadth and depth of his work reflects his deep, lifelong fascination with the world and people. Bahnson encouraged the audience to also find and live their passions.
"If you have a deep yearning within you, you have to channel that somehow. I've taken that advice both in my own contemplative practice and as a writer and as a journalist, to really go after those stories that I care deeply about."
RELATED ISSUES

Religion

Issue
Conflict and Peace Building
Conflict and Peace Building