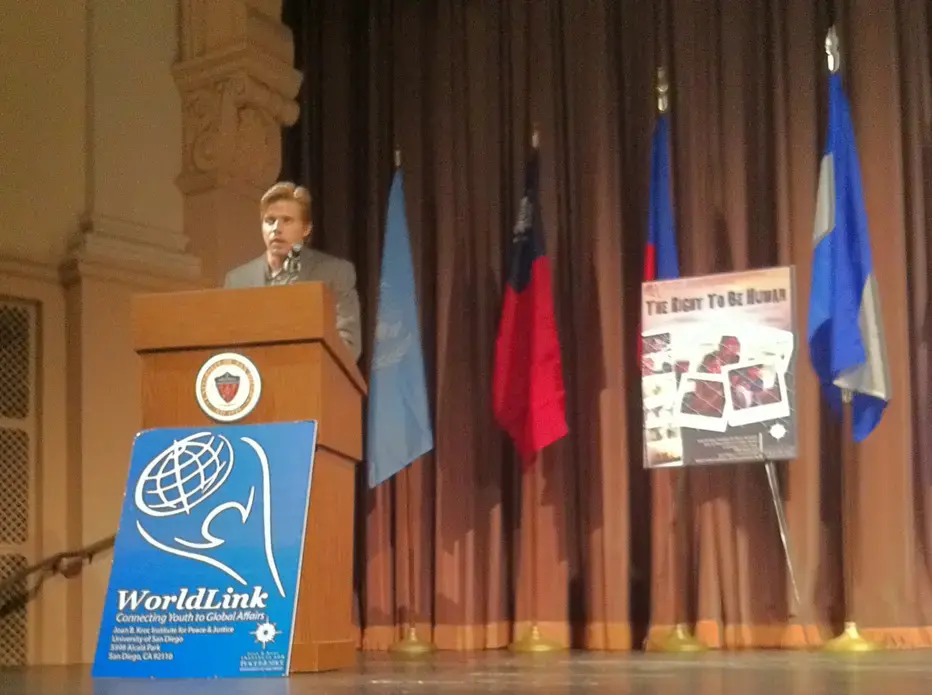 Photojournalist Dominic Bracco II presents his work on 'Los Ninis' at the opening session of the WorldLink Youth Town Meeting at the University of San Diego's Joan B. Kroc Institute for Peace and Justice. Image by Mark Schulte. San Diego, 2012.


Photojournalist Dominic Bracco II and I recently spoke to more than 700 high school students from San Diego County and Mexico at the 15th annual WorldLink Youth Town Meeting. The topic was "The Right to be Human," and Dom presented his work on "Los Ninis"--young people caught up in drug violence in Mexican towns such as Ciudad Juarez--while I discussed ways youth journalism can be an instrument to promote international justice.

The day-long, student-run event, hosted by the Joan B. Kroc Institute for Peace and Justice at the University of San Diego, featured some 20 presenters who spoke on issues ranging from child labor practices and torture to the humane treatment of the mentally ill.

In his breakout sessions, Dom highlighted the pressures facing teenagers in cities afflicted by narco-trafficking by dividing the students into groups representing young Mexicans and warring drug cartels. He and the students played out scenarios that revealed how few choices teens have, and showed the students that seemingly simple questions, such as "Why don't they go to school?" and "Why don't they work?" do not offer easy answers.

Drawing on work from a number of Pulitzer Center journalists, as well as my own experience teaching high school journalism, I urged the students to look for human rights injustices in their communities, and to share stories about what they find using youth media outlets and their own social networks. I noted that the conference took place on the anniversary of the beginning of the protests in Cairo's Tahrir Square, and said the students could look to that as an example of the changes a group of well-informed young people can effect when they work together.

Students at such conferences can often feel overwhelmed by the magnitude of the problems before them, many of which they may be learning about for the first time. Dom and I emphasized the importance of understanding the issues as a precondition for effectively dealing with them, and showed the students that creating and distributing a thoughtful piece of journalism is itself a critically important form of action.
RELATED ISSUES