Pulitzer Center Update February 2, 2012
Global Gateway Philadelphia to Begin this Month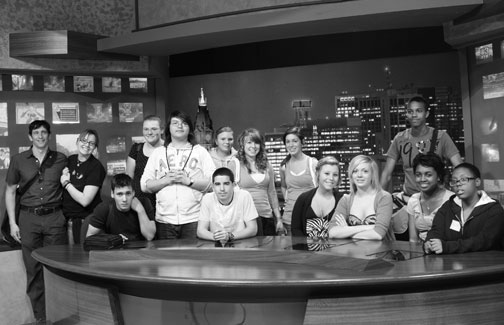 The Pulitzer Center education team, with support from the Wyncote Foundation, is delighted to be working with three student media programs in Philadelphia starting in just a few weeks. Hosted at two innovative schools and one after-school workshop at WHYY, the Philadelphia PBS affiliate, the programs will involve global issue exploration with an emphasis on local connections, and will culminate in original student work informed by the topics presented.

We are excited to be expanding a model begun in Chicago, where our partnership with youth media production team FreeSpirit Media has enabled us for three consecutive years to work with students in public schools throughout the city to make short documentaries on issues such as LGBT acceptance, water pollution, and peace-building.

In Philadelphia, we'll be engaging throughout the spring with Diana Laufenberg's history students at the Science Leadership Academy, a five-year-old school formed in partnership with the Benjamin Franklin Institute with an emphasis on science, technology, mathematics and entrepreneurship. I attended SLA's EduCon conference last weekend, and was impressed with the self-confident, go-getter students who assisted and participated. Check out Diana's 2010 TedXMidAtlantic talk.

Across town, we'll be working with the Arts Academy at Benjamin Rush, another young school with a focus on student-centered community learning and a commitment to technology and the arts. I also met with Louis Mazza, media arts teacher and a co-founder of the school, last weekend to talk about his goals for his video journalism students this semester. We are eager to begin working with them.

Our third partner in the city is Craig Santoro's after school video program for high school students at the Dorrance H. Hamilton Public Media Commons at WHYY. The program combines instruction, news literacy, and community activism--a great combination to which we're looking forward to adding a strong dose of global awareness.