Pulitzer Center Update December 19, 2011
Global Gateway DC: Meet Jeanne Deslich, PhD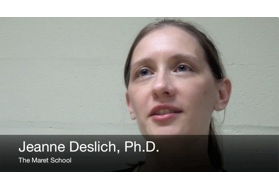 In the first of a series of video interviews with educators participating in Global Gateway, we'd like to share a brief clip of Jeanne Deslich, Ph.D. A high school science teacher at the Maret School in Washington, DC, Jeanne was interested in developing a service learning component to her environmental systems class.
This semester, Pulitzer Center staffer Peter Sawyer, photojournalist grantee Sean Gallagher, and videographer Steve Sapienza have visited her class. Peter talked about the global water crisis in general, looking at the health, economic, political, and environmental impacts in brief. Steve talked about his work in Bangladesh on climate change and the lack of sanitation in Dhaka, its capital. Sean talked about his work on deserts, wetlands, and forests in China, and the environmental crises that country is facing.
If you are a teacher interested in exploring ways to connect local issues to global patterns through interactions with Pulitzer Center journalists and reporting, we invite you to contact us at globalgateway[at]pulitzercenter.org.
RELATED ISSUES