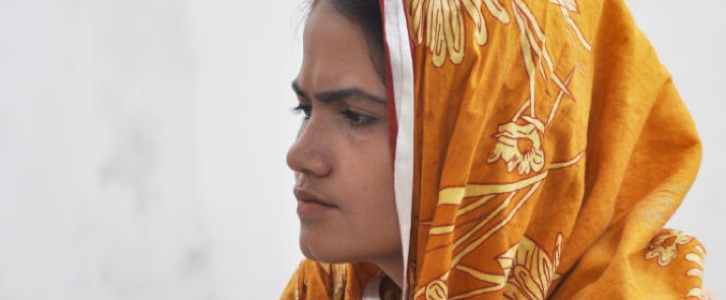 AN ODYSSEY THROUGH PAKISTAN'S FLAWED JUSTICE SYSTEM

Tuesday, May 28, 2013, at 10 p.m. on PBS
http://www.pbs.org/frontline/outlawed-in-pakistan

When 13-year-old Kainat Soomro accused four men of gang rape, she risked everything: her reputation, her education and even her life.

That's because, in Pakistan, women and girls who allege rape are often more strongly condemned than their alleged rapists. Deemed impure and shameful, some are even killed by their own families.

In Outlawed in Pakistan, premiering May 28 at 10 p.m. on PBS (check local listings), FRONTLINE filmmakers Habiba Nosheen and Hilke Schellmann shine a spotlight on Pakistan's flawed justice system—and find that those rare rape cases that do make it to court are often fraught with complications, from police non-cooperation to a systemic lack of forensic evidence.

"In a country where you don't have a system set up to collect evidence in a timely fashion when someone says, 'I've been raped,' what does that case look like in the courts?" Schellmann asks. "It ends up just being the woman's word against the man's."

Nosheen and Schellmann spent nearly four years tracing the evolution of Kainat's complicated case—from both sides.

Through the lens of the protracted legal battle between Kainat and her alleged rapists, they explore cultural norms around female sexuality in Pakistan, the continued influence of the country's tribal justice system and the troubling procedural flaws in the country's formal court system.

We meet Kainat's parents, who stand by their daughter as things take a deadly turn for the family. Her father vows to "fight until Kainat gets justice."

We also meet the four men accused of Kainat's rape—whose families also vow to fight back. "There will be murders over this. Don't you read the newspapers?" one man's uncle tells Nosheen and Schellmann. "These things lead to a chain of murders."

Nosheen says that she and Schellmann had a surprising advantage when it came to landing candid interviews.

"One of the remarkable advantages of being a female filmmaker in Pakistan is that nobody takes you seriously," says Nosheen. "If you show up, you're just a girl with a camera, and no one is really scared of you."

In Outlawed in Pakistan, Nosheen and Schellmann deliver a rare and immersive portrait of the realities of Pakistan's justice system and the people it serves.

"We wanted to make sure that the nuances we found on the ground in Pakistan are reflected in the film," says Schellmann. "Women face a lot of backlash for speaking out about sexual violence in Pakistan, but you also see in the film dedicated Pakistanis who are working hard to improve the situation for women."

"We're committed to telling the story of how this rape case unfolds, but also to making sure you hear all sides and understand what it's like for everyone involved in fighting a rape case in a place like Pakistan," says Nosheen.

About the Directors

Habiba Nosheen is a Peabody award-winning Pakistani journalist based in New York. Her radio documentary "What Happened at Dos Erres?" aired on This American Life and was called "a masterpiece of storytelling" by The New Yorker. Her reporting has appeared in The New York Times, The Washington Post and The Atlantic and also on NPR, WNYC and CBC. Previously, she shot and produced the PBS films "Surrogacy: Wombs for Rent?" and "To Adopt a Child." Nosheen teaches at Columbia University's Graduate School of Journalism.

Hilke Schellmann is an award-winning investigative documentary filmmaker and cinematographer. She has worked previously on films for HBO and as a producer for National Geographic and German television. She produced Surrogacy: Wombs For Rent? for PBS. Schellmann's work has appeared in The New York Times, The Wall Street Journal, Glamour, TIME and The Atlantic as well as on WYNC. Until recently, Schellmann spearheaded video coverage for The Wall Street Journal. She is a Fulbright scholar and holds a master's degree from the Columbia University Graduate School of Journalism, where she now teaches.

Credits

Outlawed in Pakistan is an H2H Films production for WGBH/FRONTLINE and the Independent Television Service (ITVS). The producers and writers are Habiba Nosheen and Hilke Schellmann. The deputy executive producer of FRONTLINE is Raney Aronson-Rath. The executive producer of FRONTLINE is David Fanning. Outlawed in Pakistan is a co-presentation with the Center for Asian American Media (CAAM). Additional funding for Outlawed in Pakistan is provided by the Pulitzer Center on Crisis Reporting and the Fledgling Fund.

About FRONTLINE

FRONTLINE explores the issues of our times through powerful investigative storytelling. FRONTLINE is produced by WGBH Boston and is broadcast nationwide on PBS. Funding for FRONTLINE is provided through the support of PBS viewers and by the Corporation for Public Broadcasting. Major funding for FRONTLINE is provided by The John D. and Catherine T. MacArthur Foundation. Additional funding is provided by the Park Foundation and by the FRONTLINE Journalism Fund. FRONTLINE is closed-captioned for deaf and hard-of-hearing viewers by the Media Access Group at WGBH. FRONTLINE is a registered trademark of the WGBH Educational Foundation.

Press Contact for FRONTLINE
Patrice Taddonio, (617) 300-5375, [email protected]
pbs.org/pressroom: Download promotional photography from the PBS Pressroom.

RELATED ISSUES