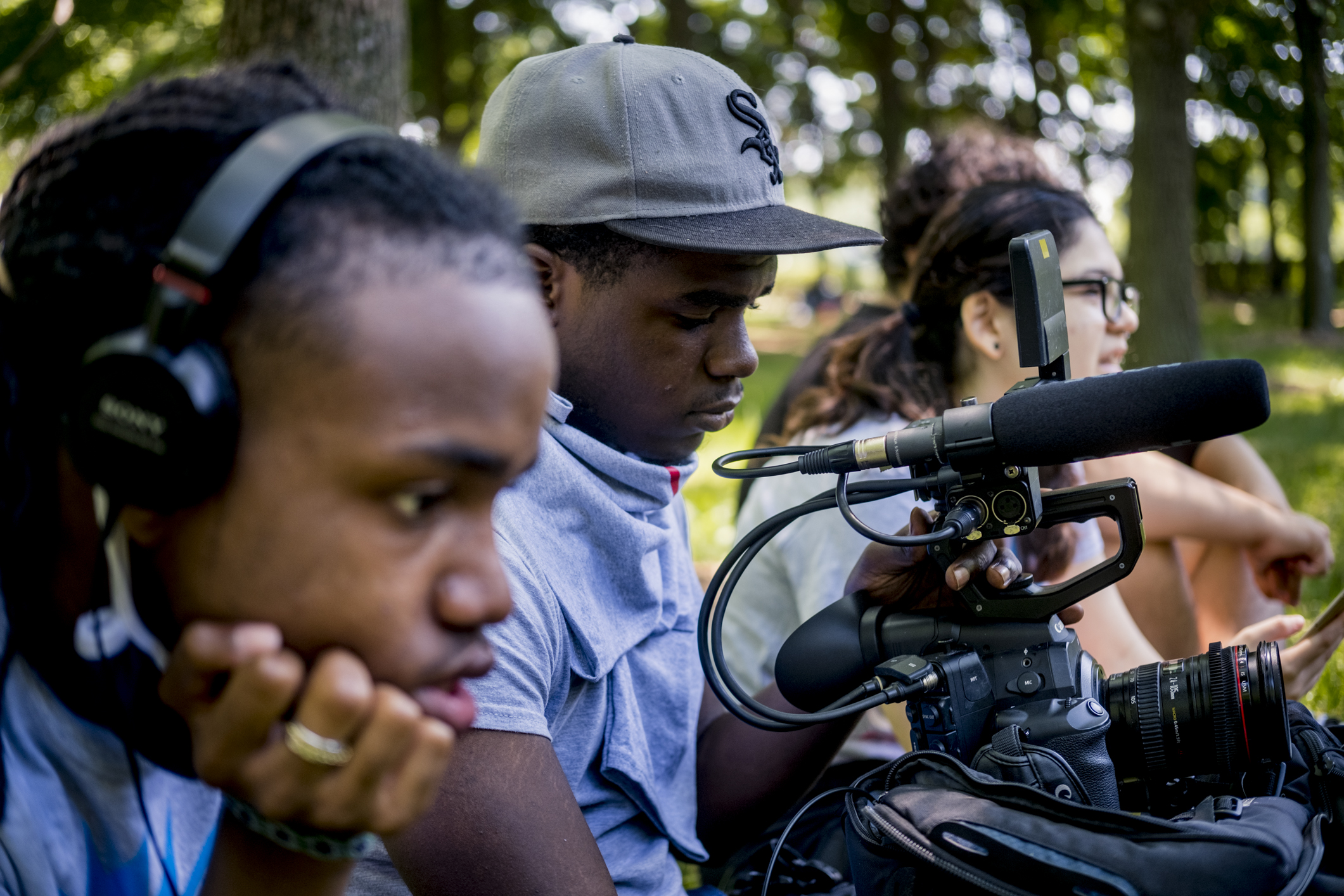 When we asked filmmaker Jazmin Hernandez why she and her production partners chose to focus on social media for their documentary, she said, "Social media is global, so I think the impacts are felt by every teenager with a Wi-Fi connection. Whether you are in Chicago, New York, or Mexico, social media is a pillar within teenage communities and the mental health damages it can cause to young people are prevalent in all parts of the world, at times even exacerbated if a country has more extreme beauty standards or displays of wealth." Like so many young people in Chicago, Hernandez is passionate about issues that affect not only her community but teens across the globe.
Organizations like Free Spirit Media provide opportunities for young creatives to explore the stories that are important to them by providing a comprehensive foundation in media production. For 13 years, the Pulitzer Center has supported Free Spirit's summer documentary filmmaking program, Free Spirit Labs West, by connecting participating students with journalist mentors to support the development and production of their documentaries about underreported local issues. Hernandez was among the 12 students who participated in this year's six-week program, which was led by Free Spirit managers Danielshé Rodgers, Terrance Patterson, and Richardo Segura, and supported by the Julian Grace Foundation.
"I really love this partnership...Every summer it always amazes me. This is such a great opportunity for our teens to be able to meet, observe and work with journalists that create meaningful pieces for audiences to relate to."

Danielshé Rodgers
For the first time since 2019, Free Spirit Media resumed in-person programming, which also meant that journalist mentors flew into Chicago from all over the country to spend a week with the students. Journalists Ashonti Ford, Eli Hiller, Noreen Nasir, and Melissa Noel, all of whom were returning to mentor for a second or third year, expressed excitement about working with students in person for the first time. "It felt so much more natural to meet and interact with the students in person, and to teach them about aspects of video storytelling, shooting, and editing together, as opposed to trying to communicate and mentor virtually," said Nasir. "This experience reiterated the importance of human interaction and how much impact it has on kids," added Ford.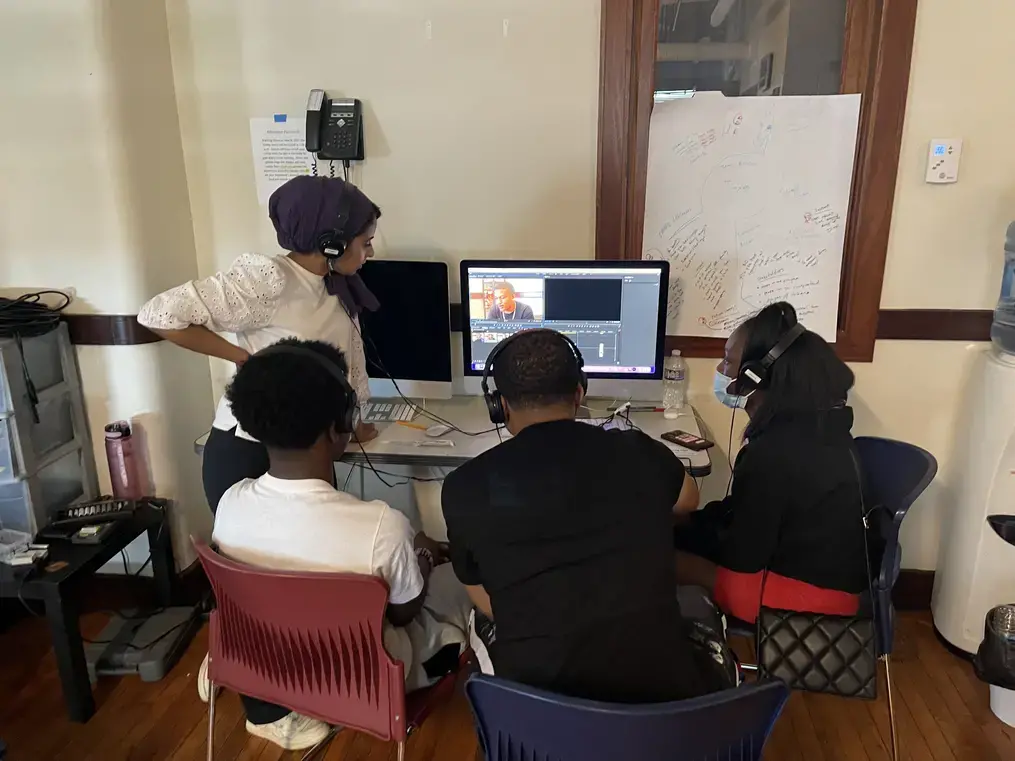 During their week in Chicago, journalists led a series of skill-based workshops and helped students get familiar with editing, developing their documentary topics, and handling the camera. On their final day, journalists and students met near Buckingham Fountain and practiced conducting interviews, many gathering footage that they used in their final projects. Throughout the remaining weeks of the program, journalists met with their production groups virtually to offer guidance. "We had weekly check-ins [with Melissa]  to evaluate our progress and receive information," reported Amarion Curry. "They were always there when young creators needed them," said Terrance Patterson. "They helped them come up with final documentary ideas, and helped them structure their documentary overall…They met them on their level. Meaning they didn't downplay anything they were saying…." 
Ultimately, students produced compelling short films on issues affecting communities on the west and south sides of Chicago. The documentaries explored gun violence, inflation, drug abuse, and the impact of social media on young people.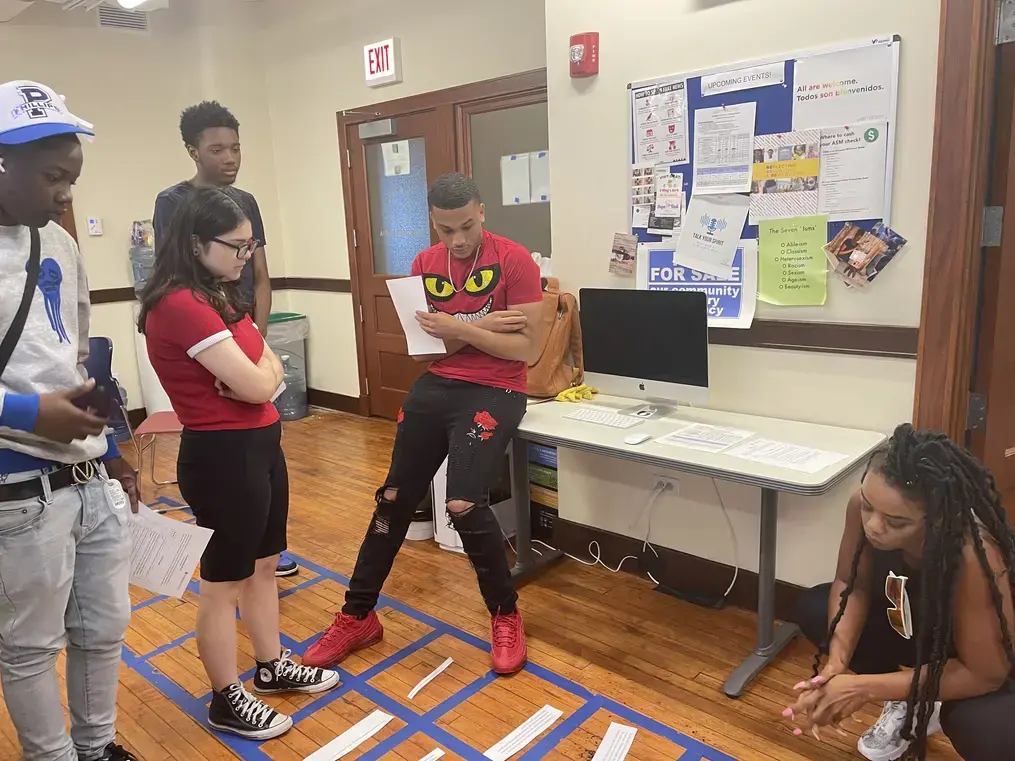 Under the guidance of Ashonti Ford, a reporter with Spectrum Bay News 9, young creators Lovie Hillard, Isaiah Bryant, and Jaden Mays-Smith explored the impact that inflation has had on the North Lawndale community. The film features a range of voices that describe how the increased prices of daily necessities like groceries, gas, and rent have affected their lives. Balancing global statistics with interviews from local experts, the film examines the trends that drive inflation and provides solutions to overcome challenging financial periods. Watch Inflation here.
Supported by Melissa Noel, a multimedia journalist, filmmakers Mekelle Mensah, Amarion Curry, and Jalia Davis shed light on the growing issue of substance abuse across the United States, especially affecting the mental health of young people. In a series of interviews, West Side residents talk candidly about the lasting impact of long-term drug use on mental and physical health, as well as interpersonal relationships. The film goes on to explore the many motivations for drug use, including peer pressure and generational trauma, and closes on a series of solutions to support young people who are feeling pressured to use drugs. Watch Access to Drugs here.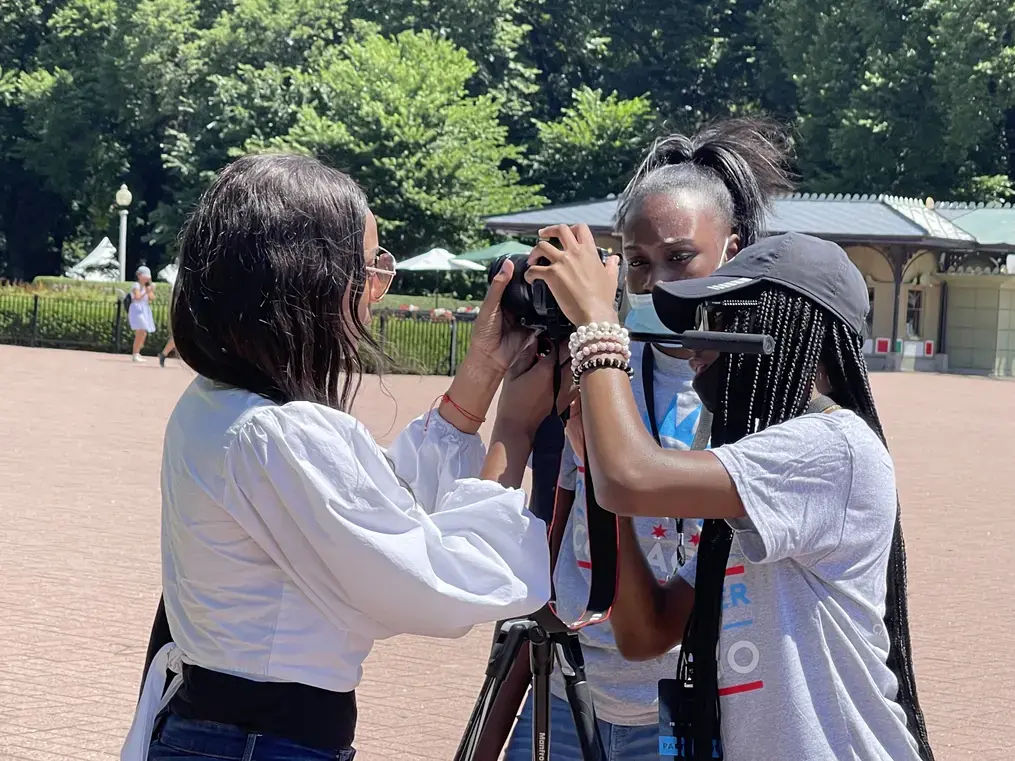 Noticing the influence of social media on other young adults, filmmakers Luis Ortiz, Jazmin Hernandez, Jaheim Robinson, and Kelvin Davis explored the issue in their short documentary, Trends. Through a series of interviews, teenagers in Chicago explain how their perceptions of themselves have been disrupted by excessive social media use. Under the mentorship of documentary filmmaker Eli Hiller, Trends examines the damaging effects of excessive social media use and encourages teenagers to take breaks from social media for their mental health. Watch Trends here.
Mentored by Noreen Nasir, a video journalist with the Associated Press, filmmakers Melki Hejeto and Andre White opened their film, Protecting Our Kids, on a series of news broadcasts about the increase in recent gun fatalities in Chicago. The film then explores how this increased violence is affecting South and West Side families in particular. The film focuses on the story of Seandell Holiday, a victim of gun violence at Millennium Park, a popular Chicago landmark. Since Seandell's death, strict curfews for minors have been enforced by the city, which has affected their opportunities to socialize and build community. Watch Protecting Our Kids here.
Noel, Ford, and Nasir returned to Chicago in August to attend the final screening. As students proudly introduced their projects for their peers, mentors, program leads, and family, it was clear that this program would be a springboard for their connection to filmmaking and journalism. Melki Hejeto shared that making his film inspired him to "get more into the media field." Lovie Hillard said that she left with the desire to pursue [journalism] in college. 
Journalists felt the impact of the Free Spirit program as well, sharing how working with students has affected their relationships to their careers. Hiller shared, "Every time I mentor for the Free Spirit Media program it makes me think how impactful this program can be on the high schoolers. Giving Chicago youth the tools to tackle complicated issues in their city is so empowering. When I see that inkling of curiosity in these youth, it reminds me of the reasons why I first became a journalist. It's easy to get wrapped up in the daily grind of being a freelance journalist, but this program always softens my soul." 
Nasir added, "Working with students to get to the basics of video storytelling and mentoring them through the program to create their own documentary made me realize I love this work! Giving students exposure to video journalism and helping them navigate telling their own stories from the idea phase to completing a full documentary was an incredible experience."