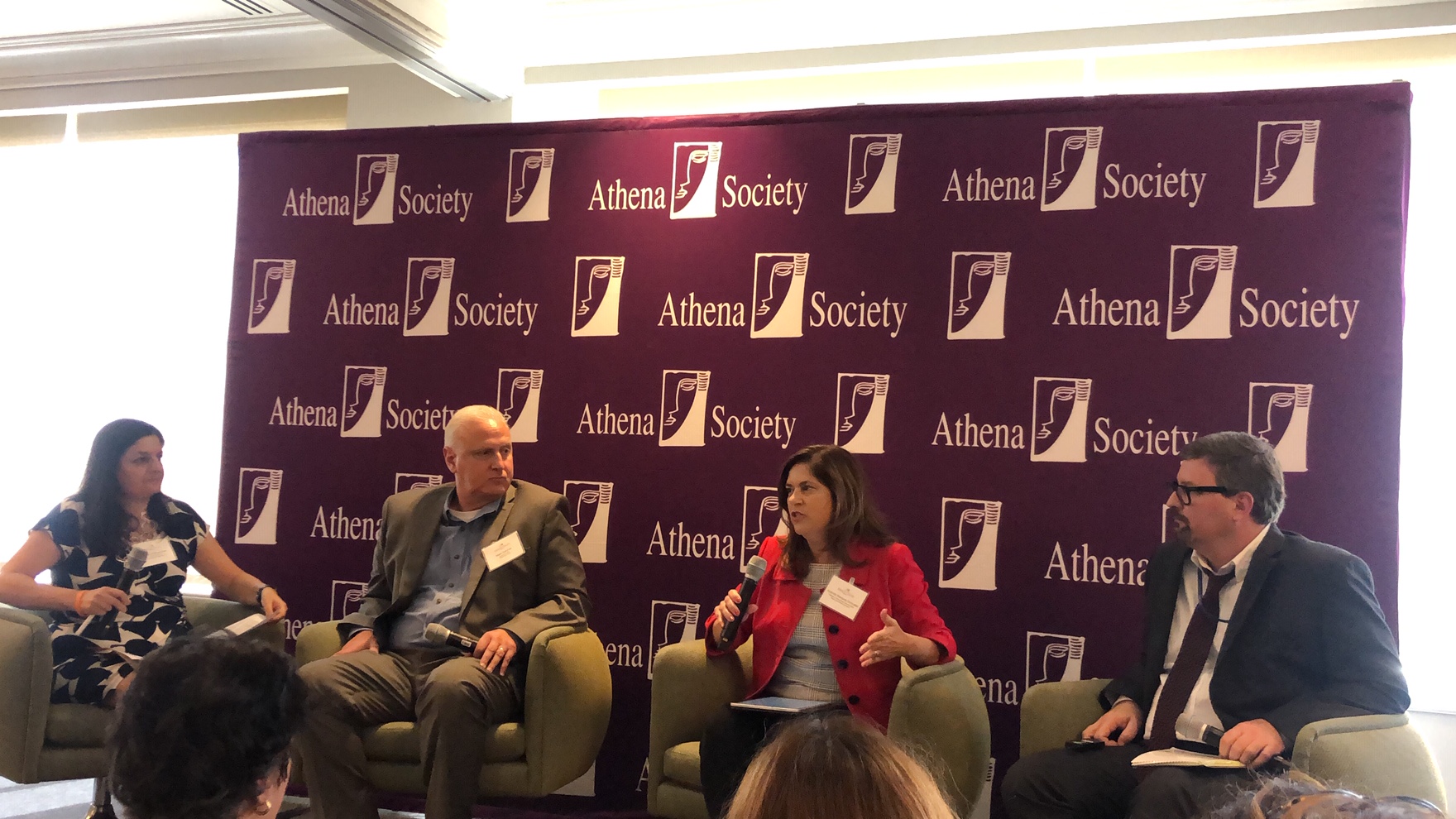 With sea levels rising and newsrooms shrinking, leaders in Florida journalism have had to rely on each other, pooling resources to report on one of the biggest threats to their state's future: climate change. The newly-formed Florida Climate Reporting Network is spearheading a feat of collaborative journalism, and with support from the Pulitzer Center, 18 newsrooms across the state are launching two major reporting projects using scientific data to reveal the human and commercial toll of climate change—and efforts to mitigate its consequences.
Last week, the Athena Society, a women's leadership coalition in Tampa, hosted a discussion among the editors of the two largest newspapers in Florida—the Tampa Bay Times and the Miami Herald—who are leading the collaborative reporting projects, and Pulitzer Center Executive Editor Indira Lakshmanan. The event drew Tampa Mayor Jane Castor, her climate and resiliency advisor Harry Cohen, representatives for Congresswoman Kathy Castor, environmental lawyer Martha Collins, and a host of civic leaders and news executives from Tampa and St. Petersburg to a conversation about the role of journalism in investigating and illustrating the effects of climate change on the property, safety, and health of Floridians.
"What we're seeing around the country, and especially with this initiative, is a new pragmatism about how we can cover things and do things and work together to help serve our readers," said Mark Katches, executive editor of the Tampa Bay Times and the founder of the statewide climate collaboration. "We do not have the resources to cover news the way we once could, so joining forces with other news organizations is a way to get that done," added Katches
Incredible panel of newsroom leaders discussing their groundbreaking collaboration joining 18 newsrooms to cover climate change in Florida. Thank you @AthenaSociety for hosting, and speakers @markkatches @MiamiHerald @Indira_L @pulitzercenter @VarianTimes pic.twitter.com/emQR7Afxty

— Ian Anderson (@_IanAnderson) November 7, 2019
While politicians in Washington debate the threat from climate change, Floridians already have seen sea levels rise, temperatures climb, and their coasts flood. "We are living with the day-to-day impact. We're seeing it. Our readers are seeing it," said Mindy Marqués, editor and publisher of the Miami Herald.
The newsrooms in the climate reporting network have created a content bank into which the publications deposit at least two stories a month that any member of the group can publish, increasing the impact and awareness from their reporting. "Showing people how the news affects their lives...I think that's the key element and mission of local journalism," added Marqués.
The newsroom executives stressed the importance of bringing stories to the readers' doorstep -- and the dangers of failing to do so. "One of my biggest frustrations with climate coverage is that it focuses on some big bad things that are happening in the future, and it's abstract," said Bill Varian, business editor at the Tampa Bay Times. The Florida Climate Reporting Network has begun to counter this by making local effects and adaptations a focus of their reporting.
This collaborative reporting has also tried to stay away from giving their readers a sense of hopelessness. "You don't just dump and run, you don't just do stories on the topic and wipe your hands and walk away. It's important to start to view our journalism around solutions...it's really important that we start looking at where we go from here," said Katches.
Not only has the collaboration added to the urgency of addressing climate change, it is also bringing attention to solutions already being tested. "Local governments are leading the innovative fight on climate change," said Marqués. "While everyone else is quibbling, they are coming up with solutions to try and tackle the problem."
The first Florida project, led by the Tampa Bay Times, will create a statewide assessment of climate change based on indicators including temperatures, storms, and flooding. The second project, led by the Miami Herald, will use scientific modeling to project the first 10 Florida communities that will be imperiled by rising sea levels. Both initiatives are focused on interpreting data collected by scientists and writing about it in a way that tells Floridians what they are facing and how they can help stop it.
The Pulitzer Center's Connected Coastlines program awarded grants to more than a dozen reporting projects along every U.S. coastline - the east and west coasts, the Gulf coast, the Great Lakes, Alaska and Hawaii. The staff and freelance reporters involved will leverage scientific data to report on the effects of climate change on coastal populations.
Watch or listen to the full panel conversation below.
RELATED ISSUES