Pulitzer Center Update October 11, 2022
Empowering Students as Historians in Chicago
On Saturday, September 24th, 20 Chicago educators joined Pulitzer Center staff at the Haymarket House for the workshop, "Empowering Students as Historians and Advocates with The 1619 Project." The workshop centered educators as learners as participants explored the primary sources, analytical essays, and creative works from The 1619 Project, as well as the growing library of curricular resources created by teachers and students across the country as part of The 1619 Project Education Network. The workshop was supported by a rapid response grant from the Julian Grace Foundation.
"The value of this workshop is immeasurable. It is important for the work of Black women to be acknowledged publicly and used in mainstream/respected academic/intellectual spaces. Also teachers in Chicago have a unique responsibility to serve the varying demographics of the city- this project could be beneficial to any school," Samantha Affram, Gage Park High School.
Participating educators currently teach English, social studies, history, visual art, journalism, and more to K-12 students in public and public charter schools based primarily on the South and West sides of Chicago. Many were participating in a Center workshop for the first time! In addition to engaging with 1619 resources through facilitated small-group and whole-group discussions, participants spent time on their own and in groups analyzing the recently published books The 1619 Project: A New Origin Story and Born on the Water. Educators examined how the texts connected to their curricula, and also how the texts could inspire students to think critically about underreported histories and contemporary issues in their own communities.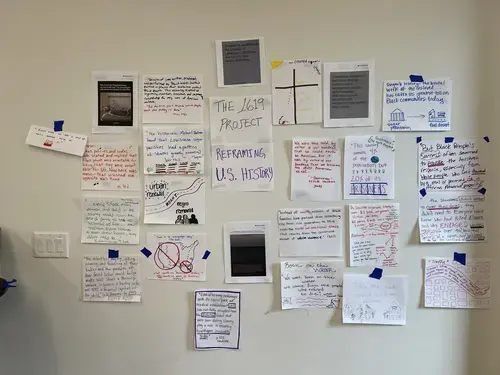 Following an in-depth analysis of 1619 resources, participants connected with Chicago-based 1619 Project Education Network alumni Jodi Hoard and Alison Eichhorn, who shared how they developed and facilitated unit plans that utilized the project resources to teach critical thinking, research, and writing skill They then met with local journalist and Pulitzer Center grantee Arionne Nettles, who discussed her approach to covering news stories about underreported issues impacting Black Chicagoans. Each educator received a copy of The 1619 Project: A New Origin Story and Born on the Water and were encouraged to use them as they engaged with critical questions about democracy, the legacy of slavery, and American history.
Many educators left the program feeling inspired and connected to one another.
"As a 7/8th ELA teacher I received a plethora of rich materials to teach  and dissect in conjunction with my students' social studies curriculum. I also was inspired by my peers attending the workshop who shared their personal successes and struggles working to change such a long history of the same narrative into a new and more honest look at perspectives that have been erased and underreported for 4 hundred years," Emily Carroll, Sauganash Elementary School.
"I learned so much and this was one of the first PDs that I have felt respected and honored as a person and a teacher throughout," Samantha Affram, Gage Park High School.
"I was able to learn and form a community with like-minded educators across the city," Aliah Wright-Johnson, Noble Street College Prep.
Perhaps middle school educators and 1619 Education Network member, Jodi Hoard, captured the importance of invigorating professional development opportunities best in the closing words of her presentation of Defenders of Democracy: "I believe a lot of us are hurting: teachers, students, parents, administrators and we're trying to heal and keep going and I think we have this suspicion that we haven't fully grasped yet all the ways that we've been affected by all the things that have been happening over the last several years. It means a lot to me that you all took your Saturday to spend here and for having courage to think about how to reflect with your students about these difficult topics. Thanks for continuing to hold onto hope for our students and their futures and for doing the brave work of listening and truth-telling…I think the work we do is an act of love and when you pour love into our communities it has a ripple effect that's way more powerful than we'll ever know."