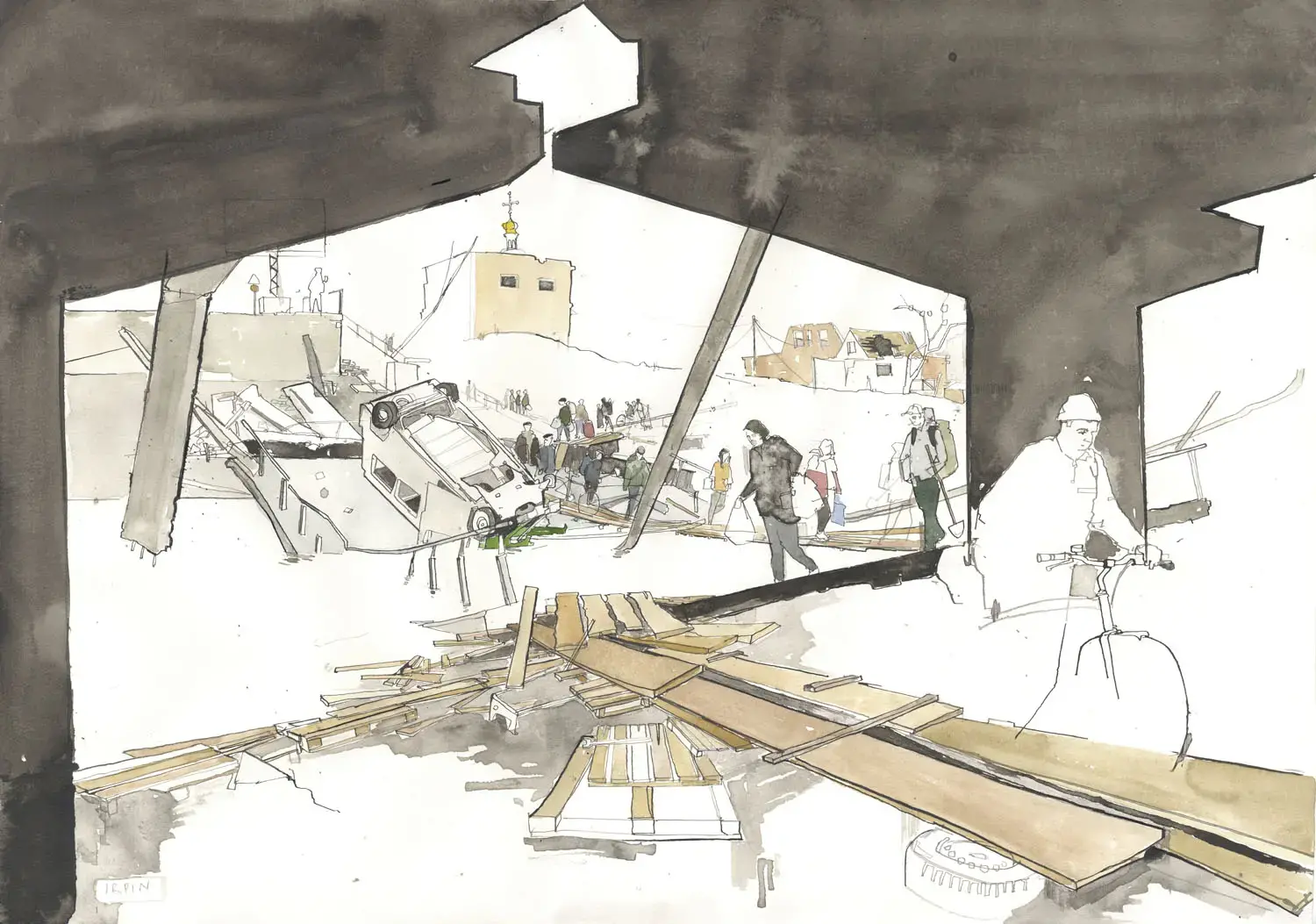 The Virginia Quarterly Review has won an American Society of Magazine Editors (ASME) Award in the Best Illustrated Story category for the Pulitzer Center-supported story "Drawn to War: A Ukraine Journal," with illustrations and text by grantee George Butler. The Award was announced via Twitter on February 23, 2023, and an in-person ceremony to announce the winners in other categories will be held in New York City on March 28.
"Our 2023 honorees represent the best in print and digital journalism, from in-depth investigations and thought-provoking imagery to think pieces and controversial analysis," said Sidney Holt, executive director of ASME.
"What a way to start the day," said Butler on Twitter in response to the award announcement. "A timely reminder to remember Ukraine today on[e] year on."
"This would have been impossible without the support of @pulitzercenter, our partners on this & so many other projects," tweeted the Virginia Quarterly Review.
"Drawn to War" is a pen and ink account of the ongoing war in Ukraine, as seen through the experiences of civilians and their families fleeing destruction. Through illustration and first-person narrative storytelling, Butler documents the transformation of Ukrainians' everyday life since the Russian invasion.
"While drawing I begin to notice the mannerisms of metro life, the reserved nature of the families here, whispering and keeping to themselves. There's also a resilient energy that suggests they're prepared to do whatever it takes to survive," Butler describes in the story.
"I draw what is going on around the margins of war," he said in an interview about his work with Lisa O'Kelly for The Guardian. "I think there is always space around the edges of these vulnerable, sensitive places to tell longer, slower, quietly observed stories, a visual account of what is going on there. It is not all about tanks and helicopters being blown up—it is about what happens at the fringes of atrocity."
This is the third annual ASME Awards for Design, Photography, and Illustration. ASME has held the National Magazine Awards since 1966, in association with the Columbia University Graduate School of Journalism. Winners receive trophies called "Ellies," elephant-shaped statuettes inspired by Alexander Calder's sculpture "Elephant Walking."
Tickets are now on sale to the 2023 National Magazine Awards on March 28 at Terminal 5 on West 56th Street in Manhattan, New York. 
Congratulations to Butler and the editorial team at Virginia Quarterly Review!
RELATED INITIATIVES
RELATED ISSUES

Issue
Conflict and Peace Building
Conflict and Peace Building

Issue
Migration and Refugees
Migration and Refugees