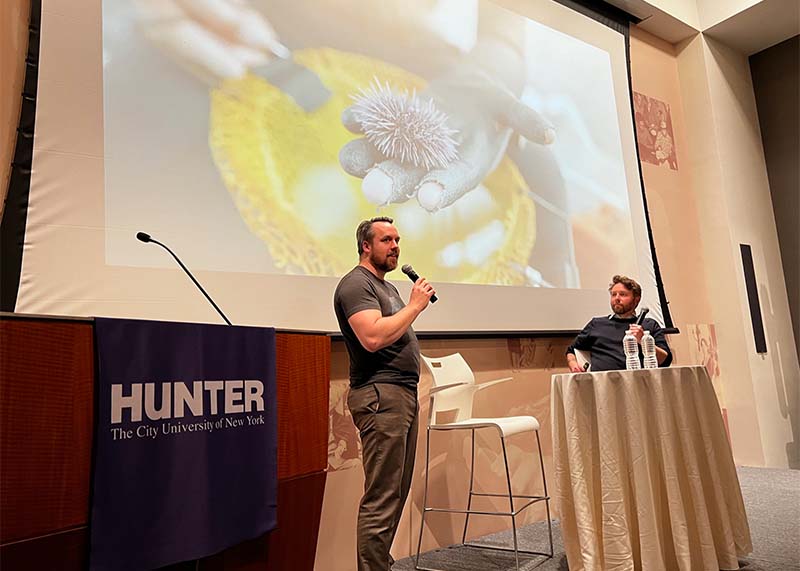 Multimedia production team Dominic Smith and Andrew Robinson visited Hunter College on April 18, 2023, to screen and discuss the making of their Pulitzer Center-supported project The Vanishing, Invisible Forest.
Reporting for Scientific American and the Monterey Herald, Robinson and Smith dove into the turbulent waters of Monterey Bay to document kelp growth and aquatic life as part of ongoing research about the possible solutions and inherent dangers when humans try to undo the damage caused by climate change. Using underwater videography, they captured the remaining forests, the urchin barrens, and the difficult nature of underwater research.
The two journalists fielded audience questions and discussed their reporting process after the public screening. Aarsh Chauhan, a student journalist for Hunter College's The Athenian, reported that Robinson said he was first inspired to pursue the short-form video project after seeing articles about disappearing kelp forests in 2015. 
The event also recognized Hunter College's 2023 Reporting Fellow Laila Gad for her upcoming project about heat waves in Singapore.
This year, Gad will travel to some of Singapore's hottest neighborhoods to document the heat's impact on older residents. Gad also intends to explore potential policy implementations and considerations in Singapore and New York City.
Gad told Chauhan that she was "grateful" to have mentorship from Smith and Robinson. "I have learned tricks and tips that will help me when I am making my own mini-documentary in Singapore," she said. 
Gad's selection as a Reporting Fellow marks the seventh year of collaboration between Hunter College and the Pulitzer Center's Reporting Fellows Program. "It's an amazing opportunity every year for Hunter students," Sissel McCarthy, a distinguished lecturer and director of the journalism program at Hunter College, told Chauhan about the partnership.
While on campus, Smith and Robinson also ate pizza and offered career advice to nine Hunter journalism students. The two journalists stressed the importance of passion and strong storytelling during the small group session, according to The Athenian's Nora Wesson. Robinson said that "journalism is almost like a vehicle of storytelling" for a reporter's interests. 
RELATED ISSUES