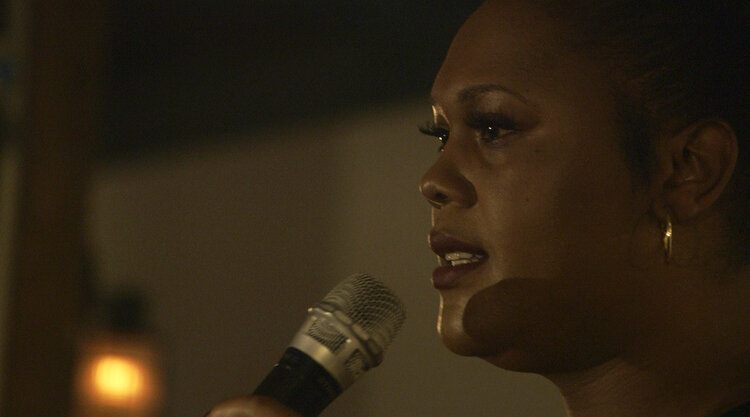 On Wednesday, June 3rd, Pulitzer Center Education began Pride Month with a webinar for students on "Finding Home as an Intersex Asylum Seeker." It featured Tatenda Ngwaru, an advocate and intersex woman from Zimbabwe who sought asylum in the United States, and Robert Tokanel, a filmmaker who co-directed a documentary about her story. Along with Yuhong Pang, Tokanel produced the film "She's Not a Boy" with support from the Pulitzer Center. This webinar is part of a series titled "Under-Reported Stories of Resilience" which aims to share stories of hope, joy, and connection when headlines are dominated by crisis.
Ngwaru began the webinar by describing her efforts to form community groups in Zimbabwe for intersex visibility despite harassment and persecution—work she has continued to do after coming to the U.S. to seek asylum. "I thought America was the place to go," she said. "I thought, 'This is a country that is going in the right direction, that considers each person's human rights.'" She connected her story to the movement for racial justice and ending police violence taking hold in communities across the U.S. and around the world. Ngwaru spoke about taking part in the recent protests in her city: "When I heard George Floyd screaming and shouting saying 'I can't breathe,' those were words that I have said before. I know exactly what it means to have a hateful man's knee on your neck because they cannot stand who you were born to be."
Tokanel, Pang, and Ngwaru worked collaboratively to create "She's Not a Boy." Despite the challenges of telling her story on screen, Ngwaru said that "these are stories that need to be told because maybe the pain that they bring can vanish and people can start to treat each other as equals." Tokanel spoke about the process for producing the film, including a trip that he and Pang took to Zimbabwe to speak to Ngwaru's parents and learn about her upbringing. He then shared a clip from the film that was filmed on the trip to Zimbabwe. "Ultimately, it's a story of community and belonging," he said. "of finding family, and being welcomed within one."
The webinar concluded with a Q&A, where Tokanel and Ngwaru answered questions from participants about the reporting process, interview tips, the obstacles Ngwaru faces as an intersex person and activist, and recommendations for how to support intersex people in our schools and communities.
"Hope and wanting change is what made me want to leave [Zimbabwe], and it is what you see in today's protests in America—people who have hope and who know they need change," she said. "Change comes to those who are resilient, those who are willing to fight the fight, and who are willing to tell under-reported stories."
RELATED ISSUES

LGBTQIA Rights

Issue
Migration and Refugees
Migration and Refugees